This year's vacation choice was a simple one. Based on last year's trip to the Canmore/Banff area, we realized there was much more to see of this beautiful region than time allowed. Many of the Photography Life readers were kind enough to suggest possible itineraries for our next trip. In particular, Cindy (a.k.a. "Alberta Girl") gave us a detailed listing rivaling the length of my original article! Her recommendations served as the foundation for this year's itinerary. If you are seeking to combine your love of photography with hiking, wildlife viewing, and breathtaking scenery, I would strongly urge you to consider the area around Banff National Park. I guarantee you will not be disappointed.
1) Canmore – Home Away From Home
We stayed at Canmore's Falcon Crest Lodge for our vacation last year. After we decided to return for another visit, we initially thought we might travel around the region, staying in different lodges located in Canmore, Lake Louise, Kananaskis, and Jasper every few 2-3 days. But the more we considered the areas we wished to visit, the more we liked the idea of using Canmore as our home base once again. The notion of packing up our belongings every few days and checking into a new lodge lost its appeal when we considered the logistics and time involved.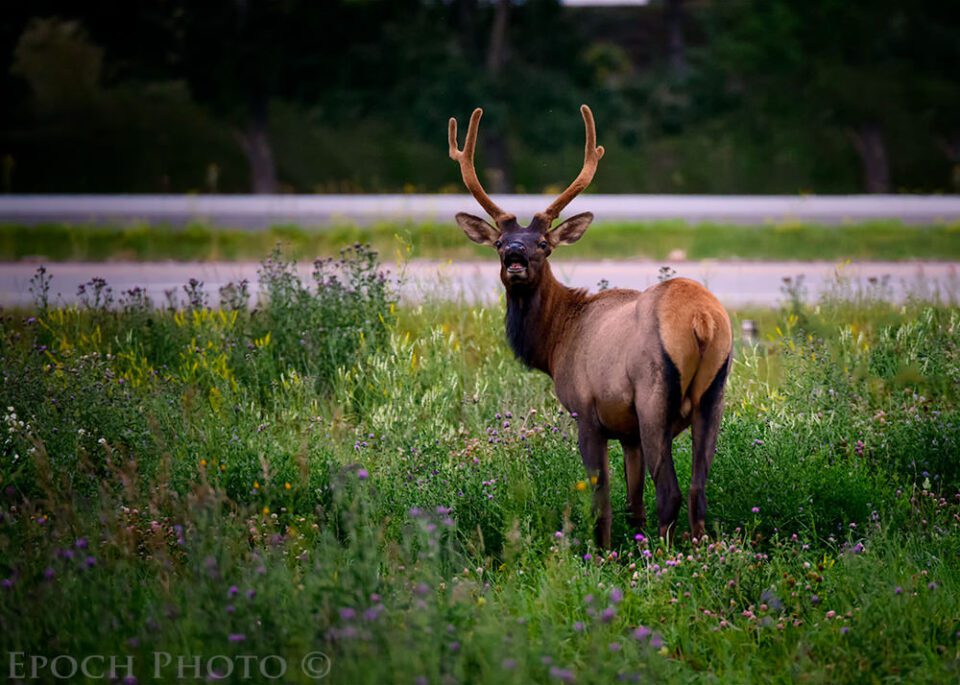 Canmore is just 10 minutes from the entrance to Banff National Park, 15 minutes to the town of Banff, 30 minutes from the Bow Valley Parkway entrance, 60 miles from Lake Louise, 45 minutes from the heart of Kananaskis Country, about 90 minutes from Radium Hot Springs, and 75 minutes from the little town of Field. Even if we had to get up a bit earlier or come home a bit later as a result of staying in Canmore, it was difficult to complain about driving a longer distance, since we were continually treated to stunning panoramas of the majestic Canadian Rocky mountains.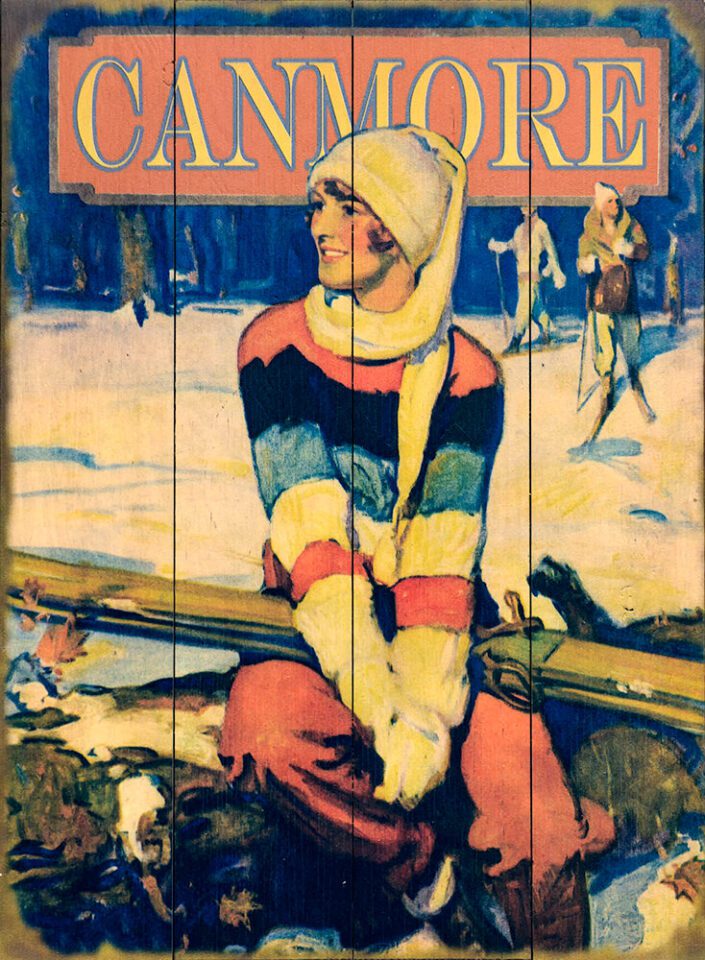 We reached out to Tafline, a Customer Service Agent at Falcon Crest Lodge, to make this year's arrangements. Tafline and the entire staff of Falcon Crest Lodge once again made our stay very enjoyable. Our spacious, comfortable suite had a kitchen and washer/dryer combination. This enabled us to save quite a bit of money by eating in and pack less clothing – an important option when the airlines charge you $75 for going over the 50lb suitcase weight limit. Falcon Crest is located less than 5 minutes away from a major shopping plaza which features a Safeway grocery store, liquor store, sporting goods store, hardware store, and variety of other merchants. It is also located within a 5 minute drive to downtown Canmore. And access to Highway 1 is literally a 2 minute drive from the lodge.
And during those rare moments when we weren't climbing mountains, searching for wildlife, or sightseeing, we relaxed with a glass of wine and reacquainted ourselves with some of the all-time movie favorites on Turner Classic Movies. We could not have asked for a more hospitable environment for our "home away from home," better service from the staff, a more convenient location, or a better value for our money.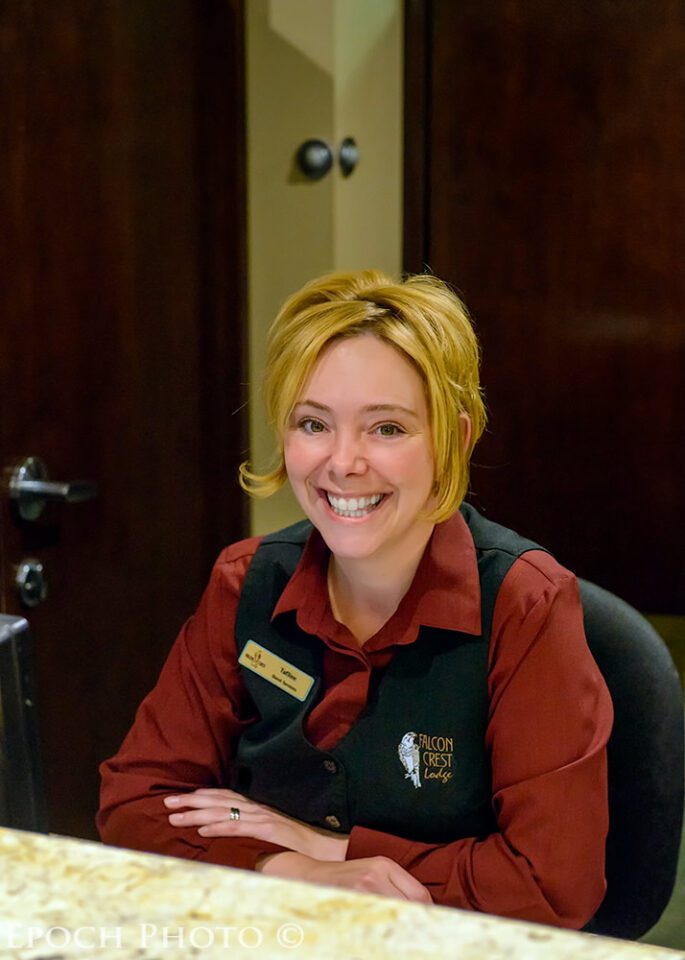 2) Equipment
Last year's array of equipment worked out pretty well, so I saw little reason to change it (see last year's article Summary). I had the focal length range covered from 16mm to 400mm once again. I also brought my new Nikon D7100 infrared camera, converted by Kolari Vision, and trusty 16-85mm VR lens. The one modification I made was to leave my 70-200mm f/2.8 VRII and T/C 2.0 at home, and bring my 80-400mm AF-S VR II. Since I was actively looking for wildlife, I believed the 80-400mm would be a better choice.
With all my gear, including my tripod, my pack was close to 40 lbs. I did not always bring everything I packed in it for the plane ride, so it was a bit lighter in the field, but still quite a load. Unfortunately, I did not pay enough attention to the start of a blister on my toe which occurred early in the trip. This proved to be a serious mistake. This seemingly trifle aggravation turned into a nasty blister which lifted up my toenail. I quickly realized why manipulation of fingernails and toenails has long been a staple in the world of torture!
The combination of carrying my heavy camera backpack and my foot being worn raw must have had a strong impact on my subconscious. At night, I found myself dreaming of a full-frame 36 MP mirrorless camera with a viewfinder rivaling the one on my D800, the ability to shoot RAW files at 12 frames per second for up to 30 seconds, and a 14-500mm f/1.8 AF-S VR zoom lens as sharp as Nikon's legendary 200mm f/2.0 lens. Together, the pair weighed less than a ruby-throated hummingbird and easily fit into the palm of my hand. I even pictured the advertisement in which Nikon paid me handsomely to use one of my hummingbird photos and placed it next to this miracle camera/lens combination. The copy read, "Which Do You Think Weighs More? Hint – It is not the camera and lens!" Unfortunately, I would eventually wake up, realize it was just a dream, and have to hoist my heavy backpack before heading out the door!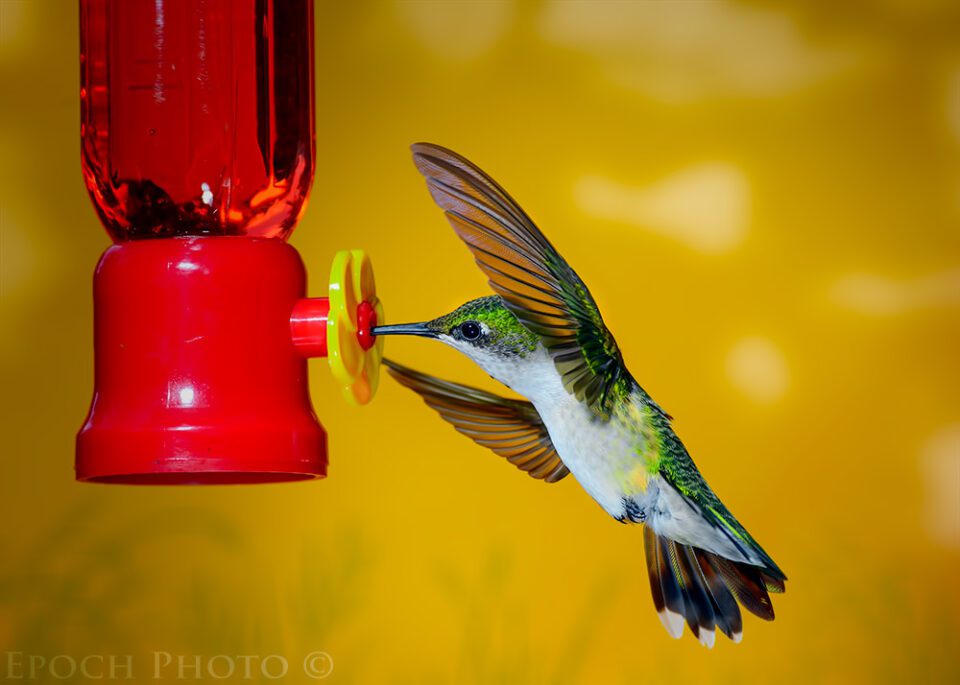 Most of my shots this year were taken with my 16-35mm f/4 VR lens. Last year, my 24-70mm f/2.8 got the top honors for most photos. I have never been a huge fan of wide-angle lenses, but I found myself leaving the 16-35mm on my D800 and liking the results, particularly with the polarizing filter which deepened the already deep blue skies of the Canadian Rockies. Surprisingly, I sometimes found myself wanting something wider than the 16mm, since I could not get all the surrounding mountain peaks in the frame. The 80-400mm VR II has turned out to be a real gem. While some people are not quite as enthusiastic about this lens, I found it extremely sharp, versatile, and fairly light compared to other FX lenses in this focal range.
I did not use my tripod much as much as I expected, since, unlike last year, we didn't make it out in the pre-dawn hours to take sunrise pictures. We were on vacation after all, and as a friend suggested, "Don't see your entire vacation through a viewfinder." Good advice! I did experiment with a photographic technique requiring a tripod – taking multiple exposures of a person. Such photos are a natural for scenes with a panoramic background. A few quick tips: 1. A wider angle lens with a stronger depth of field will easily keep more of the scene in focus. 2. Use some objects in the background as "markers" for knowing where to place your subject so you minimize their images overlapping themselves. Keep an eye out for changes in light, such as the sun being out for one photo, but behind the clouds for the next. This will make it a bit more difficult to make the resultant image appear as if all the "subjects" were taken with one exposure, and require a lot more work in Photoshop. Once you pull the various images into layers in Photoshop, you can quickly add masks and block/reveal your subject so as to produce the effects below.This technique takes very little time and produces some interesting results.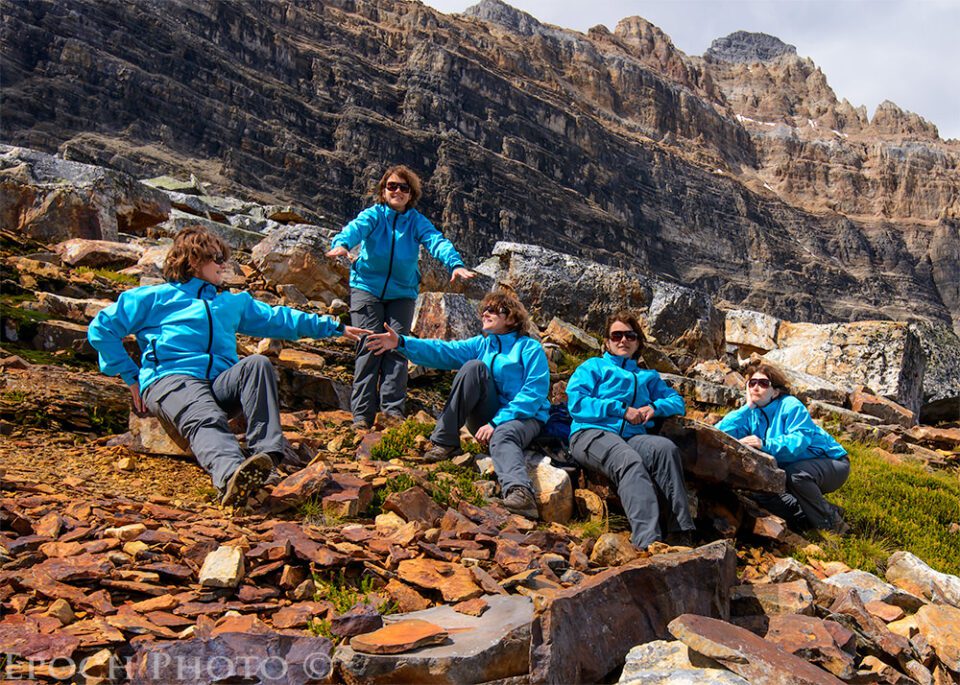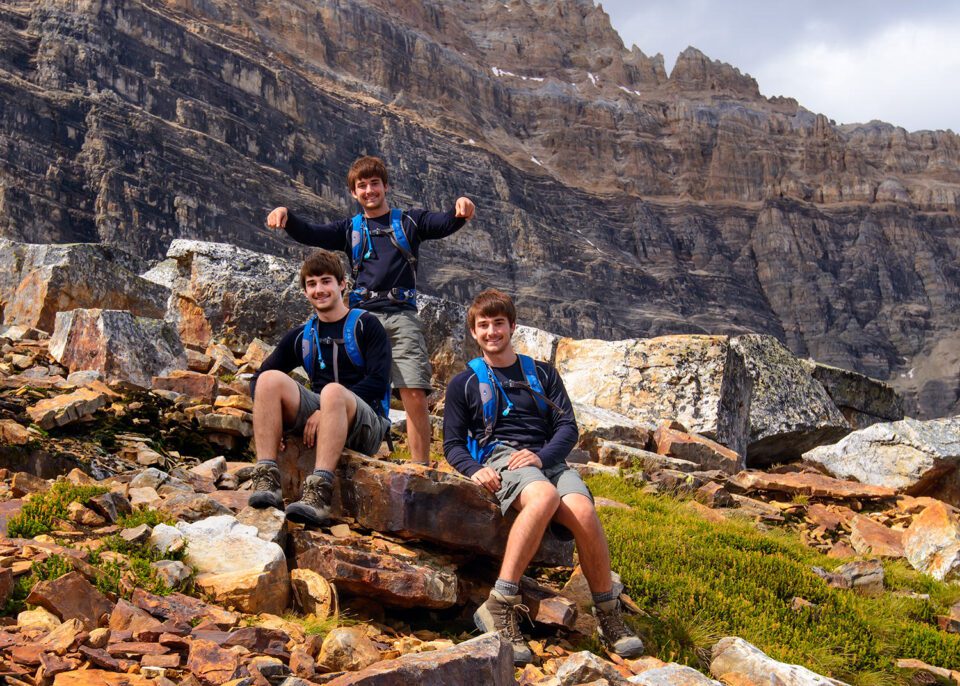 3) Johnston Canyon & Ink Pots
We passed by this famous site last year, but did not have time to fit it into our schedule. We knew it had to be something special based on the photos we had seen and the long lines of cars extending from the entrance on the Bow Valley Parkway. We arrived at 7:00 AM one morning and noticed only 2 other cars in the parking lot. One quick word of advice – go early! By the time we got back from our hike at 12:00, the parking lot was jam-packed and overflowing for over a half mile in either direction from the main entrance.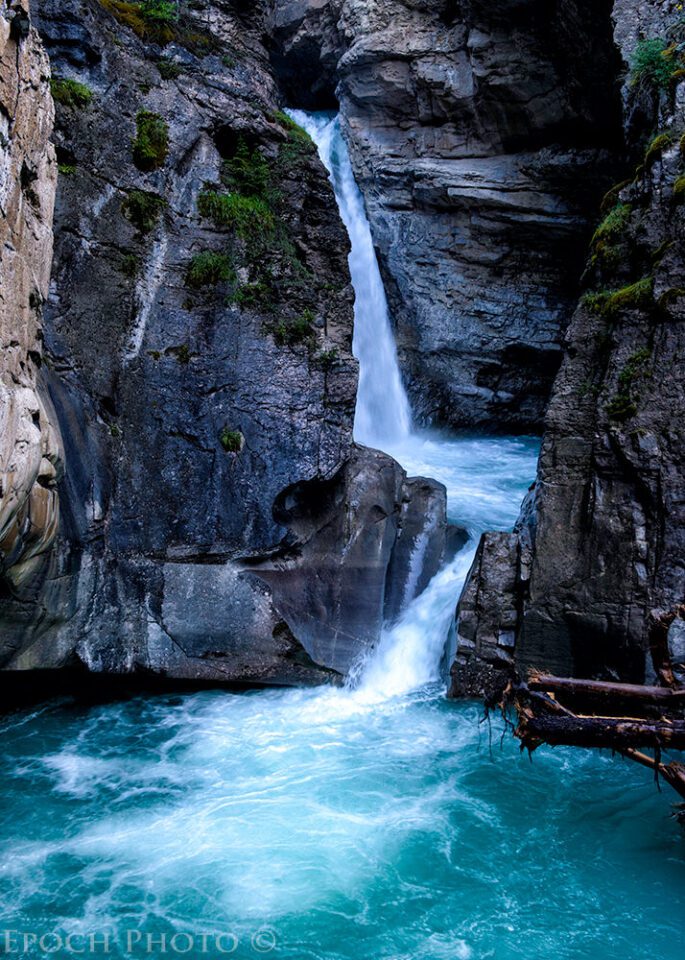 It was not hard to understand why Johnston Canyon is so popular. Thousands of years of erosion have created an amazing array of cavernous channels in the rocky terrain, highlighted by two main waterfalls, appropriately named the "Lower Falls" and "Upper Falls." The Lower Falls is a casual 30 minute walk along gradually sloping terrain and a metal walkway suspended from the rocky walls. Everyone visits the Lower Falls due to the relatively easy access. The Upper Falls involves a bit steeper climb which weeds out some of the crowds.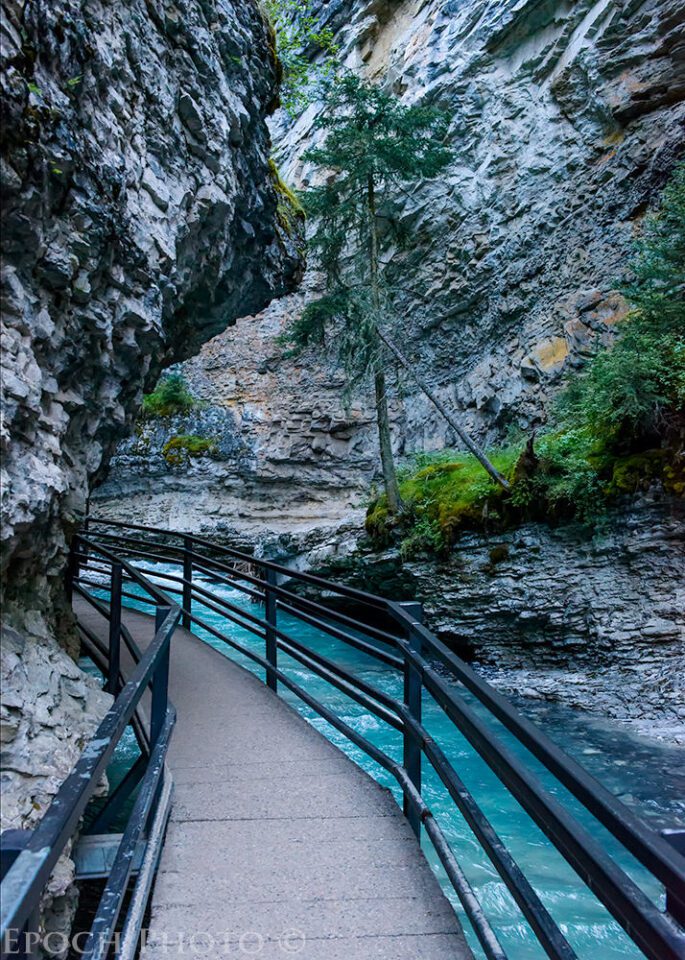 Bright sunny days are usually great for all manner of photography. In forests with large mature trees and deeply-carved canyon walls however, overcast days are much better since they eliminate the harsh sunlight and shadow contrast. On the day of our visit, I often found myself hoping for some clouds to block out the sun, since the contrast between sunlight and shade caused by the deep cavernous walls was a bit too much, even for my Nikon D800 and its powerful shadow recovery capabilities.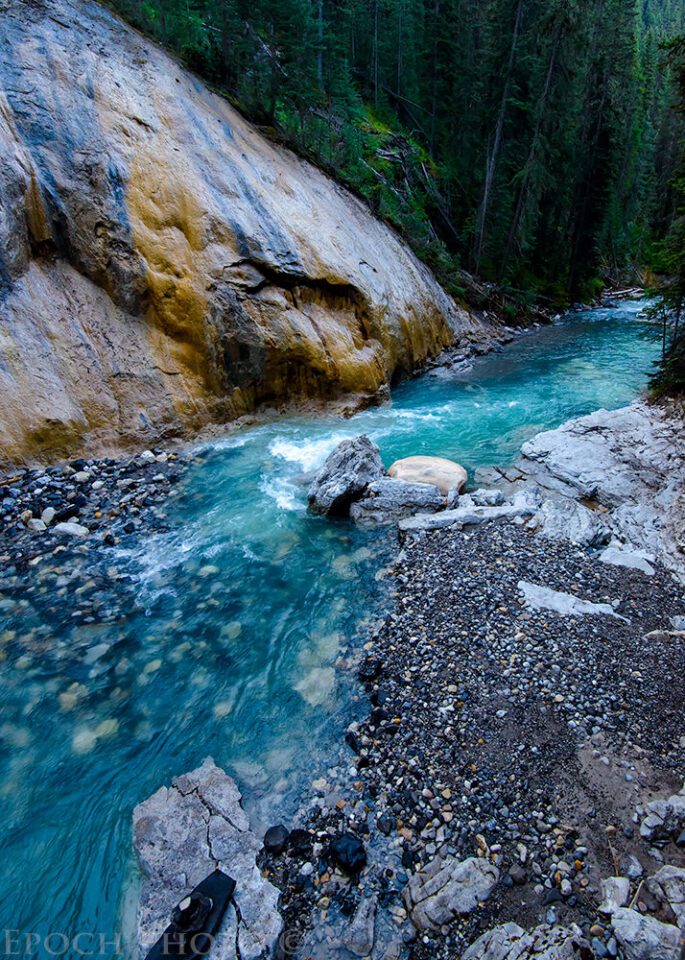 Well above the Upper Falls lies an area called the "Ink Pots." The Ink Pots are a series of crystal clear pools fed by natural springs and highlighted by bubbling light gray sand. They are quite a site and well-worth the hike.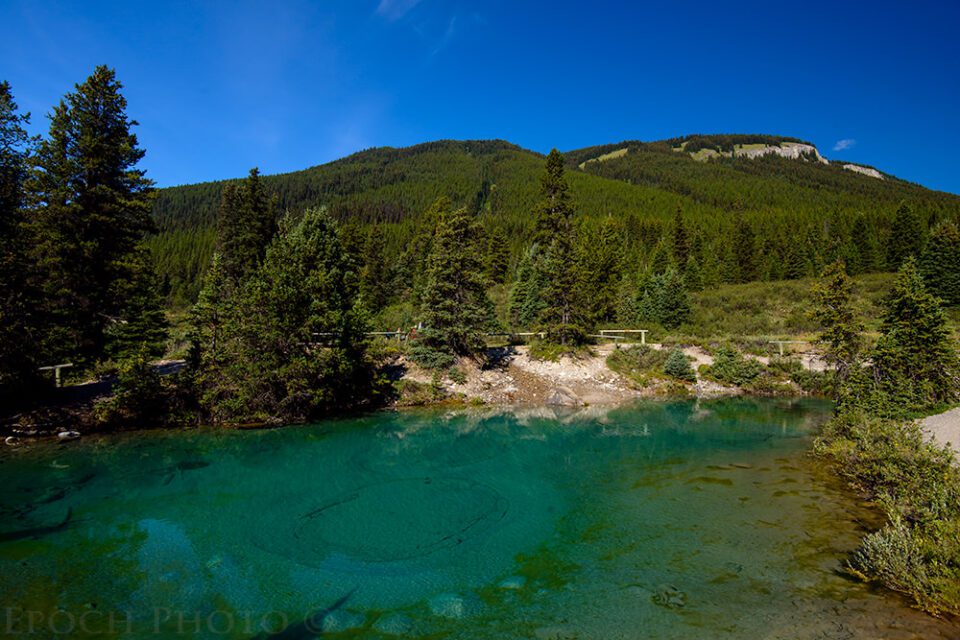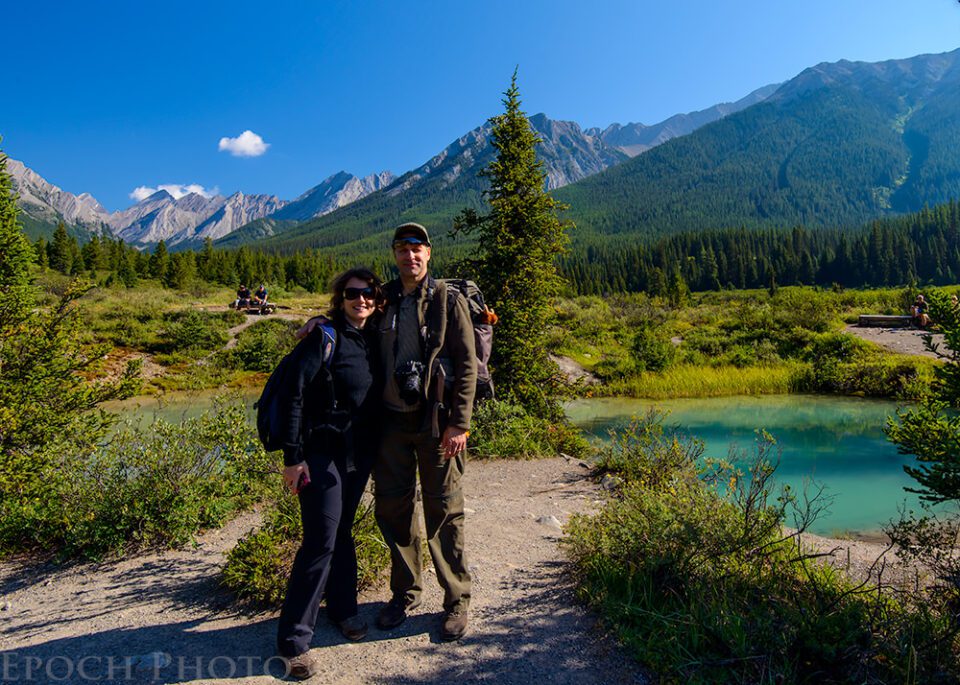 They say that it is difficult to put a price tag on a photo. This price tag of the one below, however, was pretty easy to estimate. It may not be a great picture, but I refer to as "The $4,500 Photo." What you don't see is the position of the photographer who took the photo. As I was taking a photo of Tanya at the observation deck at the Upper Falls, a pleasant Asian gentleman, who didn't speak English, pointed to the falls and mimicked having a camera in his hand and pressing a shutter button. I took this as his way of asking if we would like to have our photo taken. Of course we said "yes." I gave him some quick instructions regarding which of the D800's buttons to push. I expected him to back up a foot or two, take the photo, and hand the camera back to me. How naïve I proved to be…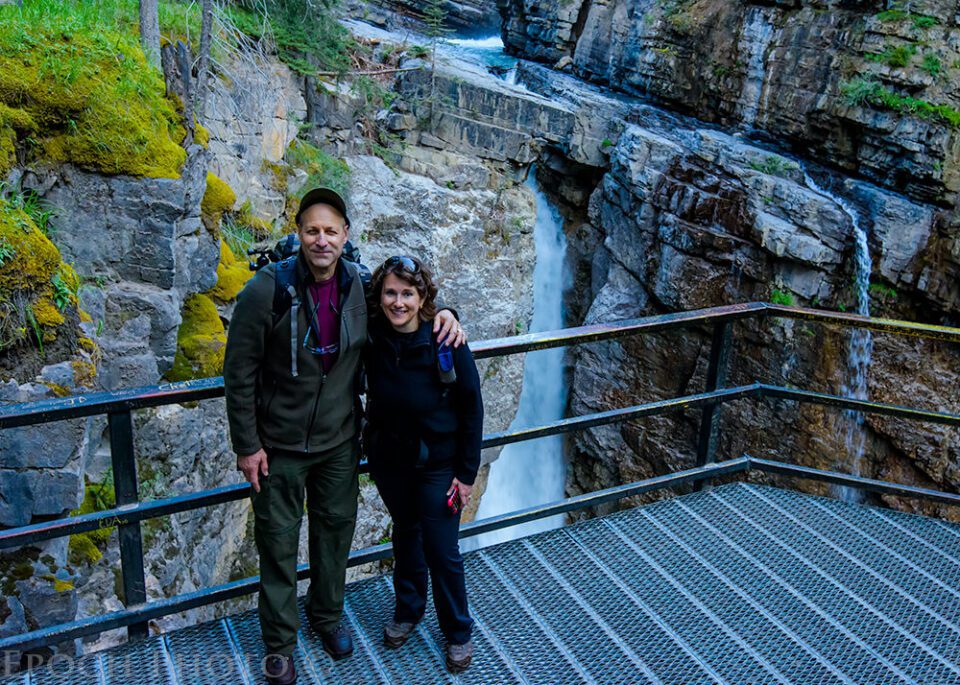 What he did next shocked us. Before we could say anything, he climbed up and over the protective railing and onto the small cliff which overlooked a 100 foot drop to the water and rocks below. He put his foot on a worn tree stump covered with water spray coming from the Upper Falls, and put his other foot on the slick wet metal railing. He then proceeded to lean perilously backward. One gust of wind and he could have easily taken a tumble and gone over the edge. While I continued to smile, I whispered to Tanya, "I hope we can at least retrieve the memory card, so we can see the photo that cost us $4,500 (D800, 16-35mm f/4 VR lens, polarizing filter, strap, and memory cards) and claimed this guy's life!"
He briefly lost his balance, swayed a bit, but fortunately recovered. After he took a few quick pictures, we both breathed a sigh of relief when he came back down from the other side of the railing. From the look on his face, he was very proud of himself. No doubt he thought our broad smiles and thanks were associated with his taking our photo. Little did he know the source of our smiles and appreciation was due to his not going over the cliff and taking my camera gear with him! We immediately vowed not to hand our cameras to anyone unless they were on level ground and far away from any hazards.
4) Moraine Lake
Moraine Lake is a 15 minute drive from Lake Louise. We have seen a number of popular glacier-fed lakes in the Banff National Park area, but none seem to match the beauty of Moraine Lake. While some may disagree, I believe Moraine Lake has the most stunning bluish-green color and spectacular scenic mountain backdrop of any lake in the region. Moraine Lake and the surrounding mountains were featured on the Canadian $20 bill from 1969-1979 – for good reason. We were also fortunate to be able to meet-up with our friends Laura and John, along with their son, Mark. They chose to vacation in the area based on our previous experience as well as their own research. It was great to share some time with friends in such a far-away place, particularly since they are avid hikers and love the outdoors as much as we do. Laura and I have often share friendly sarcastic barbs regarding whose camera is better – her iPhone or my D800. Of course, the D800 wins hands down for pure quality, features, and flexibility. But as I mentioned above, the combination of a nasty blister and a 40lb backpack left me reconsidering the virtues of "small and light," particularly on an 8-hour hike. And I was impressed with how well the iPhone handled some very tricky lighting conditions and always seemed to do a great job with the white balance. Naturally, I would never admit entertaining such thoughts to Laura! ;)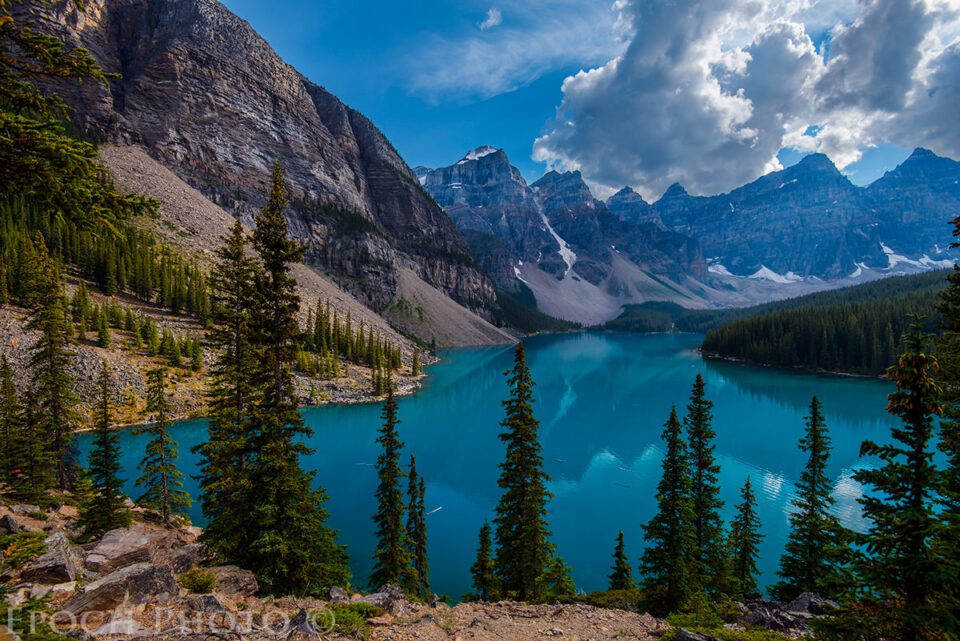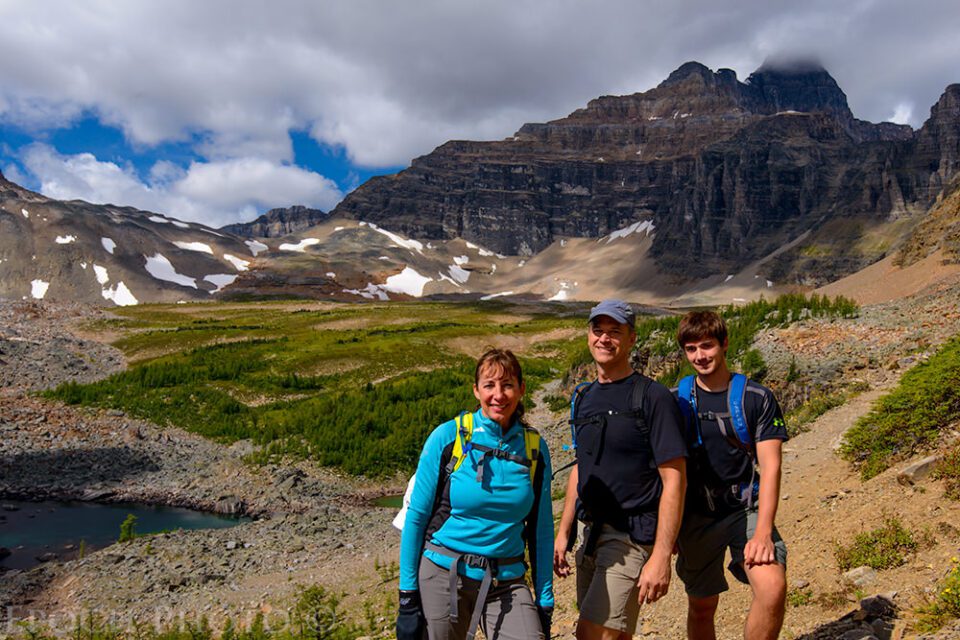 It also has an extensive array of trails which provide some of the most stunning landscapes you will find in the region. There are hikes for people of varying abilities and interests, ranging from casual walks around the lake to steep "scrambles" leading up to the snow-covered peaks.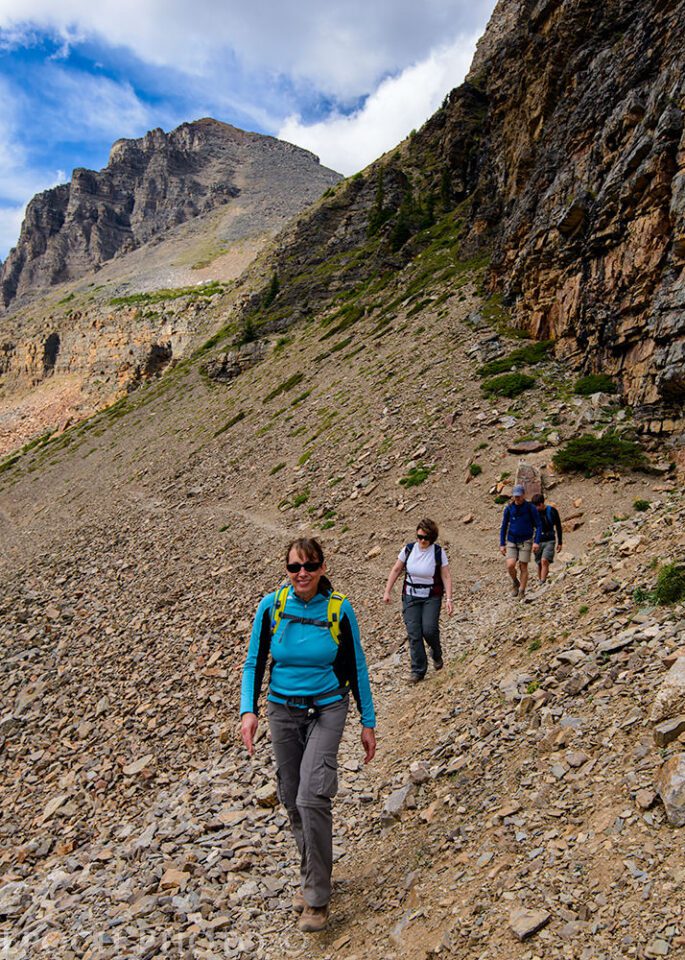 We sometimes found the trails in other popular nature parks offered little in the way of views, since the high tree canopy of fir trees too often restricted our view until we came to some particular summit or peak. One of the most impressive aspects of Moraine Lake's hiking trails is the sheer amount of beauty visible at all times.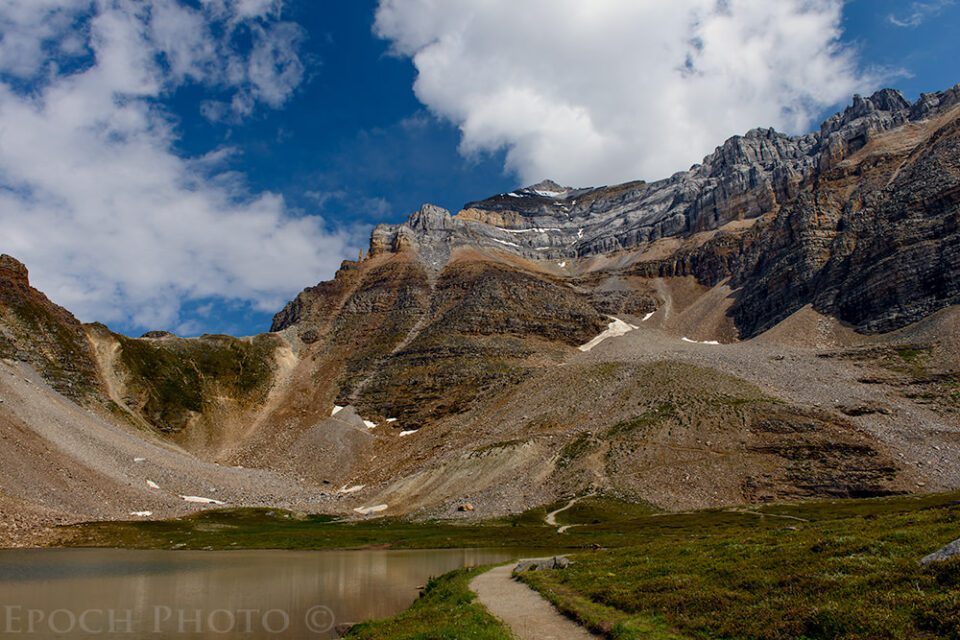 The trail leading to Eiffel Lake and Wenkchemna Pass is absolutely breathtaking. At some point, the wooded terrain ends and you find yourself hiking along a narrow path on the side of an extremely steep mountain side. The roundtrip took us 8 hours, including a short break for lunch. The landscape proved to be quite challenging at times.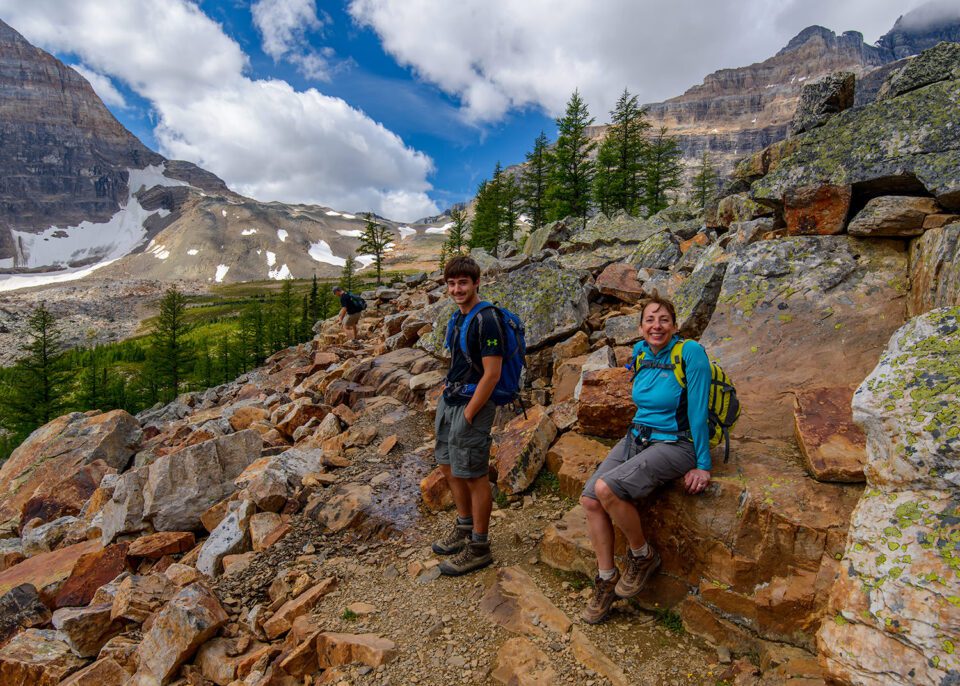 It was well worth the effort however, as it provided quite a bit of opportunity for me to exercise my Nikon 16-35mm f/4 VR lens
and D800 combination. And as I have previously stated, the pictures simply can't capture the sheer beauty and scale of the Canadian Rocky Mountains.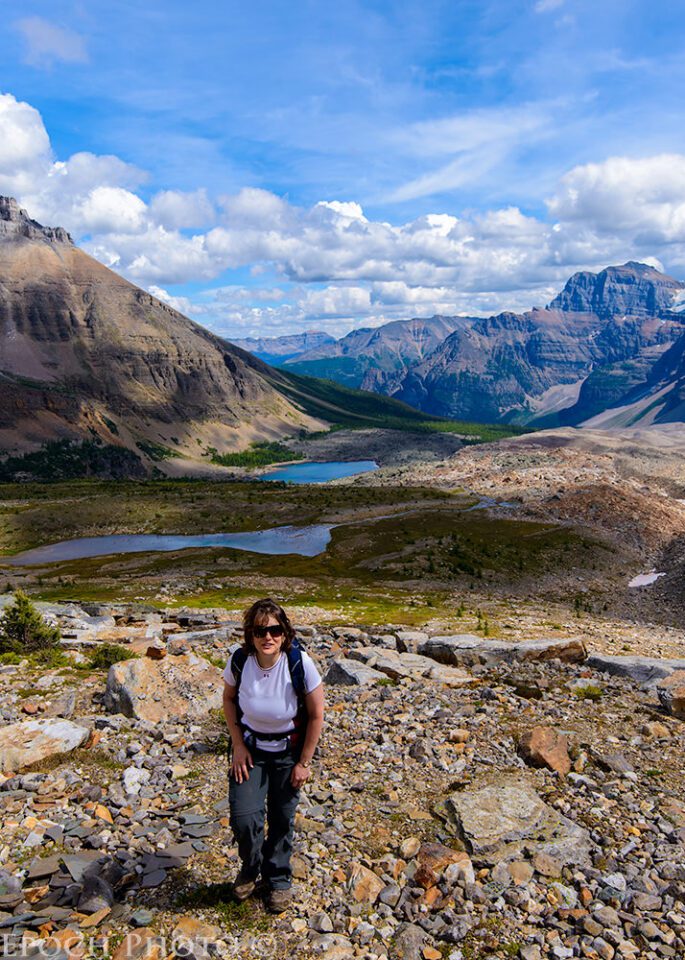 We hiked the Eiffel Lake, Wenkchemna Pass, and Larch Valley trails over a 2 day period. Each was unique in its own way and presented no shortage of opportunities for stunning landscape photos, impressive rock formations, trees shaped by long exposure to extreme weather conditions, and wildlife photo opportunities as well.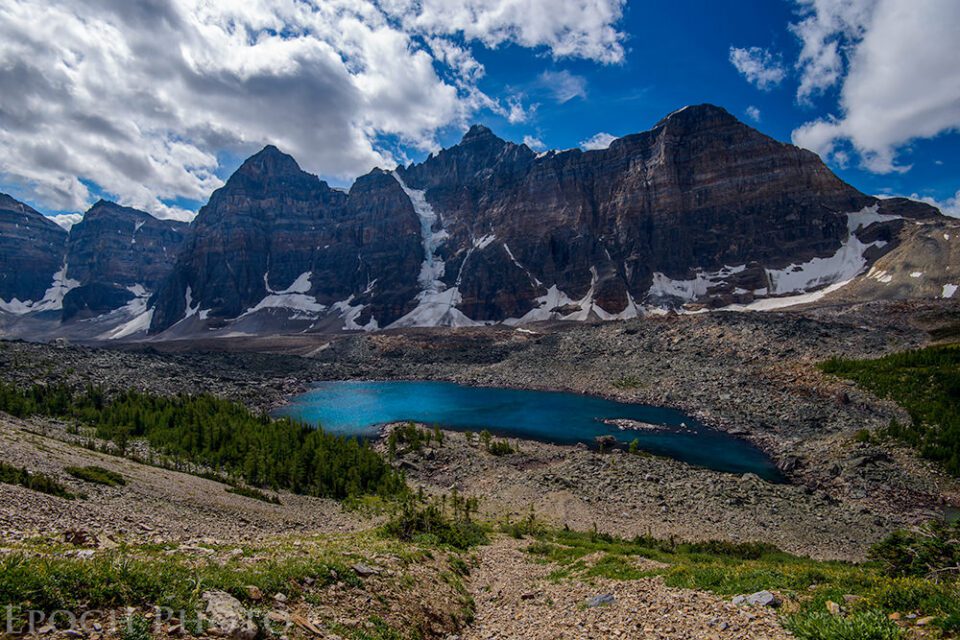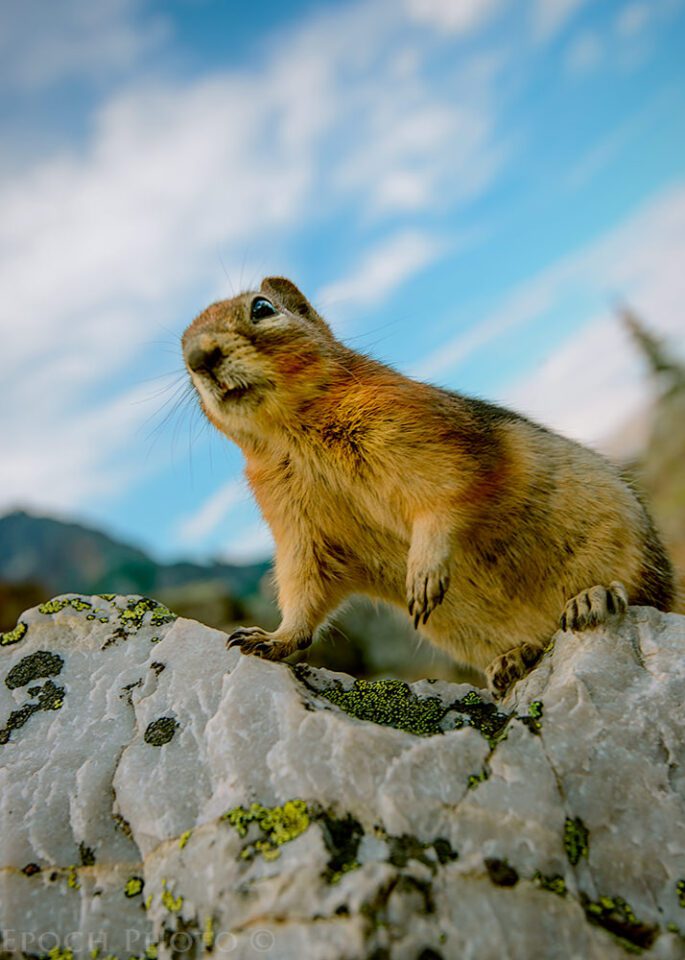 We met a charming young German couple and had the chance to chat with them at great length. They were just finishing up a month-long trip to Canada using an RV. Because Tanya has a bit of an aversion to heights, we did not follow them up the challenging Sentinel Pass trail, but rather decided to pause for a lunch before heading down and taking the trail to Eiffel Lake. Of course, our original party of 6 was now down to 2, in violation of the Park rules which states it is a $5,000 fine to hike in parties with less than 4 members. It seems to be a tough policy to enforce however, despite the best intentions of having paired up with groups at the beginning of the hike, people's different hiking abilities, preferences, and plans may soon cause them to diverge from the group they started with.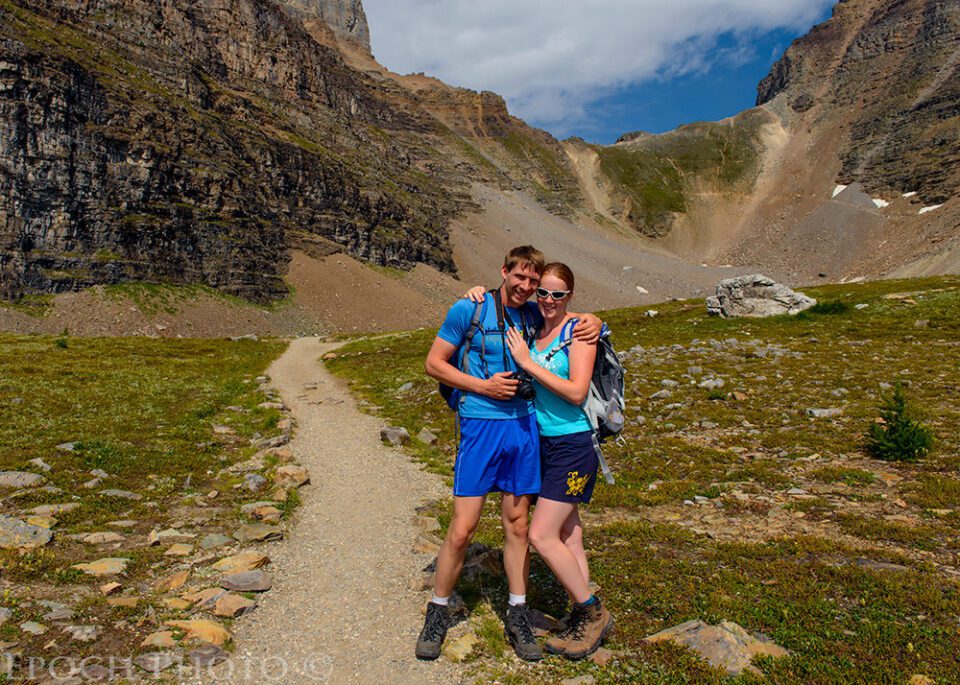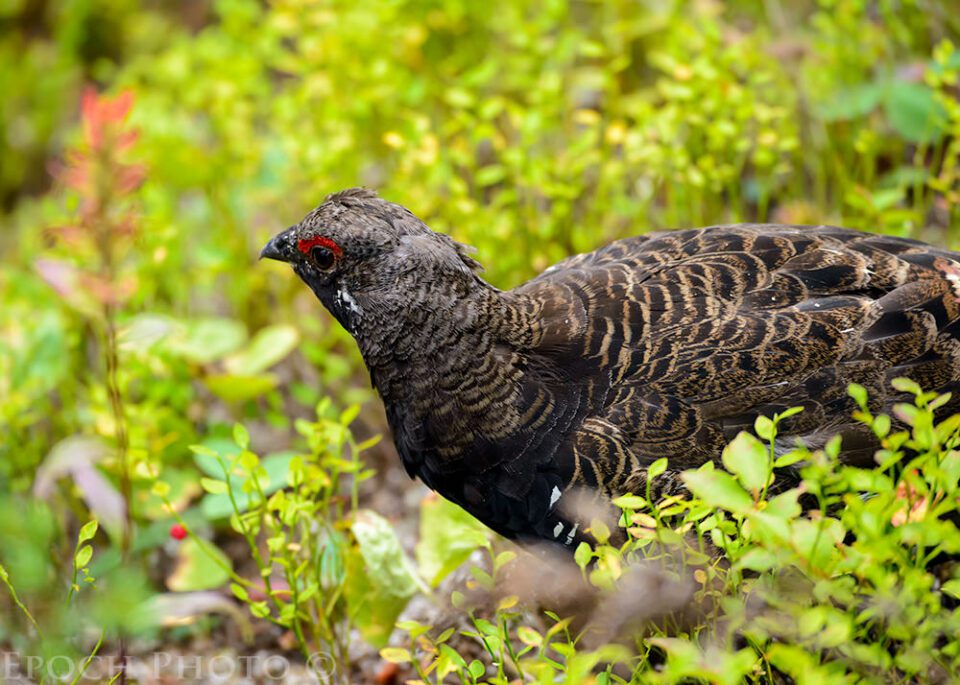 5) "Bears On The Trails Are Bigger Than Reported"
After hiking up to from Moraine Lake to Larch Valley and having some lunch, we decided to attempt the Eiffel Lake trail. Along the Eiffel Lake trail, we were greeted by two families from Belgium and Canada, who were vacationing together. They were heading back toward the Moraine Lake Visitor Center. In broken English (which was much better than my Flemish or French!), they described seeing a small grizzly bear off the trail. I joked I was "ready" if need be with my bear spray and large Buck hunting knife. I then told them I had the most important tool required during a grizzly encounter, and proceeded to pull out my Nikon 80-400mm VRII lens, when combined with the lens hood in place, resembled a small bazooka. They got all excited at the sight of this big lens, since they desperately wanted to have some photos of bears to back up the stories they would invariably tell back home. They started speaking rapidly in French. I said, allow me to translate into English: "Let's go back and see the American get eaten by the bear!" This got quite a laugh from the group.
They eagerly agreed to walk back with us and help us locate the area where they had seen the bear. I actually thought there was little chance of the bear still being there. Every bear we had seen in the last two years seemed to be on a mission, eating voraciously and quickly moving on to the next patch of buffalo berries or other delicacy. Few bears seemed to pause very long for photos unless there was an unusually large amount of buffalo berries nearby.
We proceeded along the trail humming show tunes and whistling to make sure we gave any nearby bears some warning of our presence. Just before we got to the area where they believed the bear to be, the skies unleashed a torrential rainstorm which included large hailstones. In less than a minute, we were completely soaked. Visibility was plummeting due to our proximity to the clouds and rapidly forming foggy mist. What else could I whistle but the popular Gene Kelly song, "Singing In The Rain?" Soon our band of Belgians, French Canadians, and Americans were all singing or whistling the popular tune.
We continued our hike despite the downpour. Soon our new friends indicated we were approaching the area of the bear sighting. We slowed down quite a bit and proceed very cautiously along the trail. I fully expected the bear to be long gone by now. Suddenly, I saw a flash of grayish brown fur at a bend in the trail. I could not see the entire bear since it was behind a blind corner. I took a few steps off the trail to my left in order to get a better glimpse of her. I was a bit taken aback when the bear came toward the trail and looked directly at me. Suddenly I was staring at huge grizzly weighing approximately 600lbs. We were only 20-25 yards apart and she was staring directly at me. The bear had a light blue tag in its right ear, indicating it was a female. I continued to whistle, but I suspect I was drowned out by the downpour.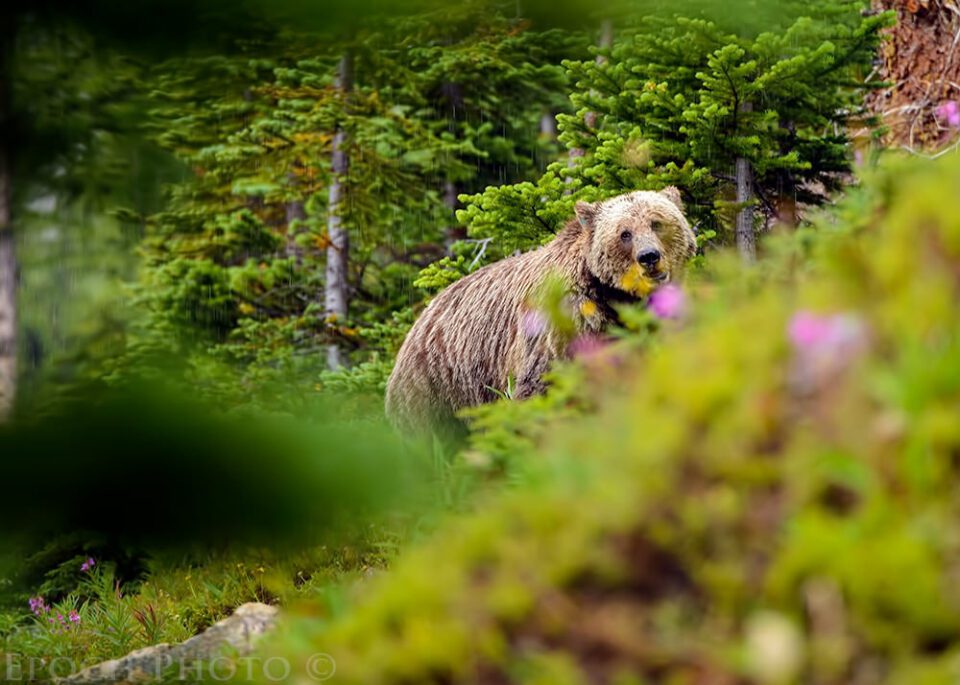 With my wife and a group which included young children behind me, I thought it wise not to press my luck, and yet wanted to get off a few shots before retreating. I had two conflicting thoughts: One involved my grizzly bear photo on the cover of National Geographic, and the other involved my sparking an international incident, covered by a Canadian newspaper with the headline, "American Photographer Captures Stunning Grizzly Bear Photos At Moraine Lake" followed by the subheading, "Unfortunately Innocent Belgian Child Is Eaten By Bear."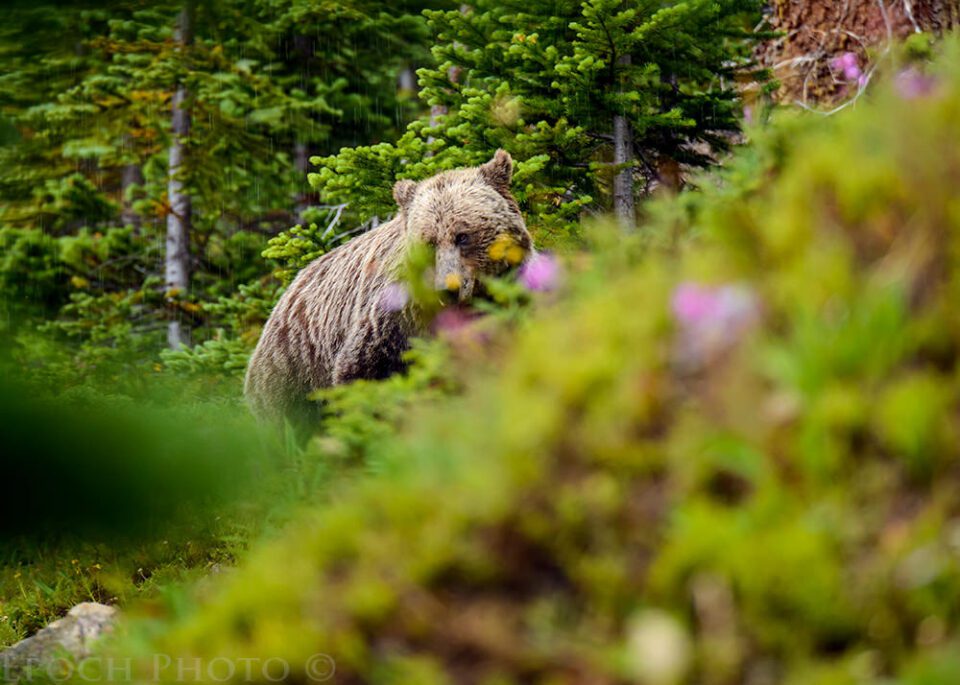 Not wanting to be the source of a potential international conflict involving three nations (which might put a real crimp in our vacation), I decided to forego the National Geographic cover opportunity and minimize the chance of our new friends becoming bear chow. I took 2 more steps off to the side of the trail and captured a few more photos as the bear meandered in and out of view. All the while Tanya was coaxing me back (actually more like "ordering!"). So I began backing up slowly and left the bear to eat in peace. Soon we were all headed back to the Visitor Center. Our newfound friends were very eager to see our bear photos. I gave them a few of my business cards and told them to email me for a link to the photos. Along the way back, we got to know each other and had some pleasant conversations about Europe, Canada, and the children's educational plans.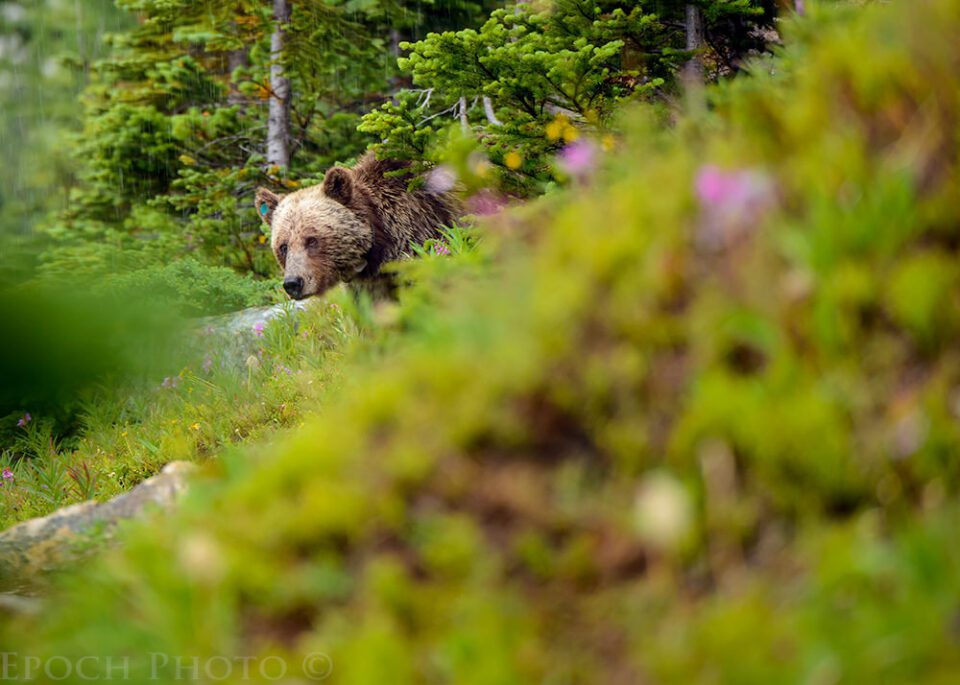 It was only after I got back that I realized a few things which didn't dawn on me during the excitement of the moment: 1. Had we not bumped into our Belgian and Canadian friends, we would have had no knowledge of the bear and would have continue on our merry way. The bear was located just around a blind corner, meaning there was a sharp bend in the trail which prevented us from seeing it. We would have had no reason to be especially cautious in this section of the woods, and likely would not have been looking so diligently for the bear. Thus, by time we would have seen the bear, we would have been no more than 5-10 feet from her. This would have given me precious little time to react with either my bear spray or hunting knife. Even if (this is a really big "if") I had been able to get my bear spray out and shoot a blast in her direction, the extremely heavy rainfall would likely have diminished its effectiveness a bit. 2. If the Canadians and Belgians were correct that they had seen a smaller bear, they might have been looking at a cub or a yearling traveling with its mother, in which case, we would have been in the worst position possible – face-to-face with a mother grizzly and her cub.
6) Kananaskis Golf Club
You may have seen reports this past June regarding Calgary, AB and surrounding areas inundated by record rainfall resulting in severe flooding. Banff and Canmore also saw some flooding. The area known as Kananaskis Country, southeast of Canmore, got hit especially hard. The Kananaskis River engulfed virtually the entire Kananaskis Valley. We understood that the Kananaskis Golf Club, designed by the legendary Robert Trent Jones, sustained heavy damage and was closed for the season. Rated as one of the top 25 public courses in North America, it is (or was!) one of the most scenic golf courses you are likely to see in a lifetime. At the time of this article, the decision to reopen the course was not a done deal. There are some very passionate debates taking place, with people lobbying hard for restoration, while others are making a case to turn the area back over to nature and the local wildlife population. As an avid golfer and wildlife lover, I can see both sides. But given the tremendous amount of wilderness in Kananaskis Country (there is little else!), I suspect the elk, moose, and bear probably are not going to miss the 600 acres used by the Kananaskis Golf Club (consists of two courses, Mt. Kidd and Mt. Lorette).
I once viewed a Myrtle Beach golf course which had been abandoned and turned back over to nature. It was quite a site to see how quickly nature could reclaim what took millions of dollars, dozens of bulldozers and other forms of heavy duty equipment, and years to build. We thought it might be worth stopping to see the damage at the Kananaskis Golf Club and what nature was doing to reclaim the golf course while the Canadian government and local community debated its future.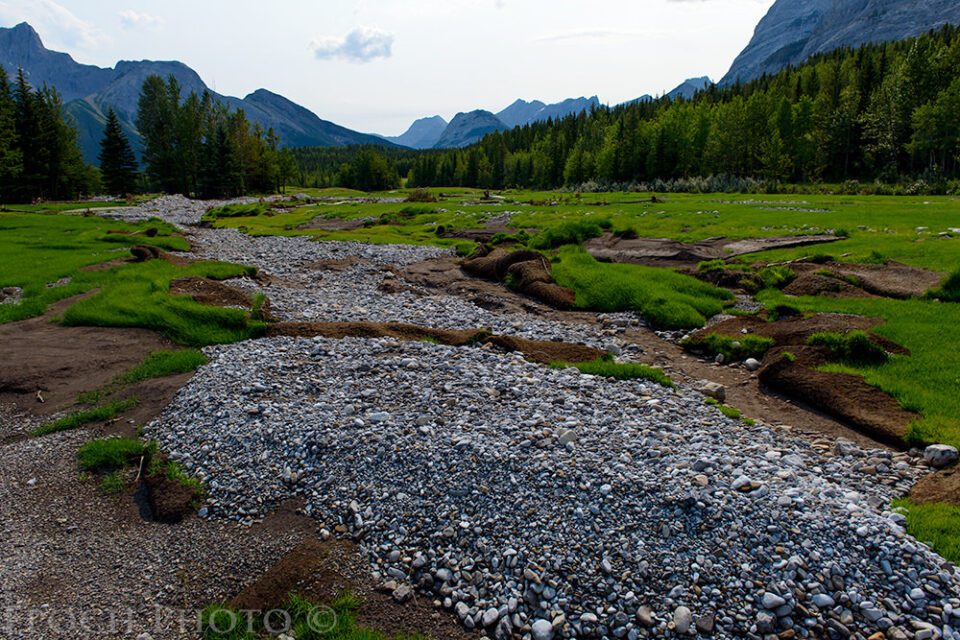 The devastation was quite severe and resulted in scenes that can only be described as surreal. The first hole had a huge chasm across the fairway which required us to climb down a 5 foot wall of earth in order to traverse it. On the second hole, a long par 5, we had to walk through 50 yard wide swaths of boulders weighing upwards of a 500-1000 lbs and 50 foot trees with 3 foot diameters. There were plenty of new "hazards" on the course, apart from the usual thick rough, bunkers, and woods. In some areas, huge tracts of grass were peeled and rolled back like carpeting. Saplings had already begun sprouting up in the fairways and bunkers, from seeds deposited from the flood. Tons of rich fairway soil and grass had been swept away, with only the rock gravel bed layer remaining.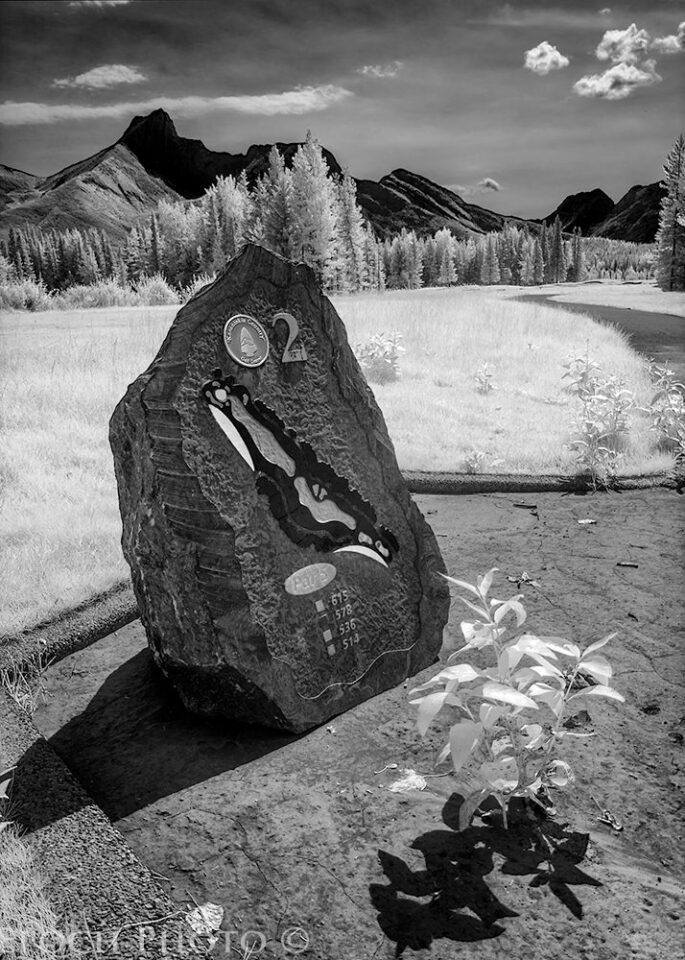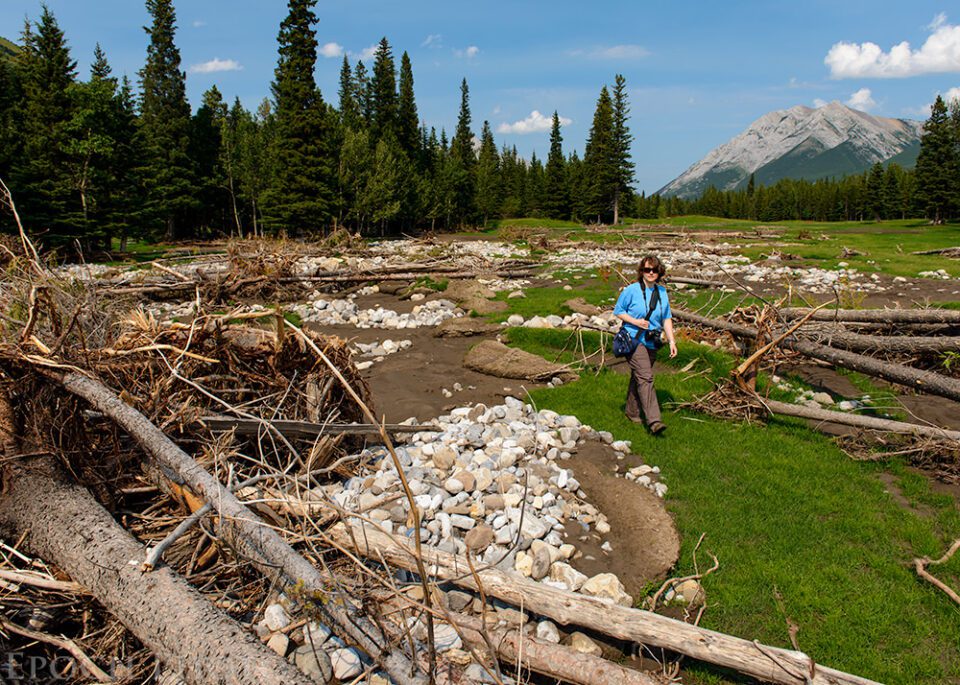 Only the power of nature could do so much damage so quickly. The beautiful Kananaskis River, which engulfed the entire golf course during the height of the flood, had receded to its pre-flood levels and was about the same size as one of Pennsylvania's larger trout streams. If you search online, you can easily see photos of the course during the height of the flood.
I hope to see the golf club reopen someday, but it will require a massive infusion of funds and significant effort to remove the tons of debris, recontour the land, grow new grass, and repair the extensive plumbing and watering infrastructure. I would not be surprised if the associated repair costs rival what it took to build the original course. Stay tuned…
And of course, we encountered the ever-popular families of Rocky Mountain Sheep, regulars on Highway 40, the main road through Kananaskis country. As usual, they reminded us that they own the highway and we are but guests.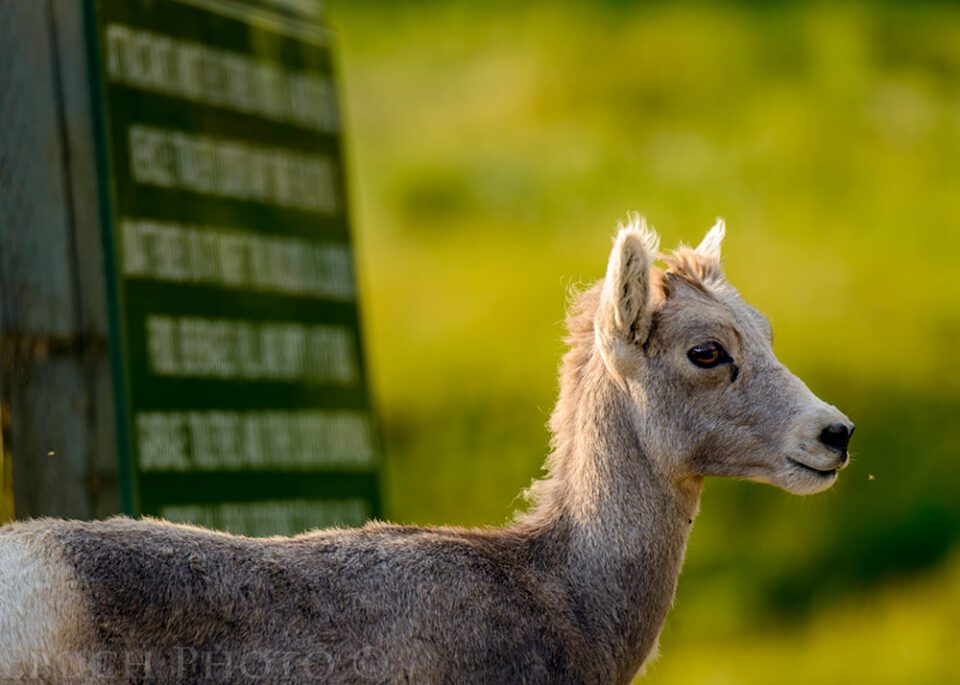 7) The Canmore Cemetery – Walking Back In Time
As you may know from my previous article covering cemetery photography, I enjoy visiting and photographing historic cemeteries. At the Canmore Visitor Center, I asked if they knew of any historic cemeteries in the area. She smiled and indicated she never had anyone ask that question. Above her head, however, I could see a few cartoon-like bubbles and the text, "This guy is here on vacation and he is looking for cemeteries? O…K…!" To the young lady's credit, she didn't' lose her composure and refrained from laughing in my face. Instead she politely suggested we might ask the staff of the Canmore Museum and Geoscience Center, located across the street in the Canmore Civic Center.
Leslie, one of the docents, was a wealth of information and extremely enthusiastic regarding the rich history of Canmore. For a whopping $10, we were able to take a tour and see its collection of old photos and artifacts, chronicling Canmore's mining roots and the evolution of the area. You can easily get lost in the museum for a few hours, wandering back in time and contemplating the rich history of the town. The museum played few captivating videos from well-known geologists, which described how these beautiful mountains were formed. One interesting little tidbit – the huge mountains you now see in these photos grew to their heights at approximately the same speed as your fingernails grow.
Leslie was a bit more understanding of my cemetery inquiry. She was able to provide instructions for how to get to the Canmore Cemetery, where, as she described, many of her family members were buried. I was surprised to learn that the Canmore Cemetery was approximately 1 mile from Falcon Crest Lodge. And interesting enough, in order to get to the cemetery, you have to drive into the Holiday Inn parking lot (just off the second exit for Canmore off of Highway 1). Surprisingly, Holiday Inn apparently failed to capitalize on this odd fact with an ad reading, "Sleep Here And Spend Time With The Dead!" Something tells me Holiday Inn won't be calling me for advertising copy advice anytime soon… ;)
The Canmore Cemetery proved to be another hidden jewel. Just 200 yards or so from Highway 1, this cemetery contains two main areas – an older section containing graves dating back to the late 1800s, and a modern section. Approaching the older section, I could easily see a series of wooden fence-lined graves with various types of headstones and markers. A trail marked by string paved the way for navigating through the old cemetery. I could see little orange flags, which I took as markers of grave sites that had no headstones.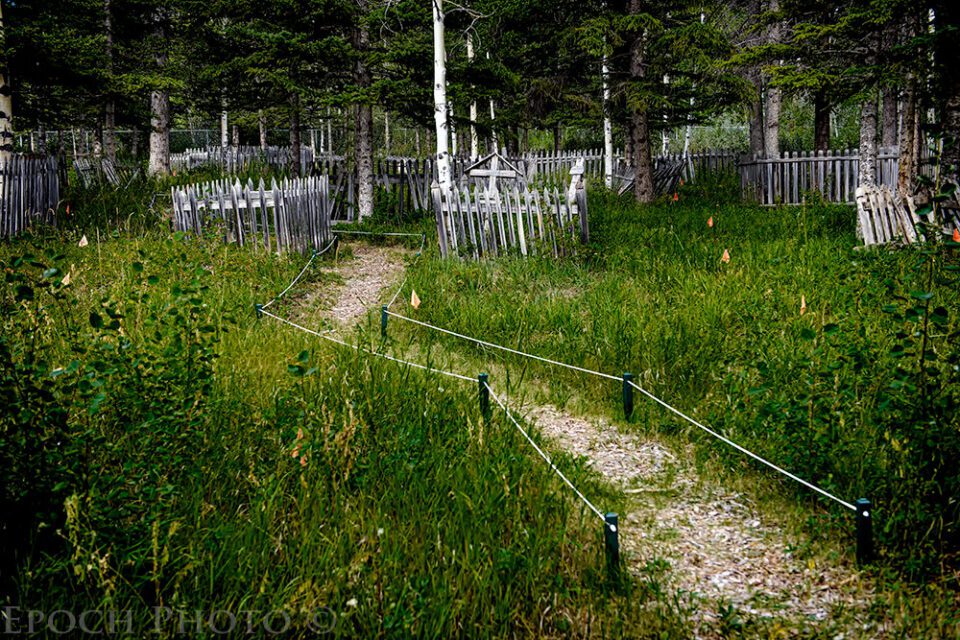 As I approached the graves, I felt like I was walking back in time, for, in a sense, I was. Many of the inhabitants passed on before the turn of the last century. Ironically, given the nature of how well history was captured during this era, perhaps the starkest proof that some of these people ever lived, might very well be the gravestones marking their death.
I was struck by the realization of how difficult and harsh life must have been back in pre-1900 Canmore. Many of these graves contained very young children, some not even two months old. I also realized, given some of the dates of death and the bitter winter weather conditions, it was likely some of these poor souls were but a foot or two under my feet, since the ground was frozen solid at the time of their burial and they lacked the automated digging equipment machinery available today.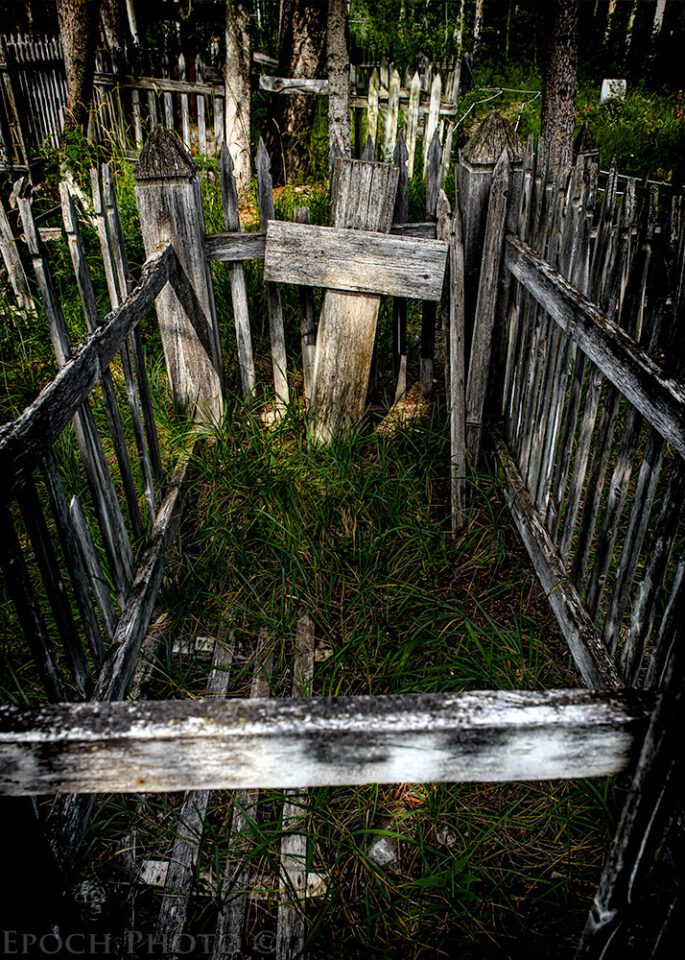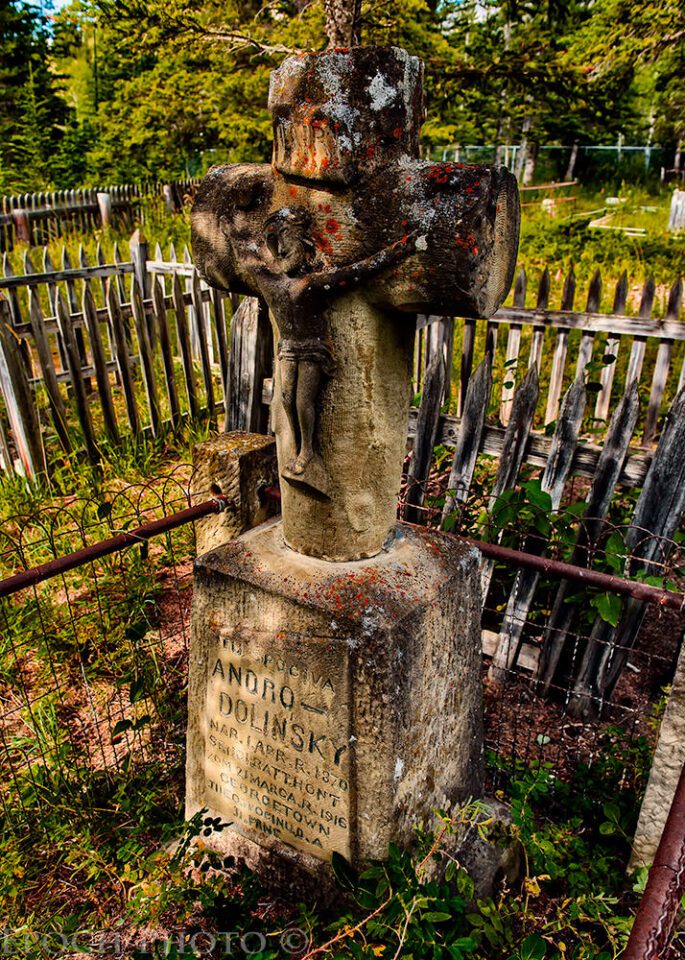 It was hard not to be moved as I read the engravings and studied the well-worn character of the stone, metal, and wood associated with each grave. In a way, these represented messages passed on from people wishing to tell me and other visitors something regarding their loved ones and what they meant to them. Only 33 of the 199 graves are marked, so there is still much to be learned regarding it inhabitants. Fortunately, a group of volunteers are working with the local government to restore and preserve this historic site.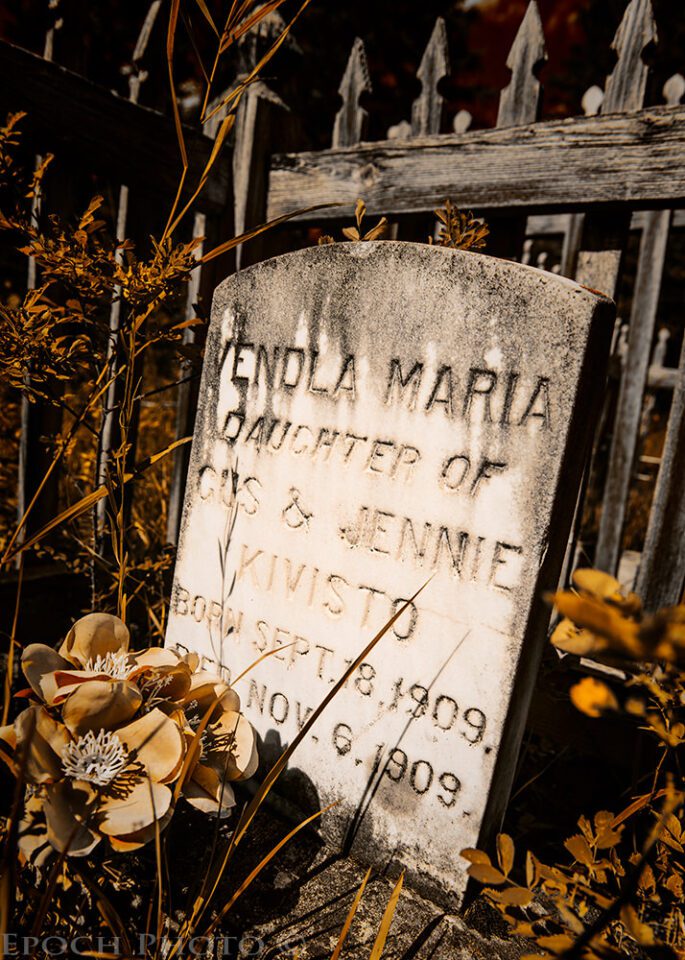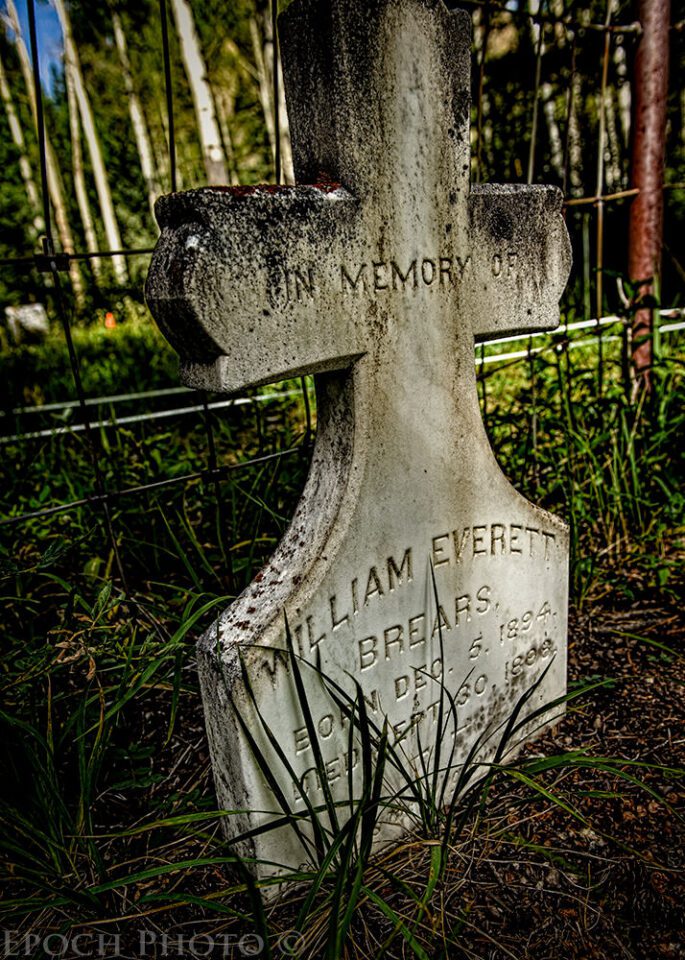 8) Takakkaw Falls
Extending 254 yards toward the sky, these beautiful waterfalls are listed as Canada's second highest. They are located a short distance from the town of Field, British Columbia, about a 75-90 minute drive from Canmore. The road to the falls is quite interesting, featuring a few hairpin "switchbacks," a term describing a road designs in which a steep road turns completely back on itself multiple times at very sharp angles. The road also offers quite a few views of the scenic Takakkaw River along the way.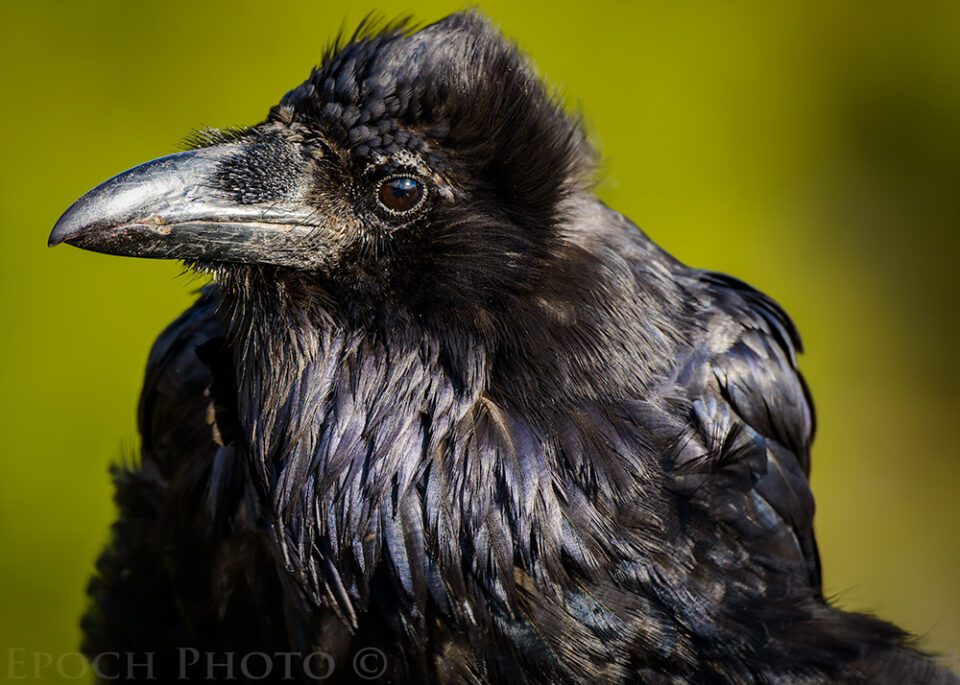 The picnic area located a short distance from the parking lot features ground squirrels and huge black ravens vying for the attention of the visitors and hopefully a bit of food. The Squirrel & Raven show is quite comical, with the squirrels climbing onto people laps, eating from their hands, and the ravens occasionally trying to fly off with one of the squirrels.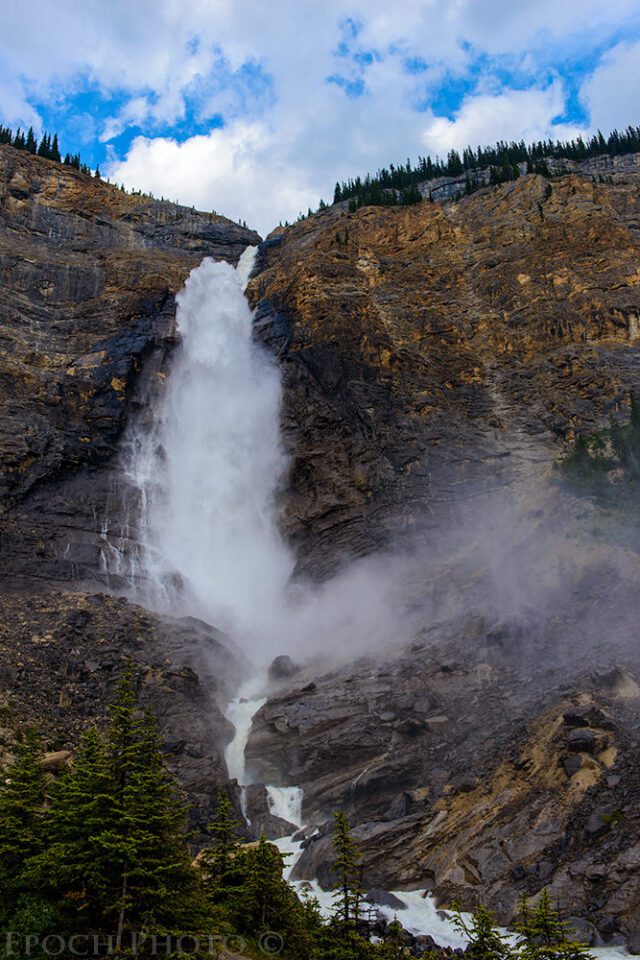 It is a 10 minute leisurely walk from the parking lot to the falls. Like anything immense, you don't get a true sense for the size of Takkakaw Falls when viewing it from a distance. As you approach the falls, they appear to grow before your eyes, and the rumbling you heard from a distance begins to sound like a roar. 200 yards from the falls, you can feel a bit of the mist and wind produced by the enormous stream of water flowing over the edge. As you get closer, however, the mist turns into the equivalent of a light rain storm. The wind was enough to move you a bit if you are not well-balanced. Although we visited the falls on what was a primarily cloudy day, we could easily imagine the many opportunities for the mist to form rainbows on sunnier days.
9) Emerald Lake
Similar to Lake Louise and Moraine Lake, Emerald Lake is aptly named for its beautiful bluish green color, produced by the "rock flour" deposited by the glaciers. The lake is very popular tourist attraction and features canoeing, a nice restaurant, a variety of hiking trails around the lake, and no shortage of stunning landscape photography opportunities. Although quite a stunning sight, Emerald Lake would not be as much of a draw, but the proximity to the little town of Field, the Spiral Tunnels, the Natural Bridge, and Takkakaw Falls make it a natural fit for a day trip to this area.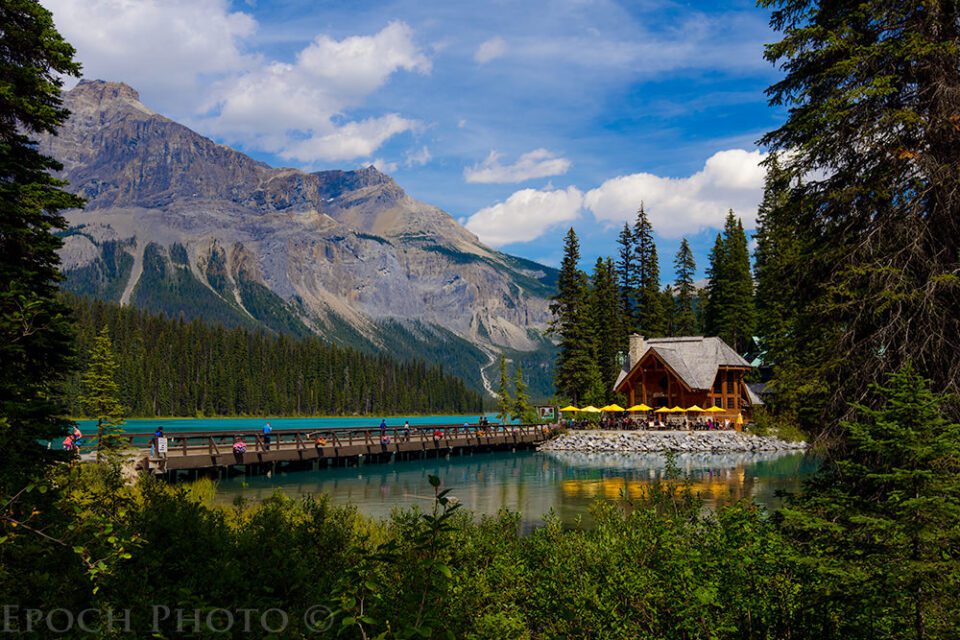 10) The Natural Bridge
Located approximately 100 yards off the same road leading to Emerald Lake, the Natural Bridge is an interesting rock formation formed by thousands of years of erosion. Eventually, the bridge will erode away, but probably not in our lifetime! This is a good area to visit later in the day during the summer months, since the afternoon sun shines on the bridge from below the waterfall.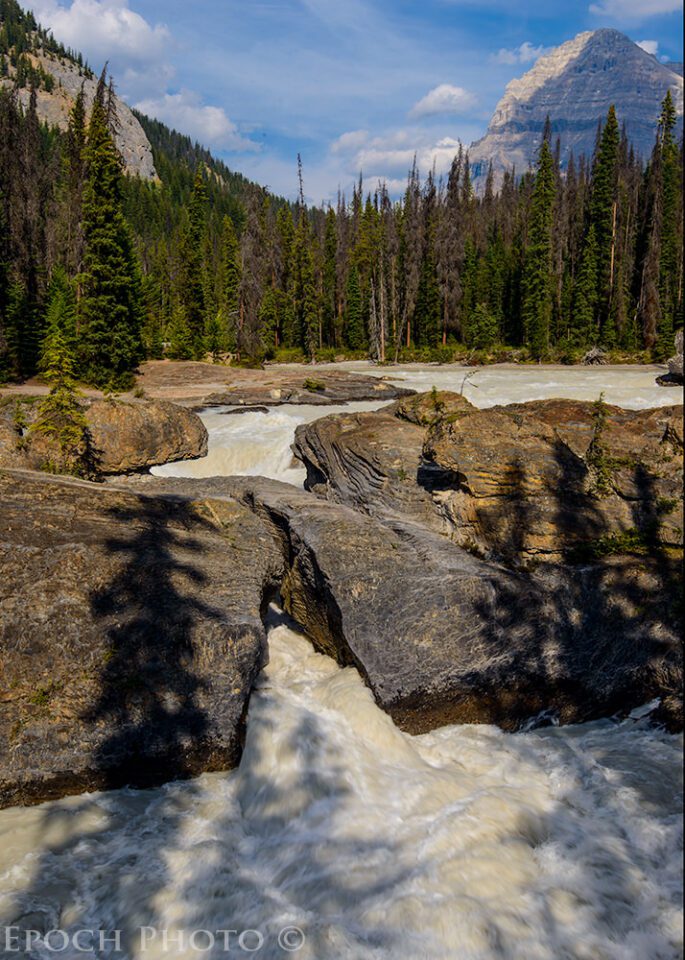 11) Bow Valley Parkway
The Bow Valley Parkway is famous for its wildlife, with grizzlies, black bears, brown bears, elk, and the occasional wolves frequently providing passerby with many photography opportunities. The speed limit is a reasonable 60 km/hour, although many people drive slower due to preponderance of cyclists who share the road. Like ants at a picnic, when drivers see a car pulled over, they often slow down or stop to determine if the driver has spotted some animal worth photographing. A few times I pulled over to take a photograph of the landscape and before we knew it, we had a dozen cars stopped on both sides of the road with their drivers straining to understand what animal I was photographing! I suggest having a longer zoom attached to your DSLR as you drive along the road, since you never know when you will see some form of wildlife and have but a few precious moments to capture its photo.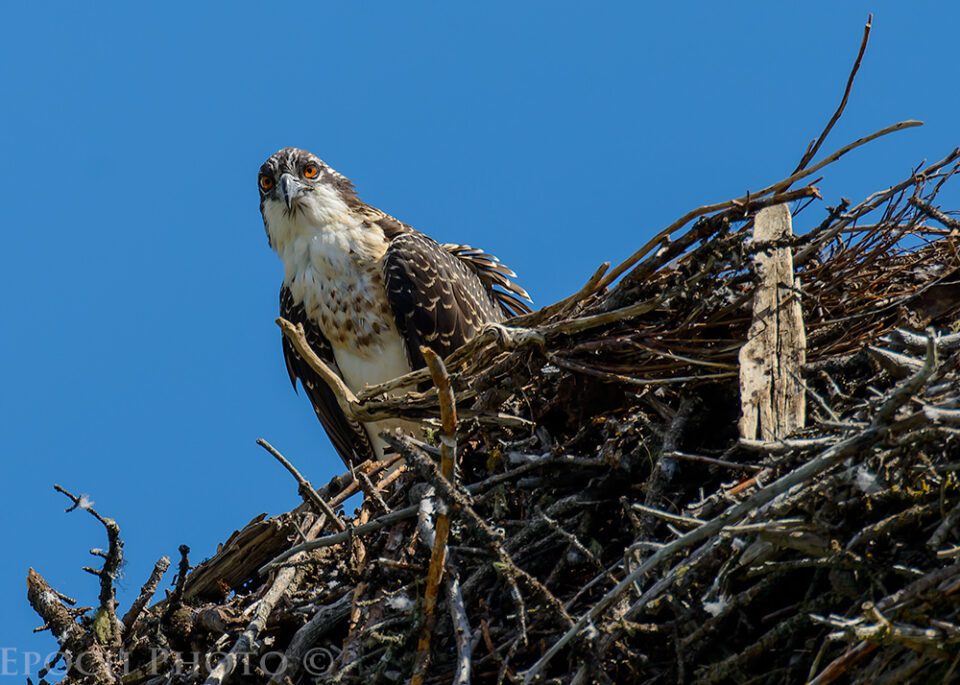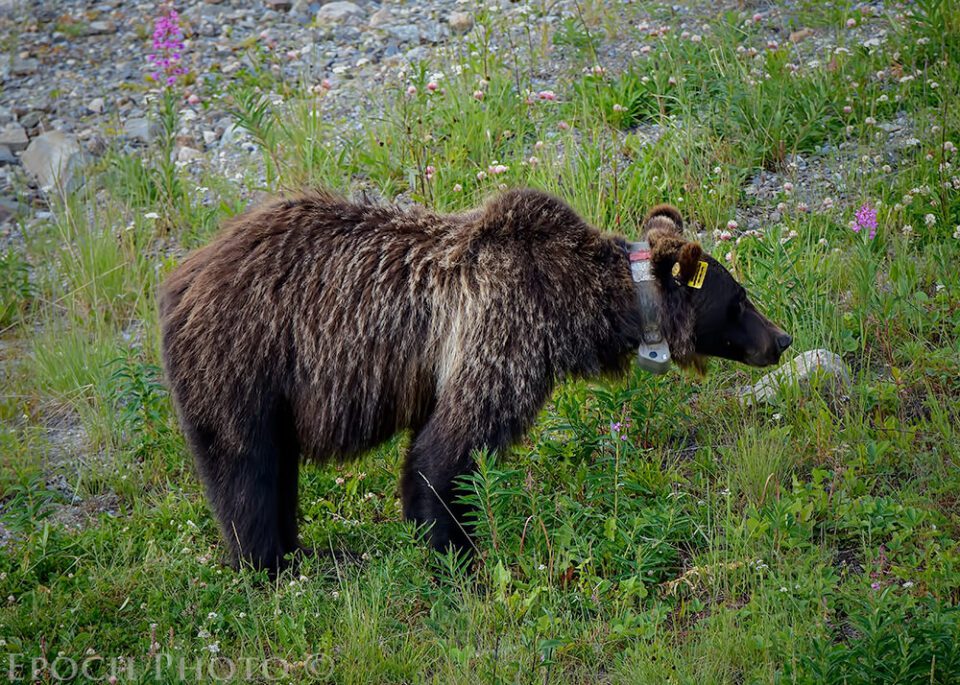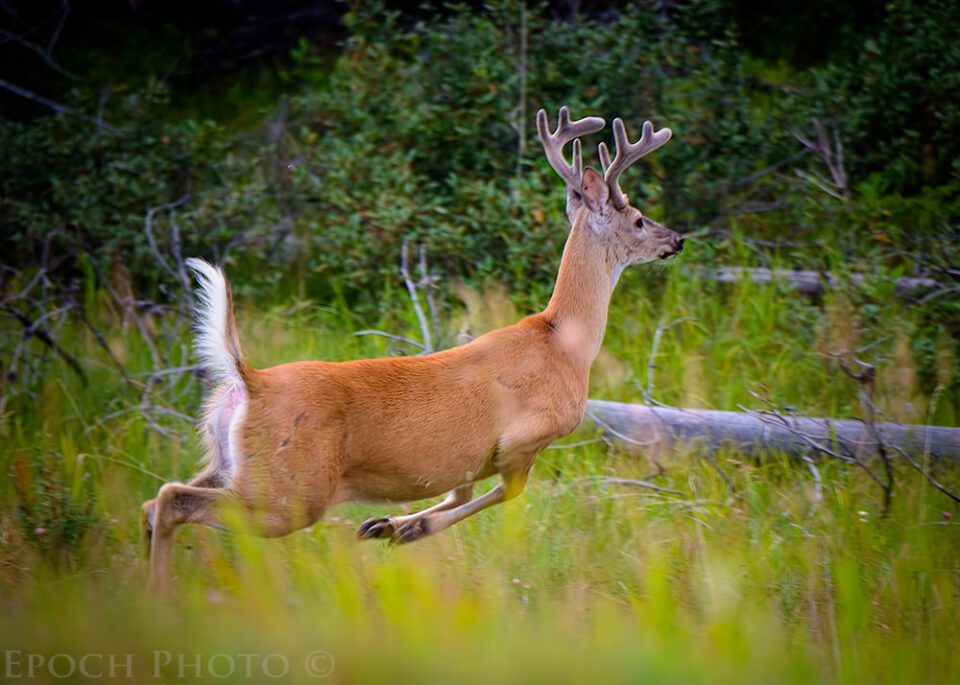 Even if you don't see any wildlife, the Bow Valley Parkway represents a wonderful opportunity to take some unique landscape photos. The parkway parallels Highway 1 all the way to Lake Louise. Moose Meadows (or "No Moose Meadows" as Tanya calls it, since we have never seen any moose in this field!), Castle Mountain, and a virtually endless supply of other colorful landscape scenes hiking trails make a great way to spend a day.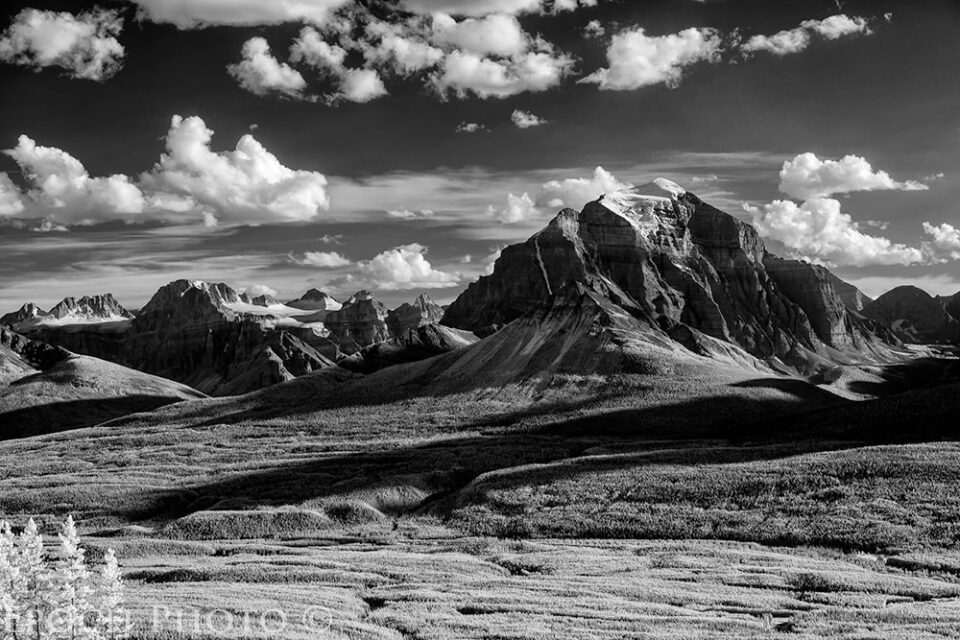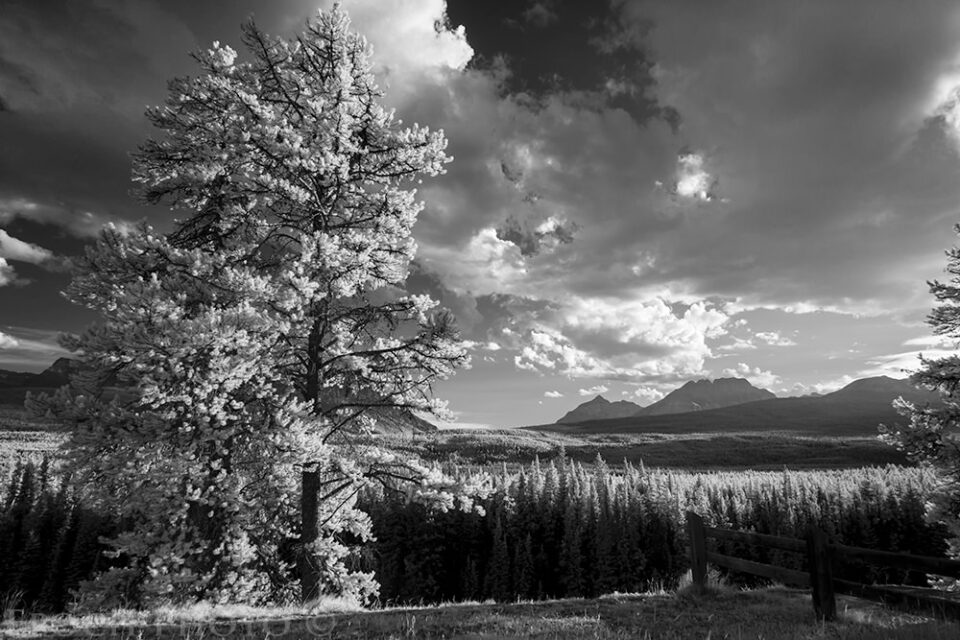 12) Marble Canyon And The Paint Pots
Route 93 starts at Castle Junction, a 45 minute drive from Canmore on Highway 1, Route 93 takes you into Kootenay National Park in British Columbia. You pass through a variety of interesting and scenic areas including the Continental Divide, Stanley Glacier, and a variety of other wonderful hiking sites. Eventually, you come into Radium Springs, known for its natural hot springs. Just a few more miles down the road and you will find the colorful towns of Invermere and Windermere.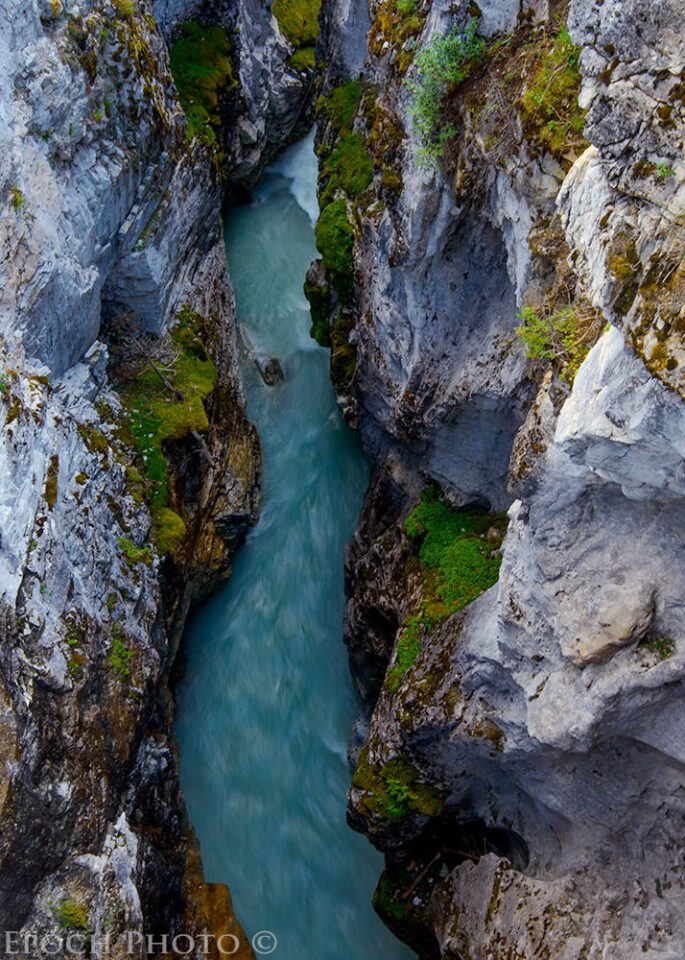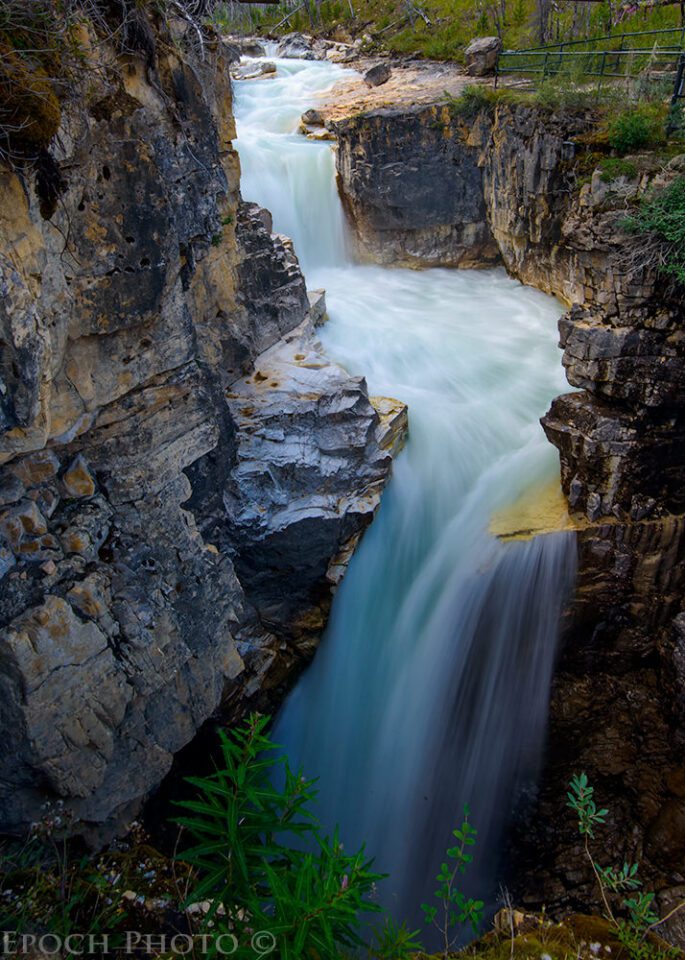 After a strenuous hike the previous day, we thought to do something less stressful, so we headed to Marble Canyon. Marble Canyon contains a series of cavernous walls carved by a rushing bluish-green Marble river. It takes but 20 minutes or so to hike the short trail, but is well worth the trip. In some areas, the canyon walls are but a few feet across. With a little practice, I was able to capture some silky waterfall photos by resting my D800 and 16-35mm VR combination against the railing and using a 1/15 or 1/8 shutter speed.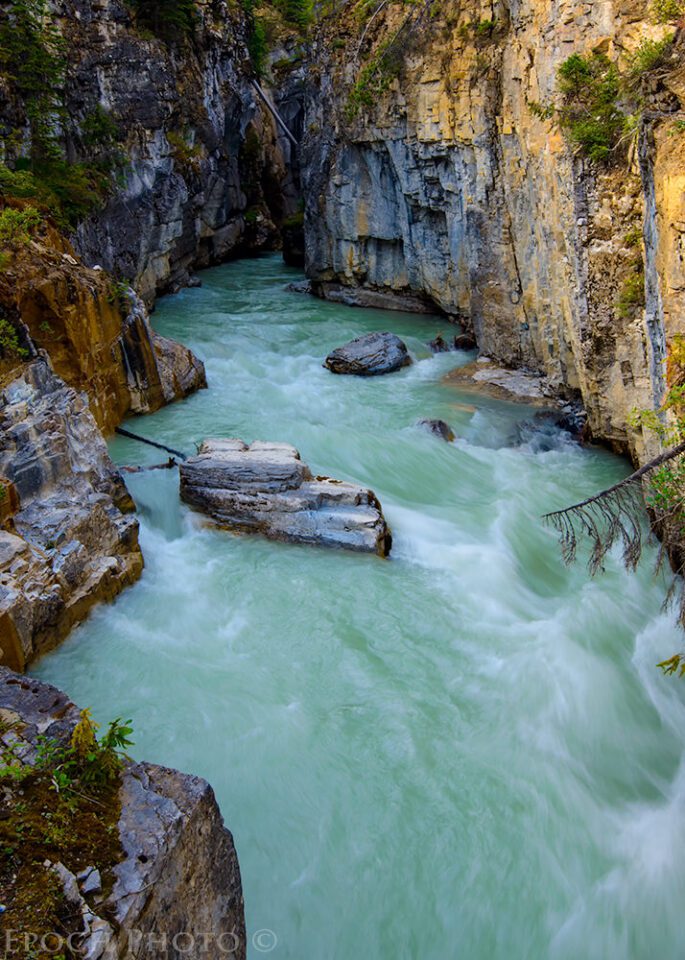 Next to Marble Canyon is a trail leading to an area called the "Paint Pots." The Paint Pots are series of small natural springs highlighting an area called the Ochre Beds, famous for its deep burnt orange-colored clay. Natural deposits of iron ore and minerals produce the beautiful, almost surreal colors. During the late 1800s and early 1900s, this area was famous for its ochre production. The orange-colored clay was dried and shipped as cakes all over the world. Mixed with various oils, it was used to produce the popular ochre paint. Ochre paint has been found in cave drawings dating back 75,000 years ago.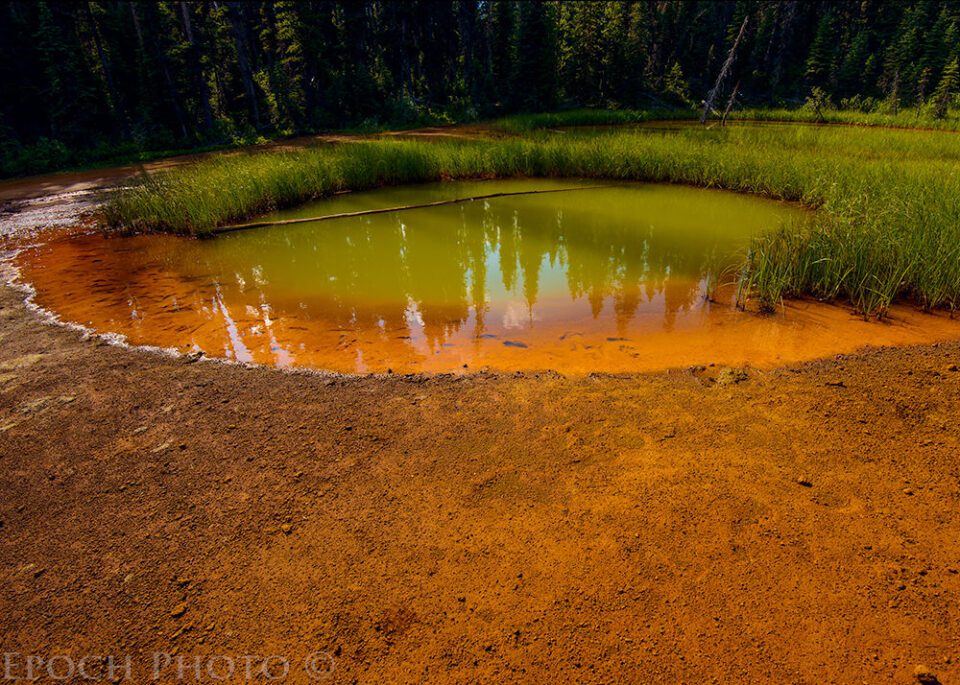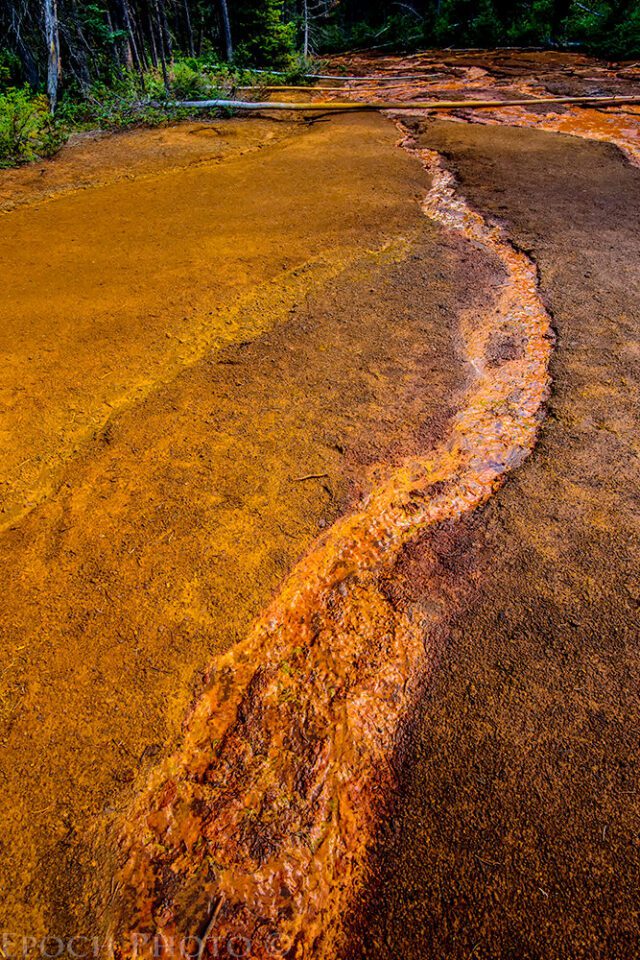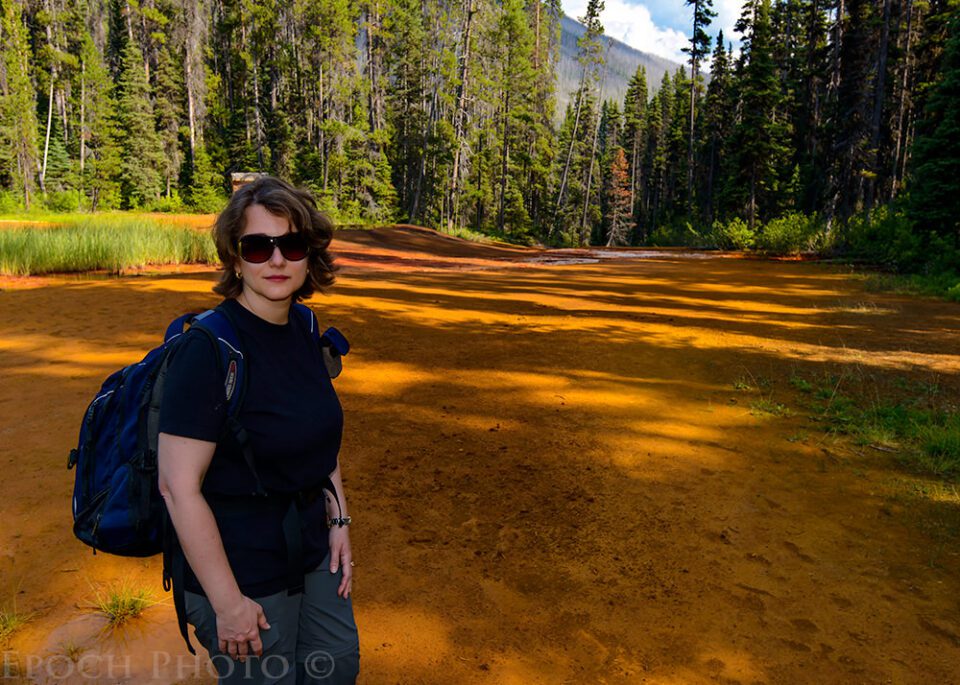 In 2003, a savage fire devastated approximately 42,000 acres in Kootenay National Park and threatened far more of the region, including the Bow Valley and Lake Louise resort areas. It took nearly $1 billion to extinguish the blaze. 10 years later, the evidence of the fire is still very visible along the trails through Marble Canyon and the Paint Pots. Burned trees, resembling telephone poles in stature and tone, meet your gaze for miles in every direction. But as we so often see with nature, it always finds a way to regenerate itself and start anew. Acres of fireweed (chamerion angustifolium), a light green plant with beautiful purple flowers, and new fir tree saplings have sprouted up all over the burnt landscape demonstrating the strength of nature's resiliency.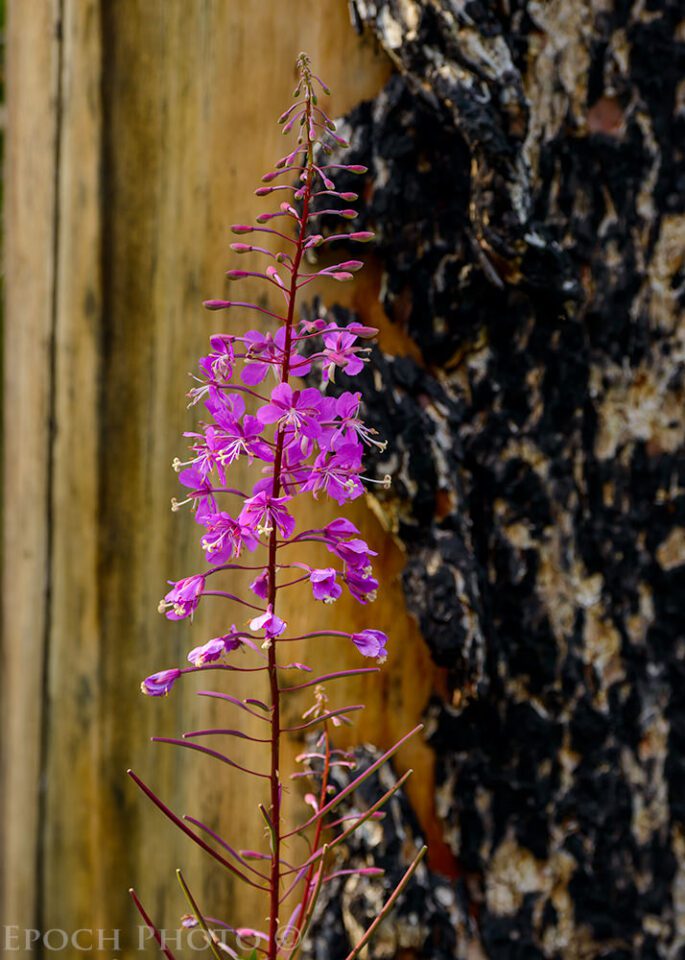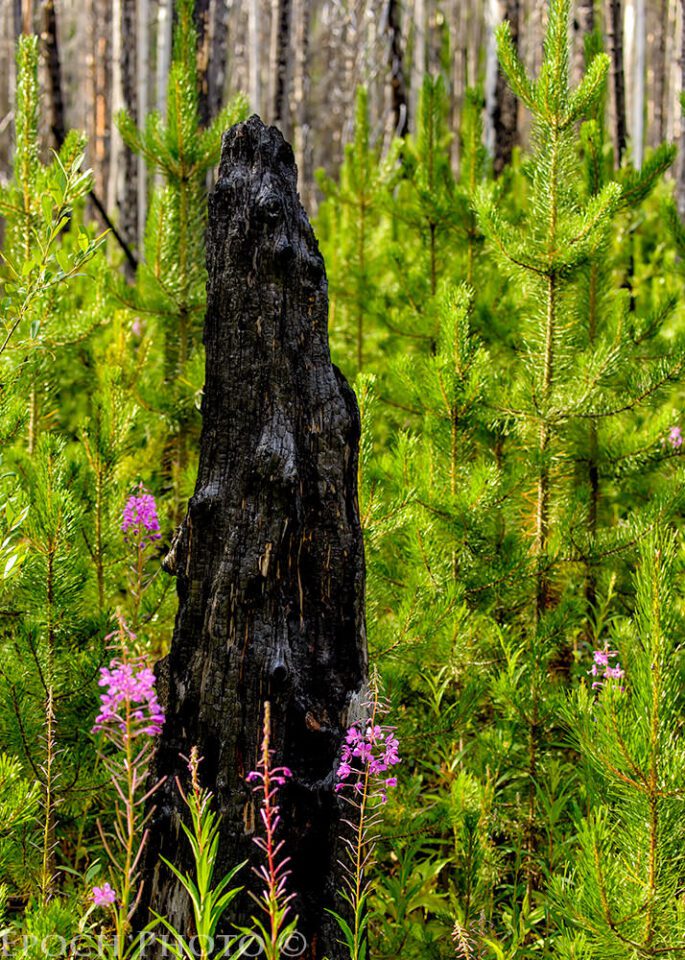 13) Summary
You might guess I am bullish on the Canadian Rockies. And why not? It is difficult to not to fall in love with this beautiful part of our planet. They provide a unique mixture of geography, stunning landscapes, wildlife, and wilderness settings within a relatively small area, or as I like to call it, BPSM – beauty per square mile. For photographers, it is a virtual eye candy wonderland. And most people taking the time and effort to visit the Canadian Rockies invariably share a love of hiking, nature, wildlife, exercise, and the outdoors.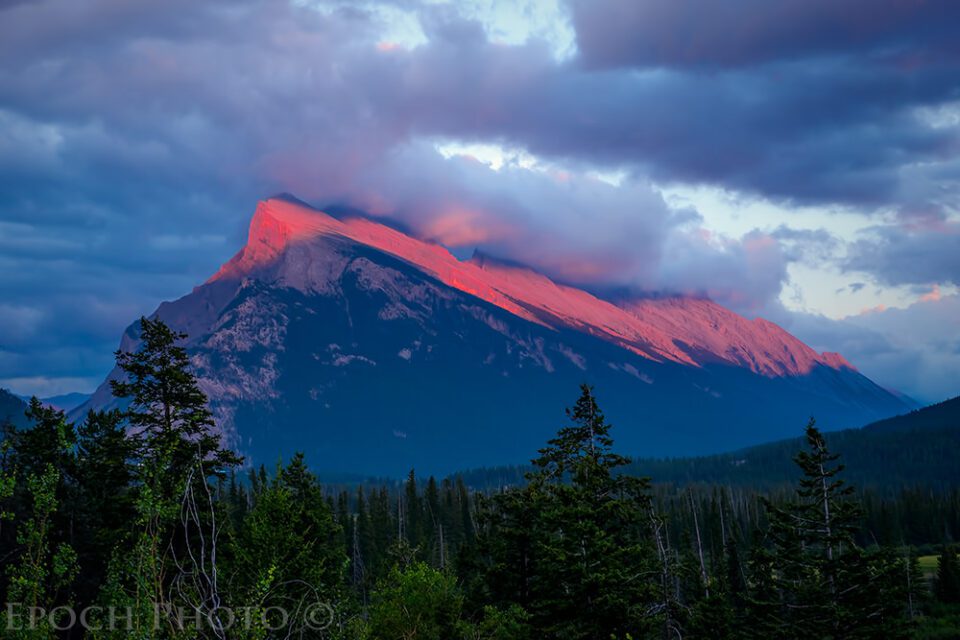 We spent nearly 20 days in the area over the last 2 years and feel as if we scratched the surface regarding all the Canadian Rockies have to offer. I believe you could probably spend a few lifetimes here and barely tap in to all the beauty and wonder the region has to offer.