The D500 is a great action and wildlife camera for stills, but can it do video? It actually can! And while it has a fairly limited set of video features compared to the latest mirrorless cameras, its output can be pretty decent as long as you set it up properly.
Recording a video
The first thing you'll want to know is how to record a video. It involves three steps.
Step 1: Select Video Mode with Lever
There is a lever at the bottom of the camera that can enable video mode. Move it to the bottom option to select video mode.
Once Video Mode is selected, you need to press the LV button. This puts the D500 into live view, which means the rear screen shows a live feed from the sensor. Since the D500 is a DSLR, you need to be in this mode to actually record video, and you cannot use the viewfinder.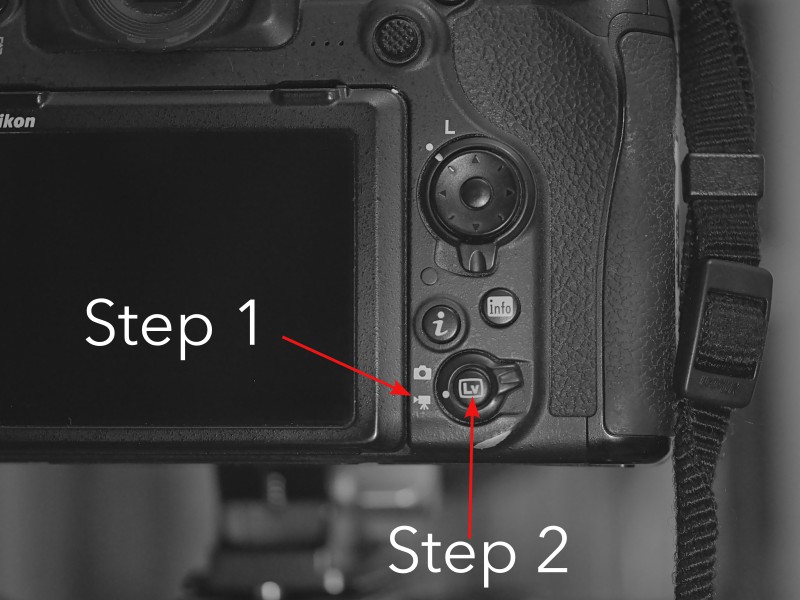 Step 3: Press Record
With live view activated, you can focus and frame your shot. When you are ready to record your video, press the red record button on the top of the camera: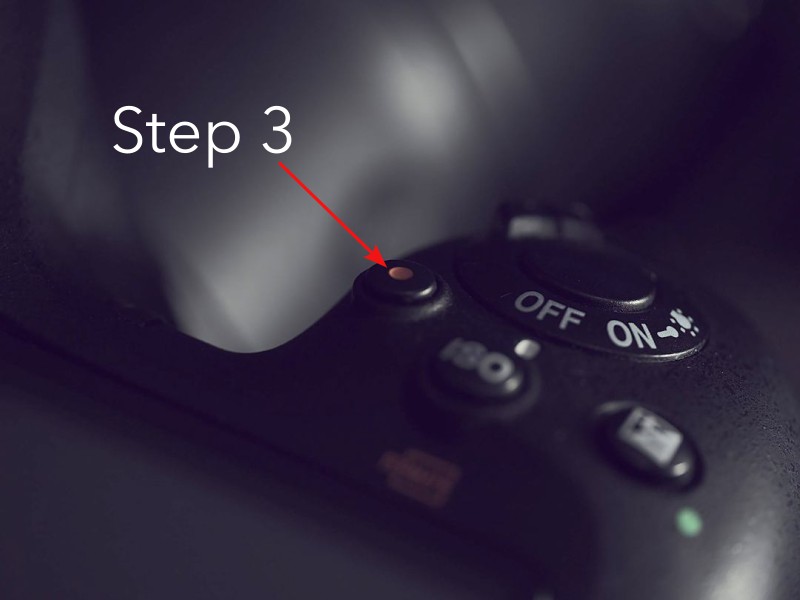 This button starts the recording, and pressing the button again will stop it.
Recommended Settings
The D500 actually does not produce very good video with its default settings, so we'll need to change a few things. The D500 video settings or Movie Shooting Menu can be accessed via the third icon in the menu: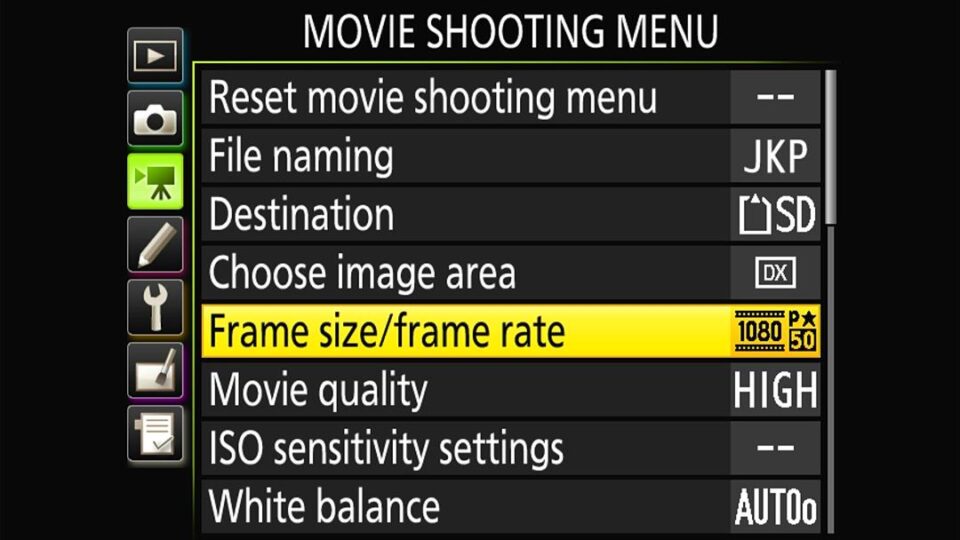 The Picture Control
The most important setting is probably the picture controls, because the default ones will give you a lot of problems. The Set Picture Control is actually the first option on the second page: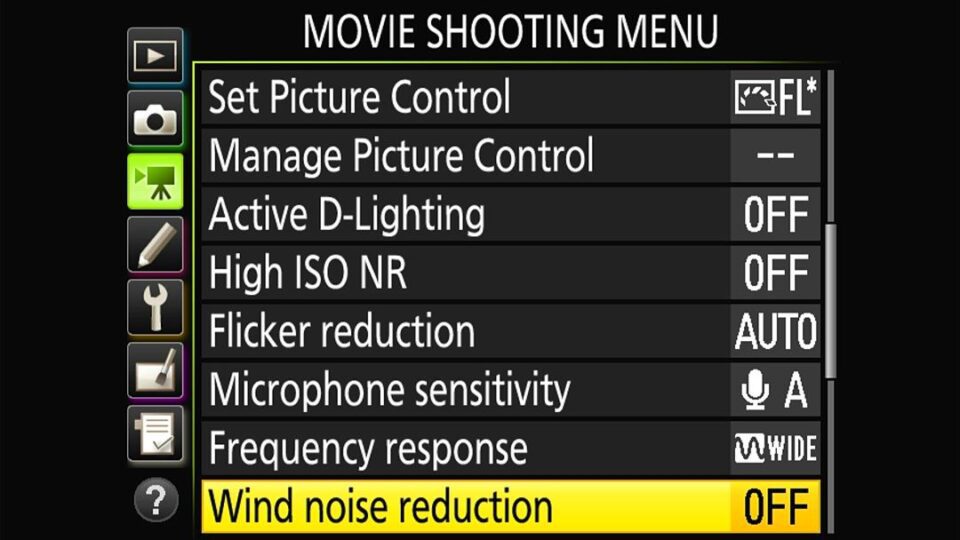 Once you do this you'll be presented with a bunch of options. The best option is Flat. If you want more fine-grained control, press the "right" arrow the control pad, which brings you to this: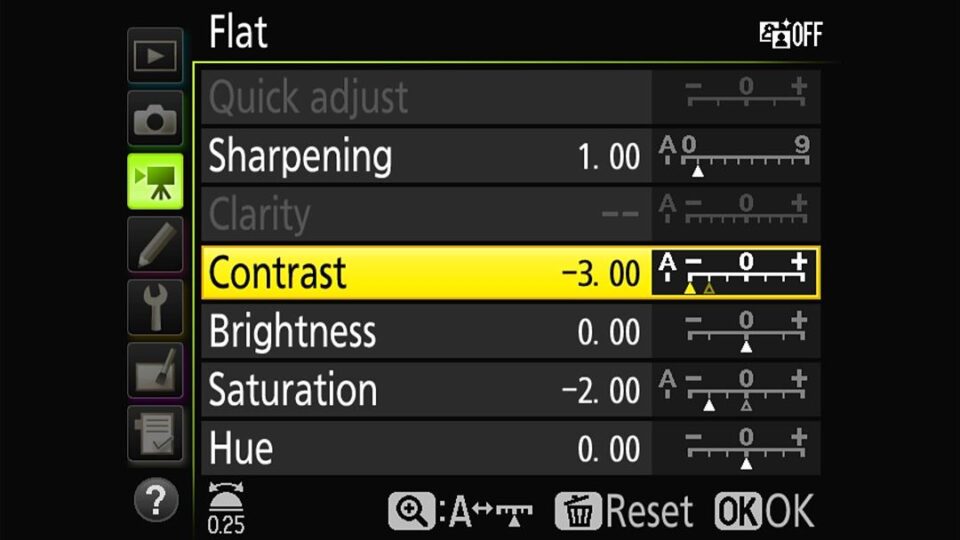 The main thing you want to adjust is the Contrast. I brought mine down to -3 although -2 works in most cases too. The reason you should do this is because in many scenarios, the camera will apply too much contrast and crush blacks or blow highlights. And unlike shooting in Raw, believe me, you really have almost no latitude to fix errors in post, especially with the video files of the D500.
I also bring down the Saturation for the same reason. With intense colours, the D500 will oversaturate and blow color channels. The resulting flatter footage may need some adjustment in your video editor, but typically this is very quick (usually adjusting a slider or two), and this is well worth the effort.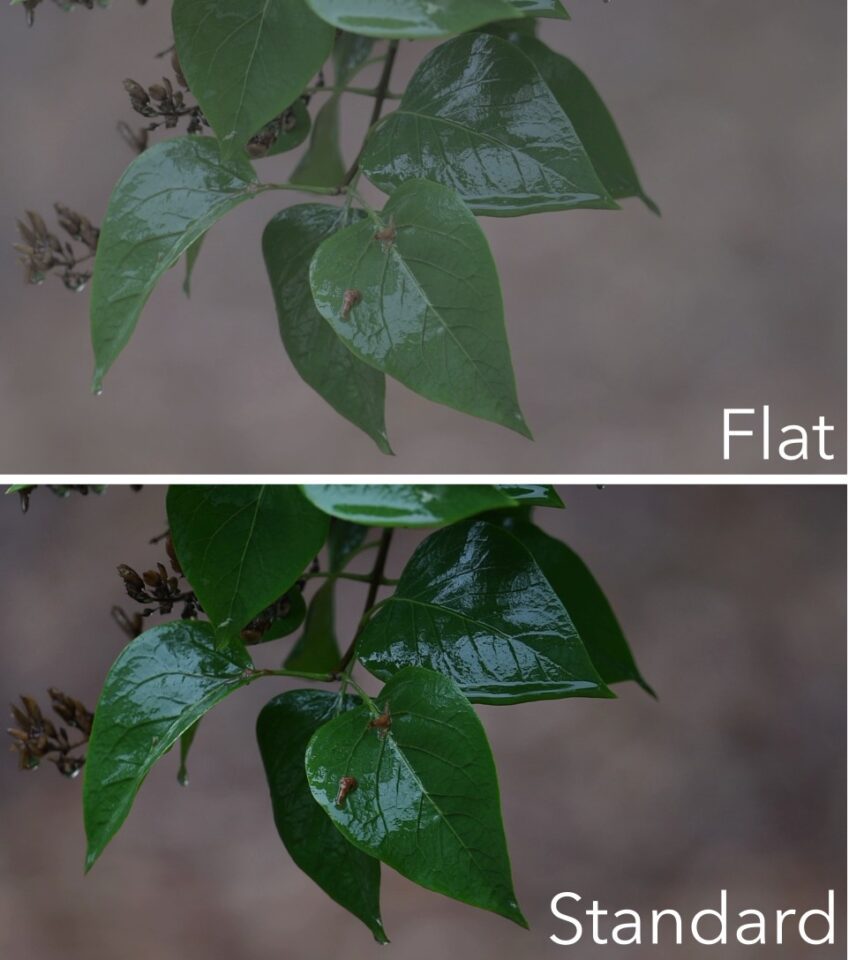 The other options aren't that important. Sharpening is a matter of taste, and I tend to prefer sharpening in post when necessary especially since sharpening can accentuate noise a little.
Resolution and Framerate
There are three resolutions available on the D500: 720P, 1080P, and 4K. They are indicated by a number in the menu: 720, 1080, and 2160: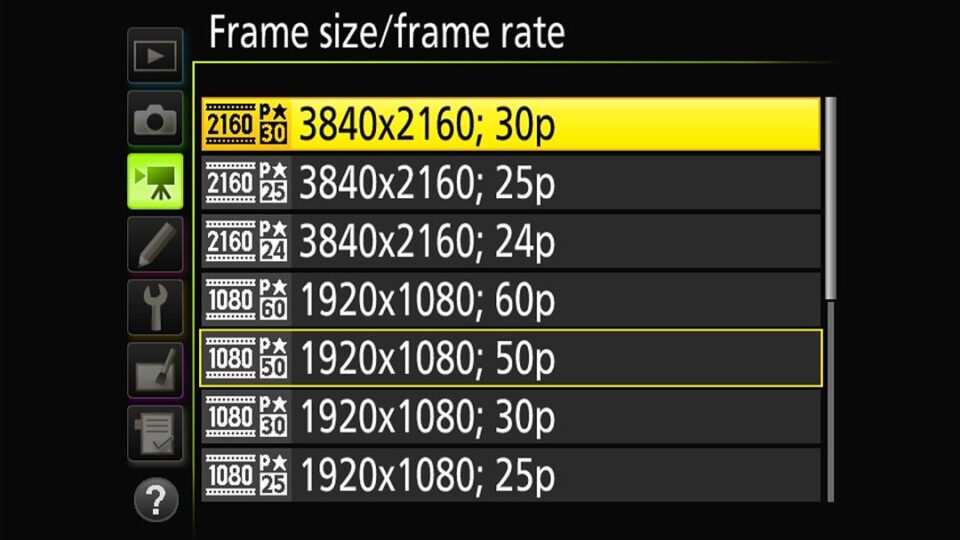 Please don't use the 720P resolution. It is very small and outdated with poor quality, but it might be good if you're using your D500 and 600mm f/4 as a security camera to monitor your Fabergé egg collection.
The 1080P resolution is a common resolution used on YouTube and still suitable for many applications. The 4K resolution is the sweet spot today but some older computers can struggle to edit in 4K.
The other thing is that with 4K, the D500 applies an additional crop factor. So for example, if you're using a 35mm lens indoors to film people, it might actually be too narrow if you switch to 4K.
On the other hand, one might ask: is there a difference between 4k and 1080p if one moves in closer to get the same framing at 1080p, and then the 4k image is downsized to 1080p resolution? And what about the same question applied to 1080p in 1.3x crop mode?
I compared frames in these four modes using my camera on a tripod, manually focused in live view under maximum magnification. A video light was used to illuminate a fabric target: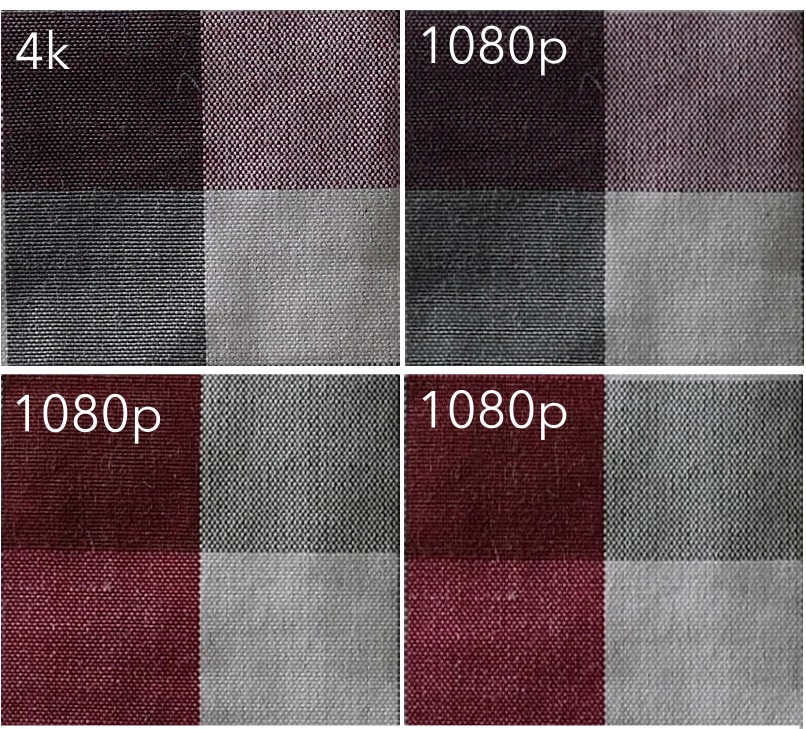 From this test, we can make the following conclusions: the 4K30 frame resized to 1080p resolution has more detail than the 1080p footage, even though the camera was moved closer in 1080p to get the same field of view. Therefore, if the crop factor is not an issue, 4K video will always look better even on a 1080p timeline.
The difference in 1080p mode between 1.3x mode and moving the camera in closer does not seem to be too much different, maybe with a slight edge to the 1.3x crop mode. This advantage to crop mode may have something to do with the way the D500 processes video from its sensor.
Therefore, this test tells us that the only reason to shoot in 1080p mode would be to get a wider field of view or a smaller file size—in 4K mode for this particular shot requires about 14.4MB/sec, and 1080p mode requires about 2.9MB/sec.
Framerates are more subjective, and discussing them would require more space. However, cinematic productions with people typically use 24 frames per second (fps), whereas 30fps and 60fps can be nicer for very fast motion like sports and wildlife. Higher framerates like 60fps can also be slowed down to 24fps or 30fps to provide a slow-motion effect.
Other Useful Settings
There are a few other setting that you'll find in the video menu, which are less important but still useful in some cases:
Destination: you can set either the SD card or XQD card.
Choose image are: You can select a 1.3x crop if you want more reach with 1080P video. An even larger crop is applied automatically if you shoot in 4K and it cannot be turned off.
Movie quality: should always be set to High
ISO Sensitivity: I would generally leave Auto ISO off because you will otherwise get ugly auto exposure changes with slight variations in light.
White balance: I leave it on auto and it doesn't seem to change once the video is running, but you might need to select manually in challenging conditions
Active D-Lighting: I leave this off but it could help with some high dynamic range scenes
High ISO NR: Noise reduction in post is better so I leave it off but it could be better if you are seeing a lot of noise
Flicker Reduction: Turn it on if you are experiencing problems with artificial light sources
Microphone sensitivity: You can choose automatic to let the camera automatically adjust levels, or change it to manual mode for more consistent audio in controlled environments. You can also turn the microphone off completely.
Frequency Response: Turning this to Narrow will eliminate some problems with low-frequency rumble but this can also be done in post
Wind Noise Reduction: It does not seem to work very well
Time-lapse movie: You can create a time-lapse over a long period of time
Electronic VR: This can stabilize your footage a bit but it also creates unnatural jumps. Therefore, I leave it off.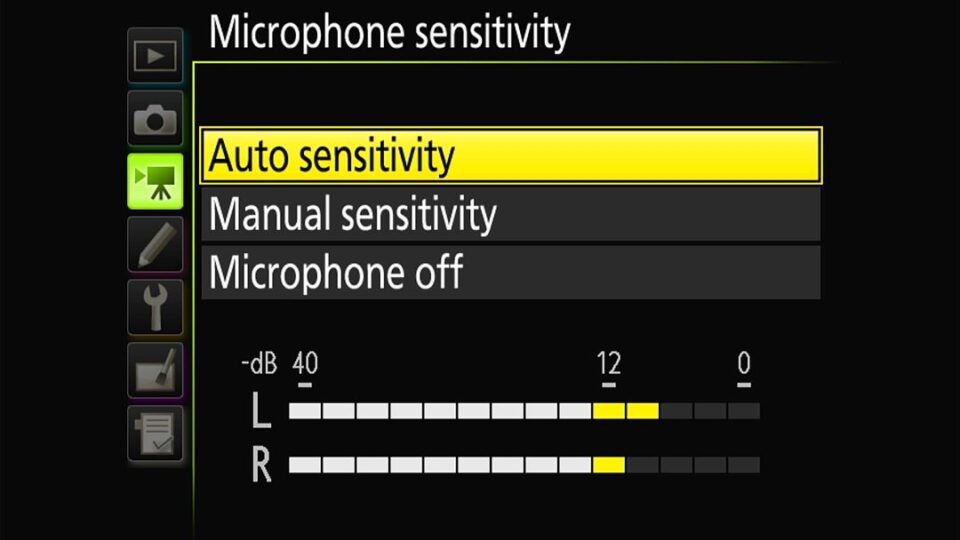 Tips for Good D500 Video
By now you might have figured out that while the D500 has decent quality video, it does not have many dedicated video features that would be very helpful for hours of video shooting. However there are definitely a few things you can do to make your D500 video experience better.
Thinking about stability is my first recommendation. The D500 does not have IBIS so handheld footage will not be as rock-solid as the video from many more advanced mirrorless models. However, you can definitely get great, stable footage by using a tripod.
If your lens has VR, that can also help stabilizing the non-panning shots. If your VR system has a Sport and Normal mode, typically the Normal mode will be far better than "Sport. This is contrary to what I would recommend for stills shooting.
If you do want to do panning, consider getting a video fluid head. This will help you get smooth shots without relying on the oddities of lens VR, which is primarily optimized for stills.
I'm afraid to say that video autofocus on the D500 is so bad that it might as well not exist. Therefore, you need to work around this by choosing the kinds of shots where your subject won't be moving very quickly. So basically, these situations will be challenging for the D500 in video: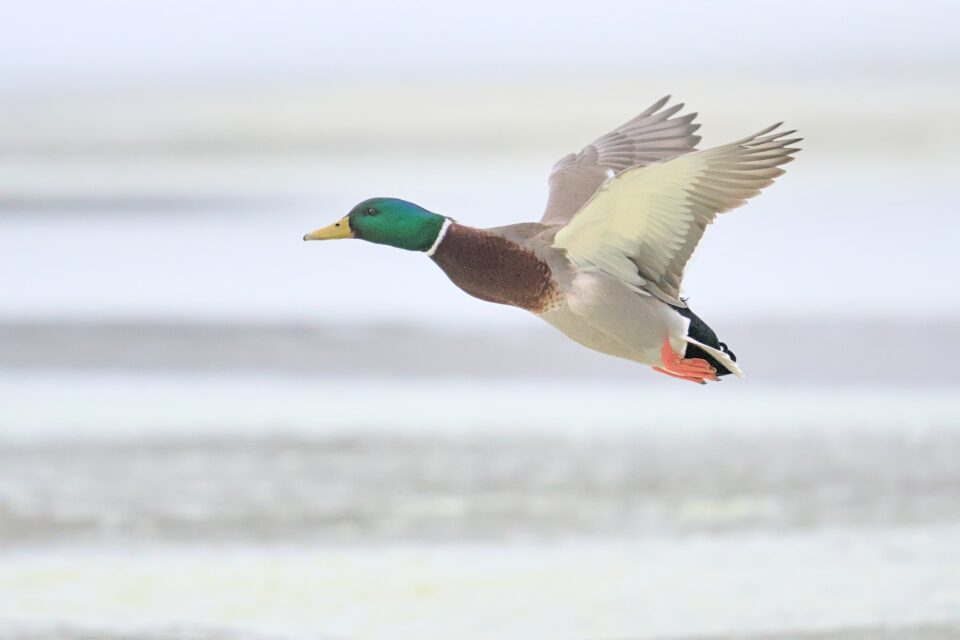 You should also take time before your shot to get exposure right. A still shot underexposed in Raw is very easy to fix, whereas a stop underexposed in video will already give you problems. Finally, I also recommend using a decent video editor like Davinci Resolve for colour grading and adjustments. This will ensure you get the most out of your initial footage.
Finally, as with all cameras, in-camera audio isn't very good so make sure to get an external microphone placed close to your sound source!
Conclusion
Most people think of the D500 as a great action photography machine, which it definitely is. However, with the right settings, it can also make pretty nice video too. Although it may be a limited in some ways with video, with a bit of creativity, you can make it go a long way. Have you used your D500 for video? If so, I'd love to hear any tips you might have in the comments!