During the last two weeks, I have received several emails from our readers, asking what the best time to photograph Maroon Bells is. I have been to Maroon Bells many times, so I would love to share some info on when to photograph the most popular location in Colorado (and one of the most photographed spots in the world).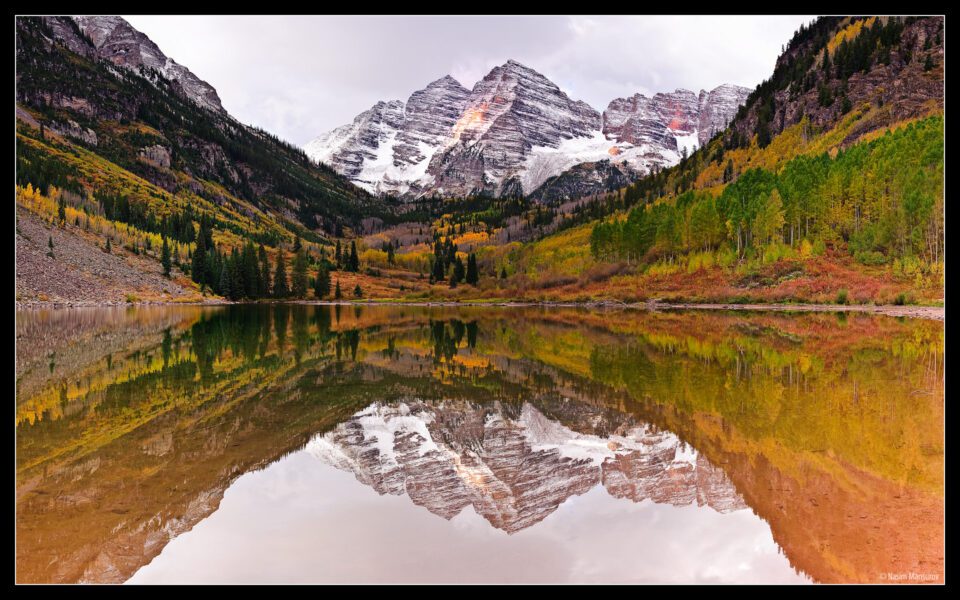 Maroon Bells is truly magical, the one place you can only appreciate when you are there. While photographs do show the beauty of Maroon Bells, they still cannot transfer the raw beauty of the place with its high altitude fresh air, the smell of wildflowers and plants, pleasant afternoon breezes, the ever-changing weather and freezing-cold nights and mornings. Maroon Bells changes drastically during seasons. In the spring (which is around late April and May), the water level of the Maroon Lake is high, the aspens have new leaves, with wildflowers and plants just starting to turn green. The summer is beautiful, with the busy streams and gorgeous wildflowers. The fall season is what draws the most amount of people to Maroon Bells, due to aspens rapidly changing their colors. If you are lucky, you might get some snow with aspens in their fall plumage. Winters are rather harsh, but still beautiful with fresh snow. The roads in winter are closed though, so you would have to rent a snowmobile to get to the lake. In terms of seasons, I personally like to visit Maroon Bells from mid-July to late September.
Fall weekends are typically very busy and if you do not show up two to three hours earlier, you might not find any available parking. If you want to go there in the fall, I would go there Monday through Wednesday – those are the least busy days. Starting from Thursday, it gets pretty packed with all local amateur photographers taking time-off to photograph the surrounding area and San Juan Mountains.
What about time of the day? You want to be there long before sunrise. Don't show up 30 minutes before sunrise, because you will not find any good spots. If you want to find closer parking and get a good spot to photograph from, you want to be there at least an hour to two hours earlier. Wondering how bad it gets? Take a look at this picture: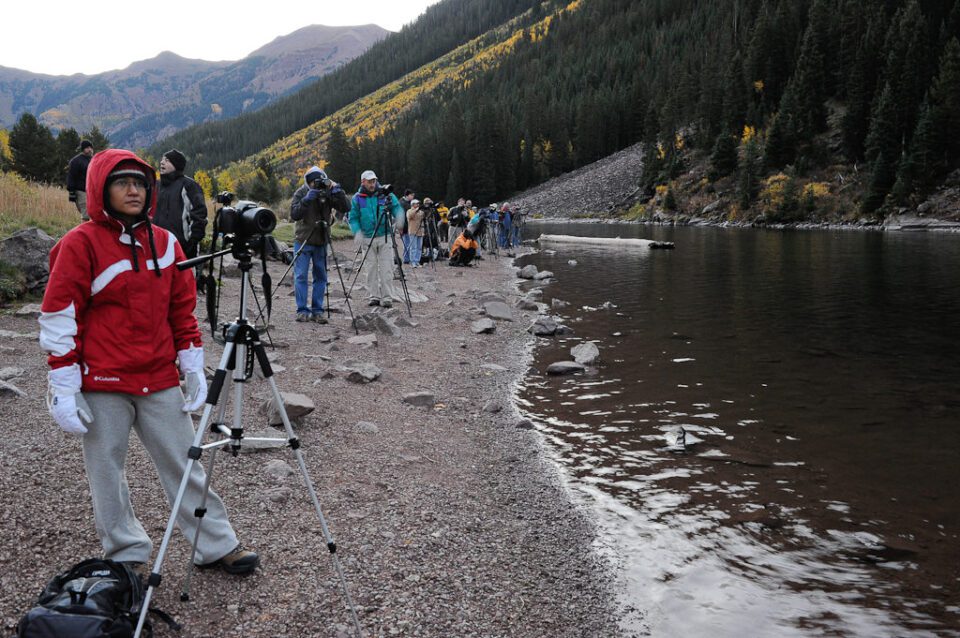 And that was not even a busy day! Here is an example of a busy day: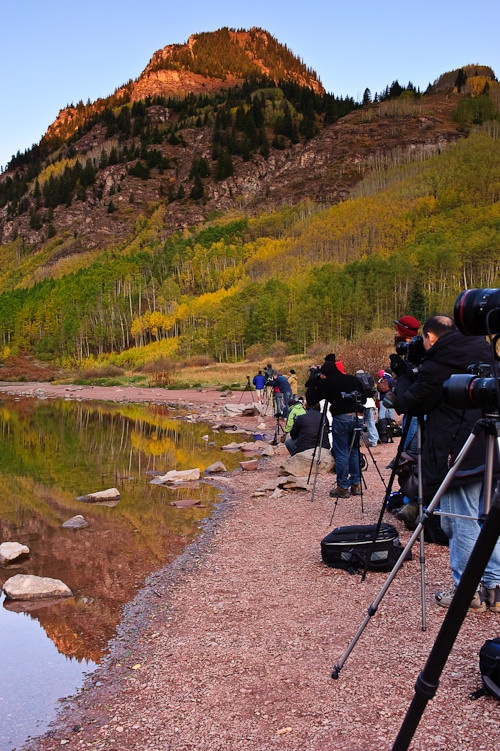 Mind you, this is the last spot on the right side of the lake – there was no place for me to stand anywhere else and photographers were literally standing shoulder to shoulder, tripod into tripod. Why? Because they know the sunrise is what creates the most magical photographs. When you stand facing the Maroon Bells, the sun appears behind you, with the first rays of light hitting the top of the mountain: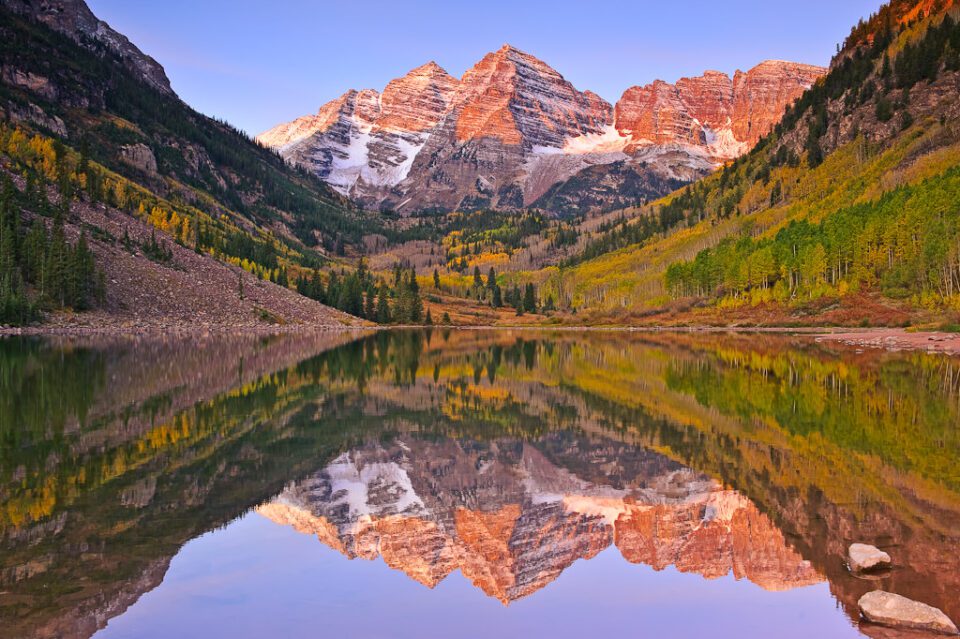 After taking sunrise pictures, I would stick around for at least another two hours to photograph the place when the sun is higher: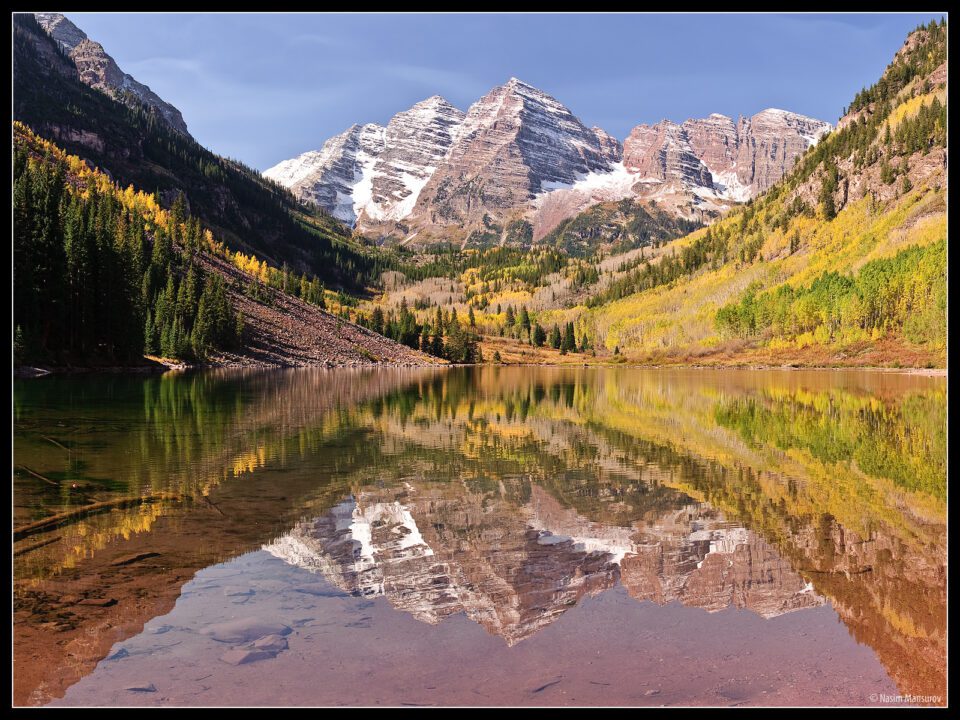 Late afternoons and sunsets are not good to photograph Maroon Bells, because the light is going to be directly in front of you. If you arrive at night and the sky is clear with a full moon, you might want to try taking a picture or two at night: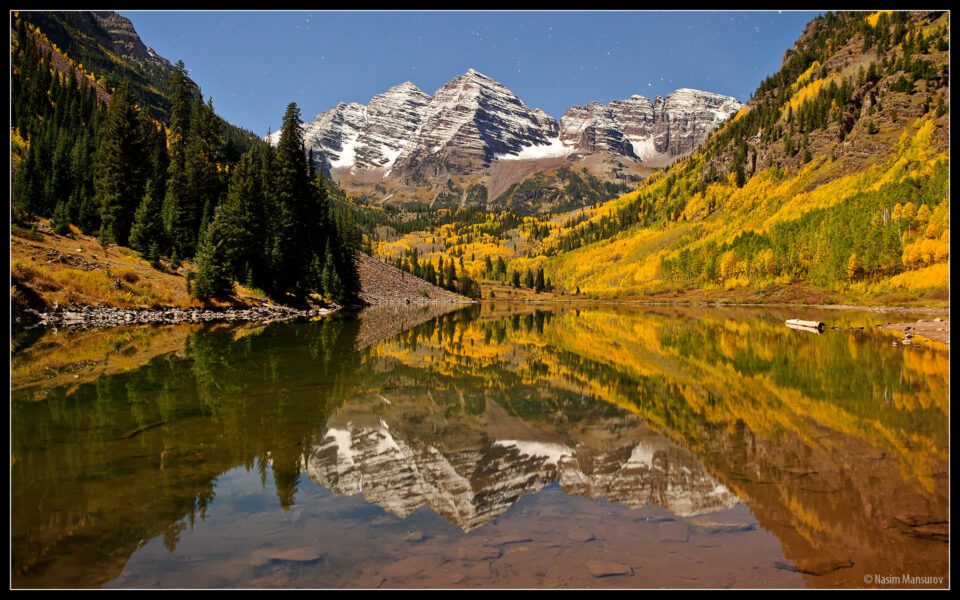 But it will require some good technique and preferably fast glass + good high-ISO performance by your camera, if you do not want to see star trails.
If you are looking for a guide on how to photograph landscapes, check out my landscape photography tips.
Hope this helps. Good luck and let me know if you have any questions.