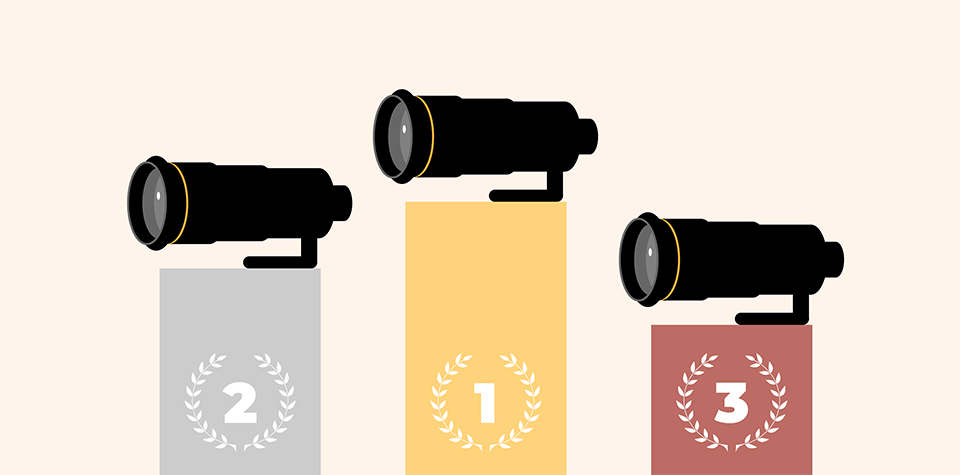 Not long ago, the range of telephoto lenses across brands was boringly uniform. Regardless of camera brand, you had the option to choose between a few classics like the 300 and 400mm with a maximum aperture of f/2.8, and the 500 or 600mm with f/4. But today, the situation is very different. A whole range of interesting telephoto lenses have appeared, and it's no longer easy to find the right one. Which lenses do I consider the best for Nikon cameras? Read on to find out!
For as long as I have been photographing animals, I have done so with Nikon cameras. In that time I have had the opportunity to try a number of lenses. Mostly the same brand as the camera, but also a few from other manufacturers. So, the following list of the best you can put on Nikon cameras is based on my personal experience or that of my colleagues.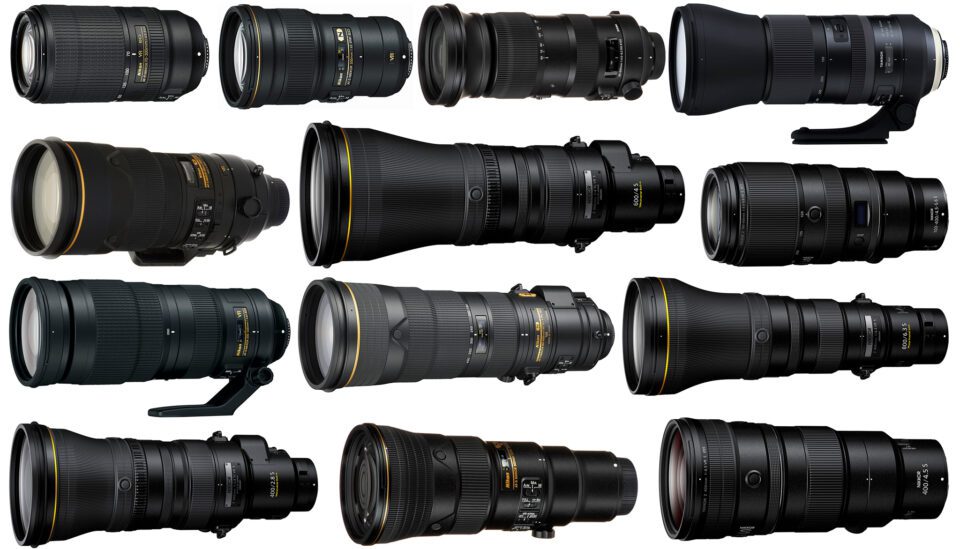 Before we get into specific lenses, here's an overview of the features I consider important when choosing a telephoto lens:
Overall image quality: Here I am referring mainly to sharpness and bokeh. Most of the lenses on this list excel in both categories, but I'll point out when that's not true.
Focal length: I almost wrote that the longer the better. But not everyone has a passion for photographing small or distant wildlife. It doesn't make sense to photograph a bear with a 70-200mm unless you have a death wish, or a very empty composition. However, it would be a great sports or landscape lens. You know what you're shooting and should choose accordingly. I've limited this list to Nikon lenses that reach at least 200mm.
Maximum aperture: The brighter the better. Yes, this is pretty much universally true. An f/2.8 or f/4 aperture plays an important role at the edges of the day when animal activity is at its highest. That's also when the light is at its best, but it tends to be scarce. Plus, teleconverters make you pay for extending the focal length with that much precious light. The role of the aperture in achieving subject separation from the background is also important.
Focusing Speed and Accuracy: For sports and wildlife photography, AF speed is a key parameter. In terms of accuracy, mirrorless cameras virtually eliminate the back/front focus problem. With DSLRs, however, the precise match between camera and lens is crucial. The depth of field is in the millimeter range and there is no room for error.
Weight and dimensions: This parameter is in direct conflict with some of the previous ones. If you are planning to photograph from a hide that can be accessed by car, weight and dimensions don't matter. If you travel by plane for adventure, then walk up hills with your gear, every bit that you can save counts.
Durability: I'm pretty nice to my equipment. Still, telephoto lenses often have to face the hardships of working in the field. That means temperature changes, humidity, dust, the occasional bump here and there.
Price: The very fact that we own a dedicated DSLR or mirrorless camera puts us among the wealthier part of the inhabitants of this planet. Still, spending more than $10,000 on a lens already requires an above-average budget. Not to mention that moving around with such a lens in some parts of the world (after dark) is not a good idea. I've mostly ranked the list below based on quality rather than price, but if two lenses are close in quality, I give the nod to whichever is the better value.
21. Nikon 24-200mm f/4-6.3 VR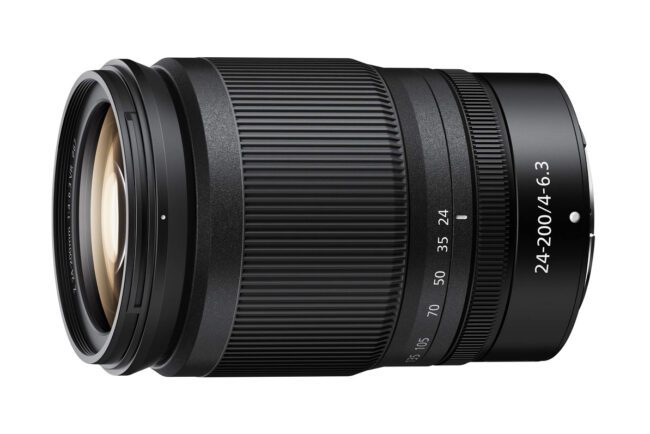 Well, it technically hits 200mm, so it merits an entry on this list, right? The truth is that the Z 24-200mm f/4-6.3 is a very good lens… for a superzoom. If you need your telephoto lens to also reach the wide-angle compositions, be my guest. But we're not talking about the cream of the crop for the topic of this article, which is the best telephoto lens for Nikon.
The weakest focal length on the 24-200mm f/4-6.3 VR is, you guessed it, 200mm. And even ignoring image quality, the maximum aperture of f/6.3 at 200mm is very limiting. If you photograph landscapes, I could see it. If you want to photograph wildlife, there are better choices than this one – sharper, better bokeh, brighter, you name it.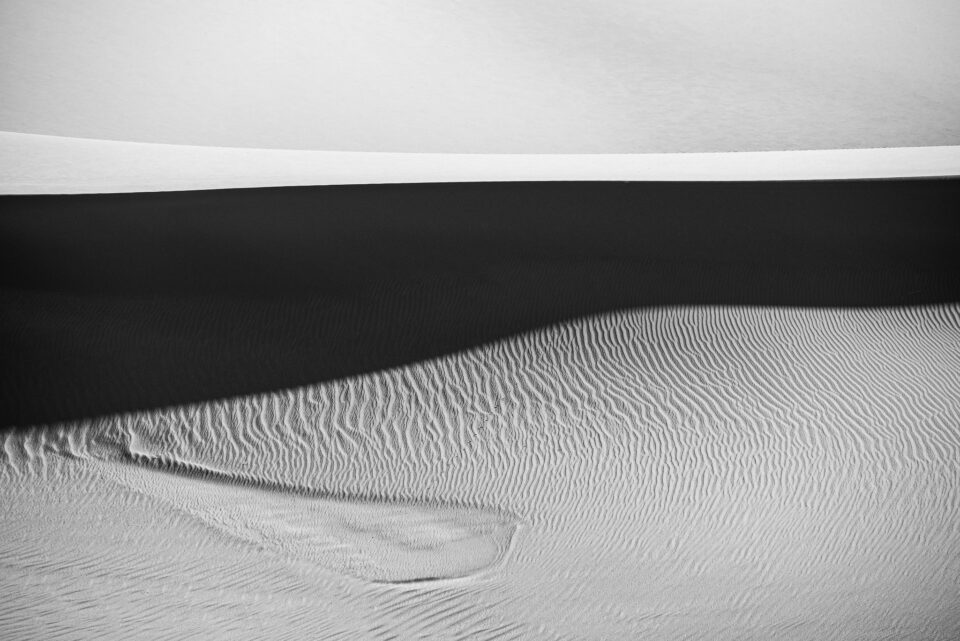 20. Nikon 70-300mm f/4.5-5.6E VR AF-P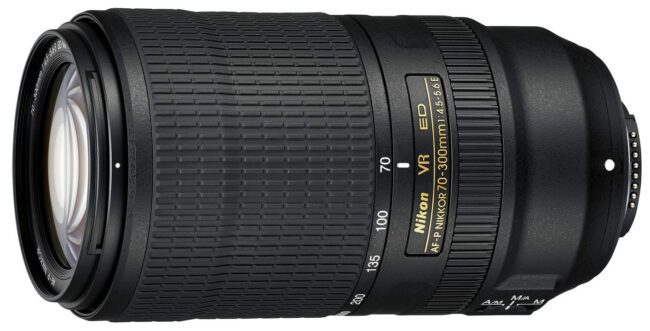 As I have already mentioned, it is not always necessary to spend large sums of money for a ticket to the wildlife photo world. This lens won't put too much strain neither on your budget nor on your photo backpack. For the price of $597, you get a telephoto lens that isn't the brightest or longest in the world, but is competent. At 680g, it also won't pull your pants down.
While a 300mm focal length may seem short, it doesn't have to be. It depends on what you're shooting. Small, shy birds will not be the optimal target for this lens. But I'd happily take it on an African safari, for example. It's also a popular landscape photography lens. Unfortunately, you can't put a teleconverter on it.
Even though the 70-300mm f/4.5-5.6E is an F-mount lens, it's very popular to use it on Nikon mirrorless cameras with the FTZ adapter. Autofocus and performance characteristics remain good. Also interesting is the shortest focusing distance of 1.2m. It's not a macro lens, but the 0.25x magnification is sufficient for normal closeups.
What are the weaknesses of this telephoto lens? At its long end, its image quality drops off somewhat. This fact is most apparent on full-frame bodies with higher resolution, like the D850, Z9, or Z7 series. And of course, the f/5.6 aperture requires more thinking to achieve the desired subject separation. Even so, this lens is well worth considering if you're on a budget.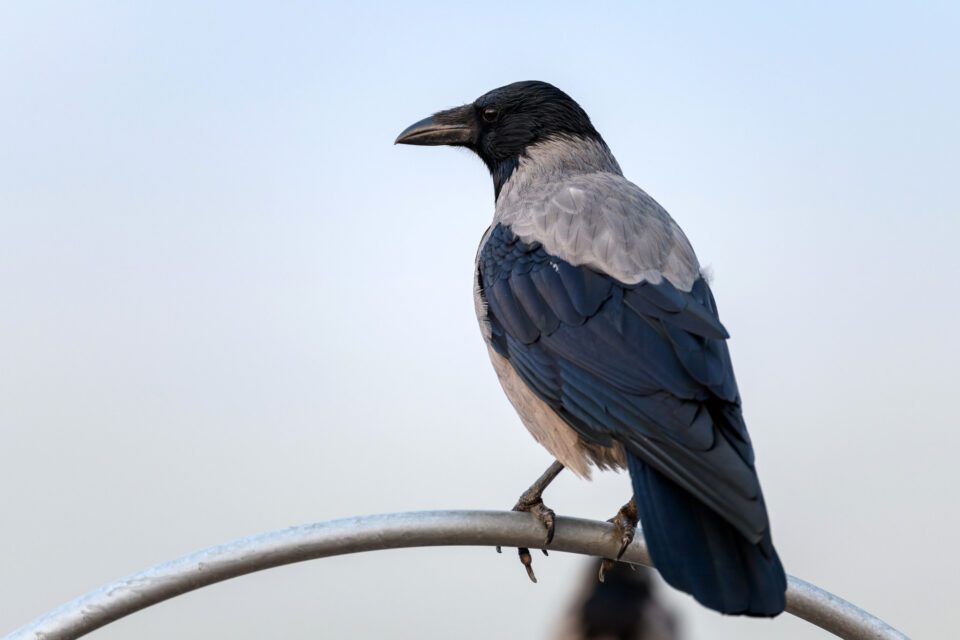 19. Sigma 60-600mm f/4.5-6.3 DG OS HSM Sport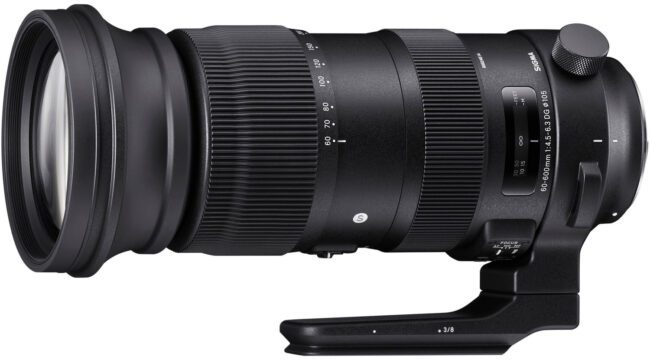 I admit that I have no personal experience with this lens. Nevertheless, based on its parameters, it seems to me a very interesting choice. Moreover, we have already tested its predecessor, the Sigma 150-600mm f/5-6.3 Sport, on Photography Life. Its image quality proved to be very good, as well as the durability of its build.
According to some outside sources, the lens doesn't seem to excel in the 60-150mm range. However, this is a range that will be rather secondary for most users. The good news is that it appears to achieve similar, if not better performance at the long end compared to its predecessor. The 0.30x magnification at 200mm is also an interesting feature for close-up photography.
This lens currently sells for $1,900 in versions for Nikon F, Canon EF and Sigma SA mounts. However, as I write this review, Sigma has announced an upgraded version of this lens for mirrorless systems, which is improved in many ways. It has a new motor, a reworked optical design, a larger magnification scale (1:2.4 magnification at 200mm) and lower weight (2.5kg). The only missing thing (so far) is the Nikon version, unfortunately, so it can't make this list. If (or when) this lens gets a Z mount, I'm sure it will move up the list substantially.
18. Tamron SP 150-600mm f/5-6.3 Di VC USD G2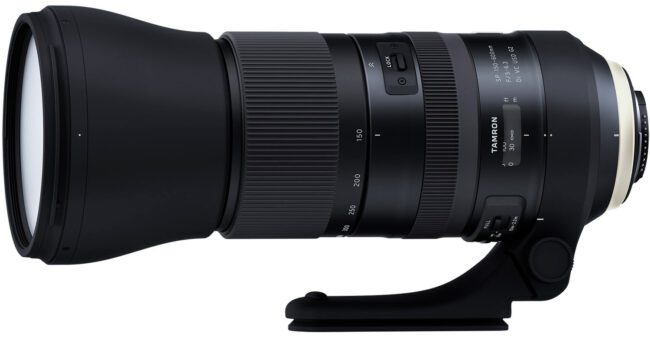 I see this lens on cameras around me quite often. Mainly on Canon bodies, since Nikon users are more likely to have the Nikon 200-500mm f/5.6 below. The Tamron currently sells for $1,299, which is about $100 less than the Nikon competitor.
Price aside, the other feature in which the Tamron has the edge over the Nikon is the 100mm difference in focal length at the long end. As I mentioned above, longer sometimes means better. However, according to our review, the Tamron has a hair worse optical performance compared to the Nikon 200-500mm f/5.6. However, the Tamron actually has slightly more responsive autofocus than the Nikon, which is a relatively slow focuser.
A big advantage of this lens is for Arca-Swiss compatibility. For this, I kiss the Tamron's (tripod) foot! More manufacturers need to make their lenses with native Arca-Swiss compatible tripod feet.
Even so, I prefer the Nikon lens slightly. At 500mm, it's 1/3 stop faster. In fact, on the Tamron, the aperture flips to f/6.3 at a focal length of 428mm. Another advantage is that it's a Nikon. That sounds like a biased argument. But my experience with third-party lenses leads me to some caution. Therefore, if the two lenses are very close, I prefer the original to a third-party lens.
17. Nikon AF-S 200-500mm f/5.6E ED VR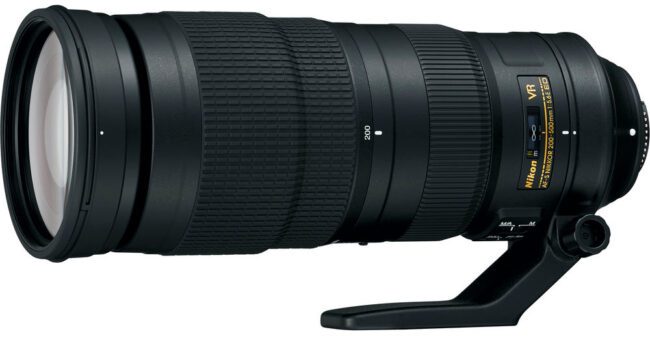 This is without a doubt the lens I have spent the most time with. It's also one of the lenses (alongside some Tamron and Sigma options) that started the affordable wildlife photography boom. But affordability isn't the only strong point of this lens.
In fact, the Nikon 200-500mm f/5.6 lens delivers very good sharpness, especially in the center of the frame. On full frame cameras, sharpness will decline towards the edges (which is normal). You rarely notice this when shooting wildlife. I wouldn't call this lens a landscape lens though. Especially at 500mm.
Another advantage is the constant f/5.6 aperture. This makes it different from the competitors above. As for the build quality, the overall durability and weather resistance are at a (surprisingly) high level. However, the lens hood has a known problem where the locking mechanism may crack after a few years.
At a price of $1,397, there's not much to complain about. My main reservation with this lens is the speed (or, rather, lack of speed) of its autofocus. I still think that it's one-half of the ultimate budget wildlife combo, with the Nikon D500 being the other half.
I have high hopes for this lens's mirrorless successor, the long-awaited Nikon 200-600mm from Nikon's roadmap. I firmly believe it will be this year.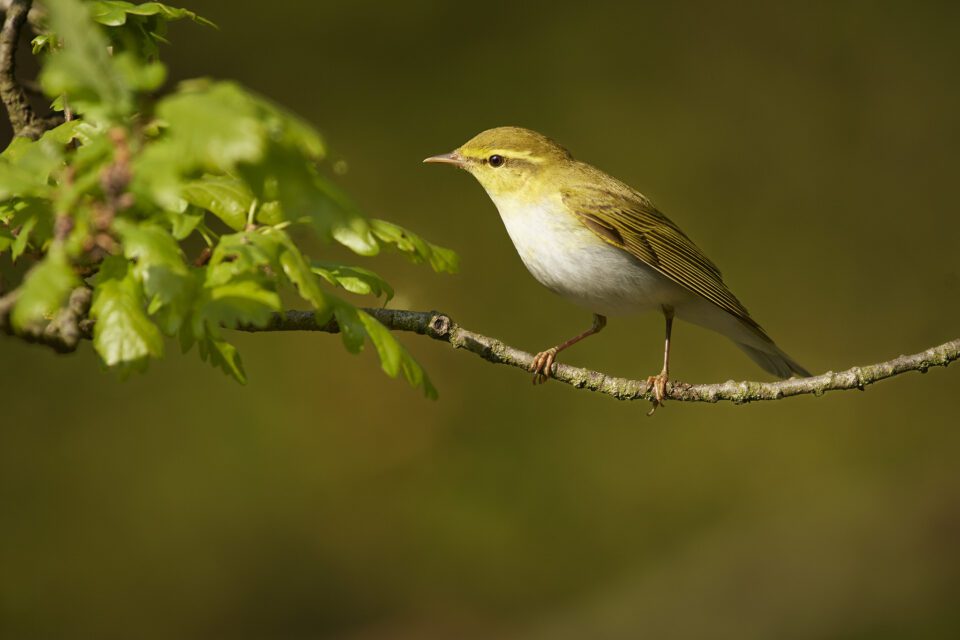 16. Nikon AF-S 70-200mm f/4G ED VR
Do you like to live a balanced lifestyle? Maybe you do yoga in the morning, drink a vegetable smoothie for breakfast, and work at a standing desk? Then I have the lens for you.
The Nikon 70-200mm f/4G is one of the most balanced telephotos that Nikon makes. It's not too expensive, not too heavy, and not bad optically. It's neither a speed demon (f/2.8) nor a slow tortoise (f/5.6). And even though it only reaches 200mm, it's a well-balanced zoom that also affords you the 70mm perspective.
I doubt I would pick a 70-200mm f/4 for my type of wildlife photography, but this is a very popular landscape photography lens among Nikon DSLR photographers. Spencer apparently glued it to his D800E back in the day. So I will show one of his sample photos from the lens, as I have no reason to use it myself.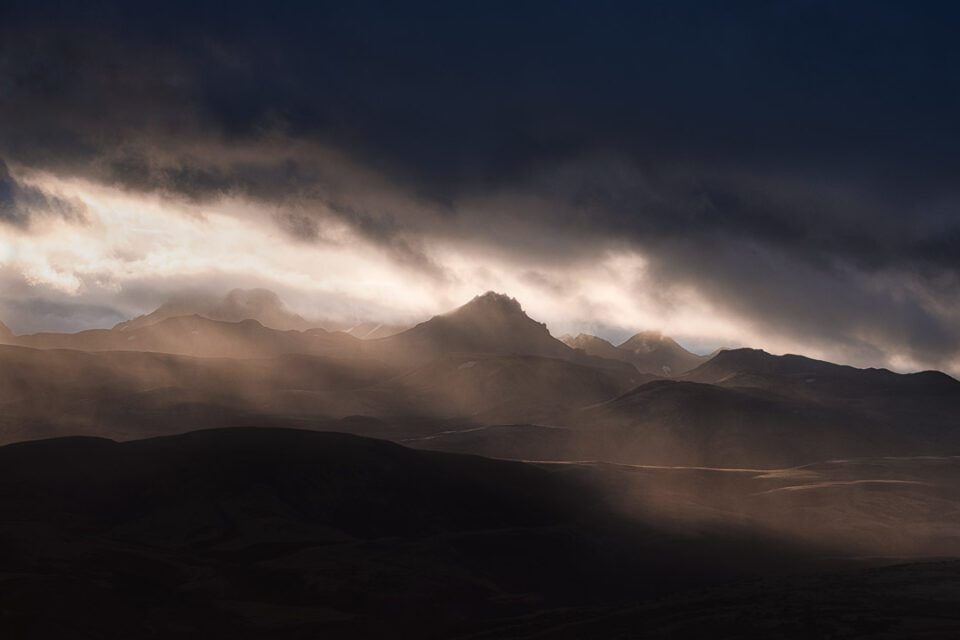 15. Nikon AF-S 300mm f/4E PF ED VR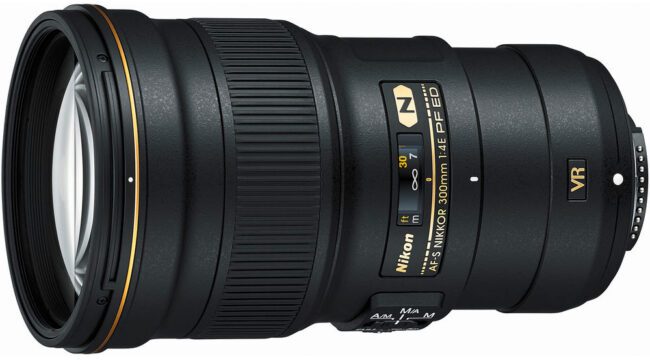 If you're using something like the 500 or 600mm f/4 as your main telephoto lens, this is exactly the lens you want in your bag as a shorter option. In fact, its dimensions and weight (a mere 755g / 1.7lbs) are unprecedented for a lens of this focal length and aperture.
Nikon achieved these parameters in part by using a Phase Fresnel lens element. Nikon has used the same technology in only three telephoto lenses to date, this being the shortest of them. And thankfully, its tiny size is not counteracted by compromises in optical quality. You can read our in-depth review here.
Although the Nikon 300mm f/2.8 (next on the list) is optically superior and certainly better at coping with teleconverters, its size and weight play to its disadvantage. This lens, meanwhile, can fit into any backpack, and that's its main strength.
Want to keep your gear as small and light as possible? Get this lens for $1,997 and the Teleconverter TC-14E III to pair with it. With a camera like the Nikon D500 or D7500, it will make a great lightweight combo.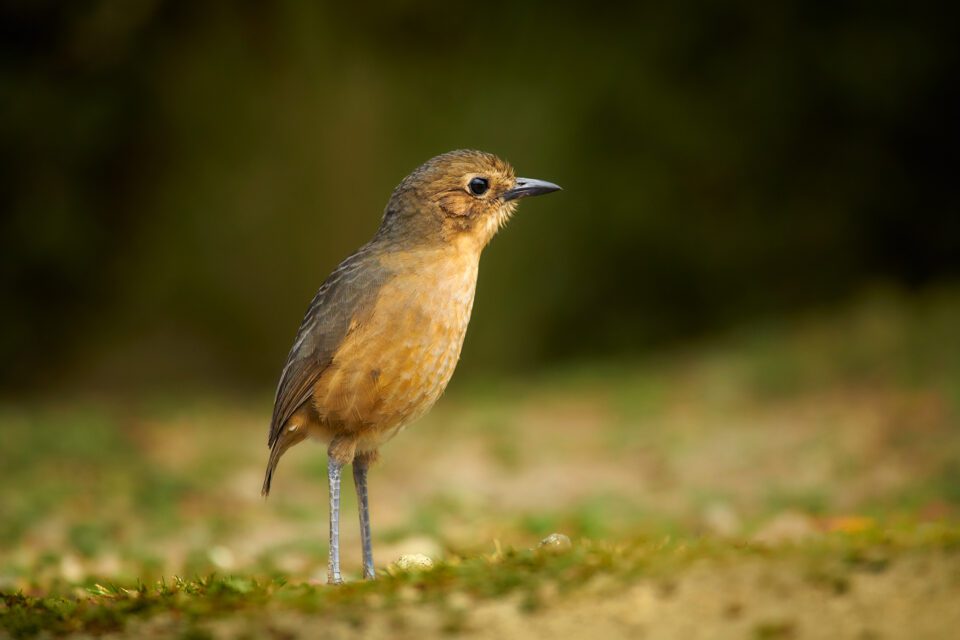 14. Nikon AF-S 300mm f/2.8G ED VR II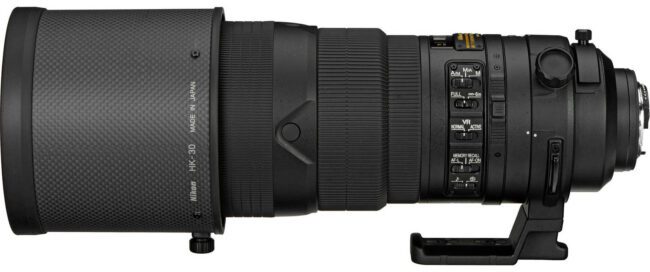 This lens has basically only three weaknesses. First, it's an F-mount lens. While it can be mounted on new Z mount cameras via the FTZ adapter, its AF will work best on bodies like the Nikon D6 or D500. Secondly, it is "only" 300mm. This makes it hard to recommend as a dedicated wildlife telephoto lens. And thirdly it is quite large and heavy.
You'll love everything else about this lens. First of all, the 300mm f/2.8G is one of the sharpest lenses Nikon has ever made (at least on an F mount). It focuses very quickly, and it tolerates all three teleconverters Nikon makes for the F mount well. This makes this lens a very versatile tool in the end.
Also, don't take me literally when I say that I don't recommend it as the only telephoto lens for photographing animals. You're the one who knows what animals you are photographing. Medium and larger mammals – or big birds that don't mind people – are the turf of this lens. I include humans among the larger mammals, so if you shoot sports, this may be the right choice for you. Current price is $5,497.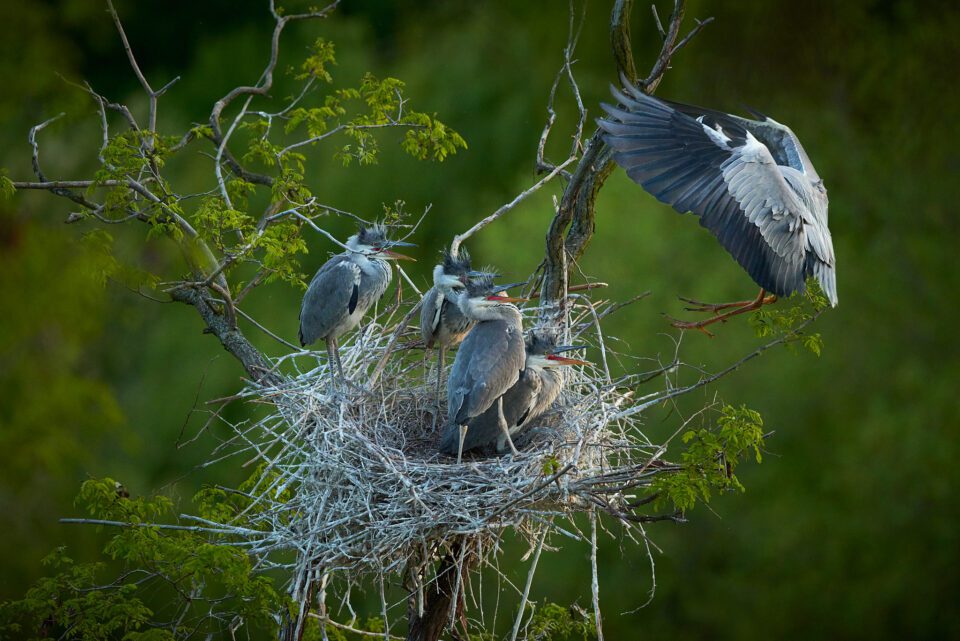 13. Nikon 400mm f/2.8E, 500mm f/4E, and 600mm f/4E (Tied)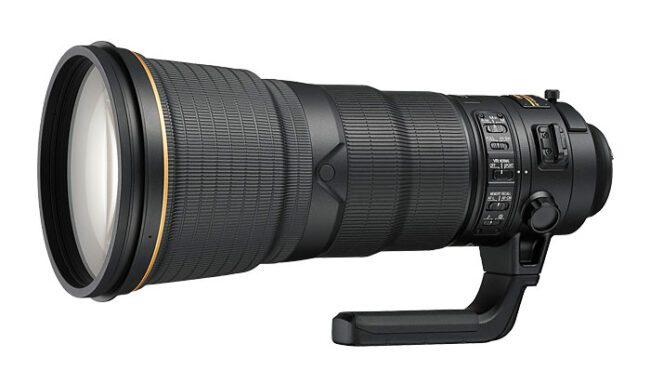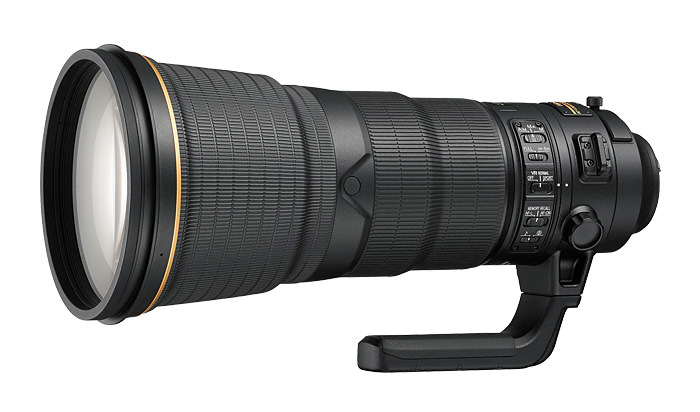 What, a tie?? Yes, because all three of these lenses are equal in my eye.
Of course, there are still individual differences. A 400mm f/2.8 lens will be good for bigger subjects in low light, while a 600mm f/4 will be best for smaller subjects in brighter conditions. And a 500mm f/4 falls in between. But the right choice among these three has nothing to do with the lenses themselves, rather the subjects you shoot.
All three of these lenses have nearly perfect optics, with gorgeous bokeh, sharpness galore, and fast focusing motors. If you're looking for a deal, the used market for the older versions is heating up. You could get something like a Nikon D500 with an older 400mm f/2.8 (admittedly that lens would weigh a ton) and capture amazing photos for a good price.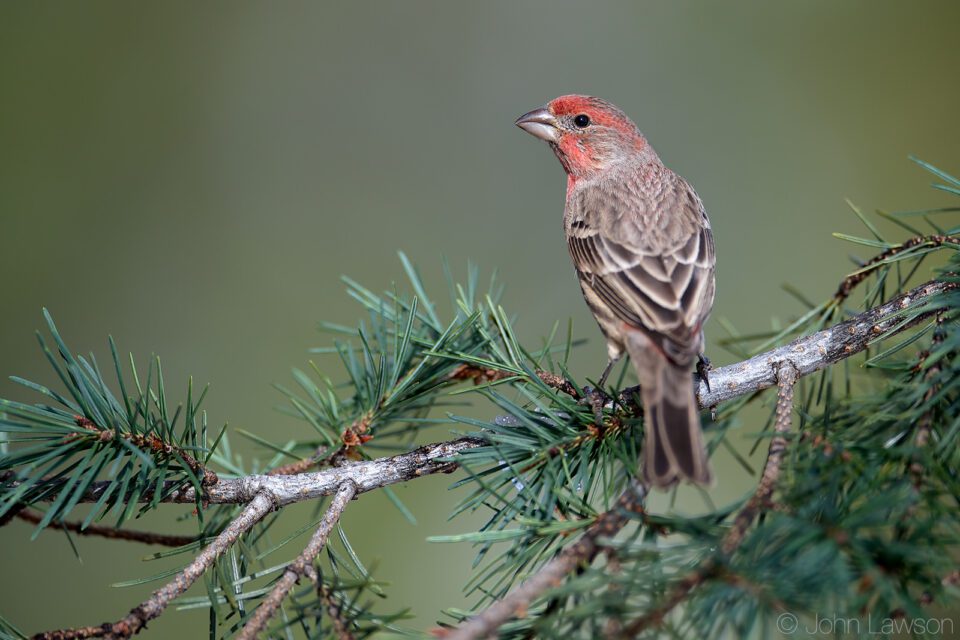 12. Nikon AF-S 120-300mm f/2.8E FL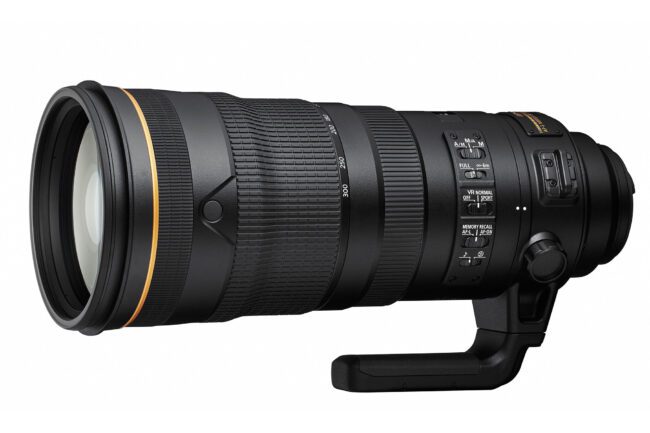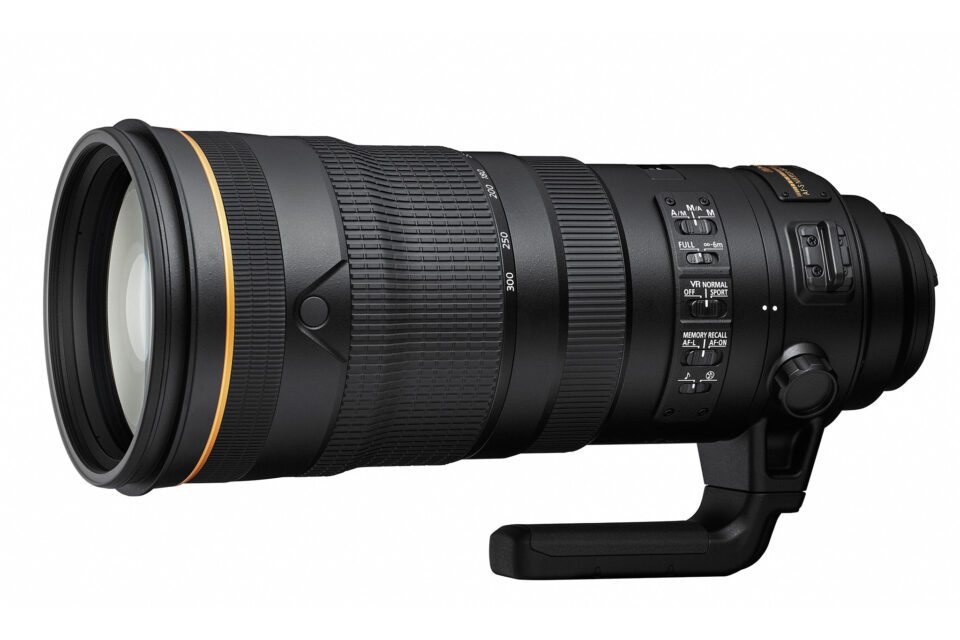 The crazy thing about this lens – Nikon's newest and maybe their final F-mount lens ever – is that it's not much heavier than the 300mm f/2.8 VR II from a moment ago, yet it's a zoom. If this really does turn out to be Nikon's last F-mount lens, at least they went out with a bang.
As expected, the AF-S 120-300mm f/2.8E FL has most of Nikon's newest innovations, with a fluorite element, an electromagnetic aperture mechanism, and more switches than you'll know what to do with. Optically, it is amazing. And even though it's heavy at 3.25 kilos / 7.15 pounds, that is lighter than expected for what this lens does. (The 300mm f/2.8 VR II is 2.9 kilos / 6.38 pounds).
I wish that Nikon had added a built-in teleconverter to this lens, like with the 180-400mm f/4E below. The maximum focal length of 300mm is good for larger subjects, but you'll want a teleconverter for small birds. There's also the question of whether you need this lens, or can suffice with one of Nikon's 70-200mm f/2.8 options. You'll save a lot of weight and money if you can.
11. Nikon AF-S 180-400mm f/4E TC1.4 FL ED VR

The predecessor of the Nikon 180-400mm f/4 – the Nikon 200-400mm f/4G ED VR II – was with me on a photo expedition in Costa Rica years ago. A great lens that impressed me mainly because of its versatility and f/4 aperture throughout the range. It made it possible to use a 1.4x teleconverter without getting above the comfort zone of f/5.6.
I did have a couple of reservations, though. First of all, the autofocus was not among the fastest. Also, I often wasn't able to attach the teleconverter even when I wanted to. When you're lying in the warm mud, with a camouflage net over you, it's not easy to play with a teleconverter. Nikon seems to have listened to my lamentations and for the first time in its history with this lens has included a 1.4x teleconverter as an integral part of the optical system. Brilliant!
Since the teleconverter is designed specifically for this particular lens, the image degradation caused by it is lower than when using a conventional teleconverter. This is also shown by Nasim's lab results. With the teleconverter applied, the lens also has a very interesting magnification of 0.36x for close-up photography at 560mm. Compared to Nikon's 500mm f/4, which has 0.15x magnification without teleconverter, this is almost a macro lens. You will appreciate this feature when photographing hummingbirds or dragonflies, for example.
Nikon has also sorted out the autofocus speed, so the current version is noticeably more responsive than its predecessor. Would I spend my $12,397 on the lens? If birds weren't so often in my viewfinder, then yes. I see this lens as a great choice for photographing bears in Alaska, elephants in Africa, or penguins in Antarctica…. where animals small and large alternate in front of the camera. Where you can't control your distance from the subject. That is, wherever you appreciate its versatility.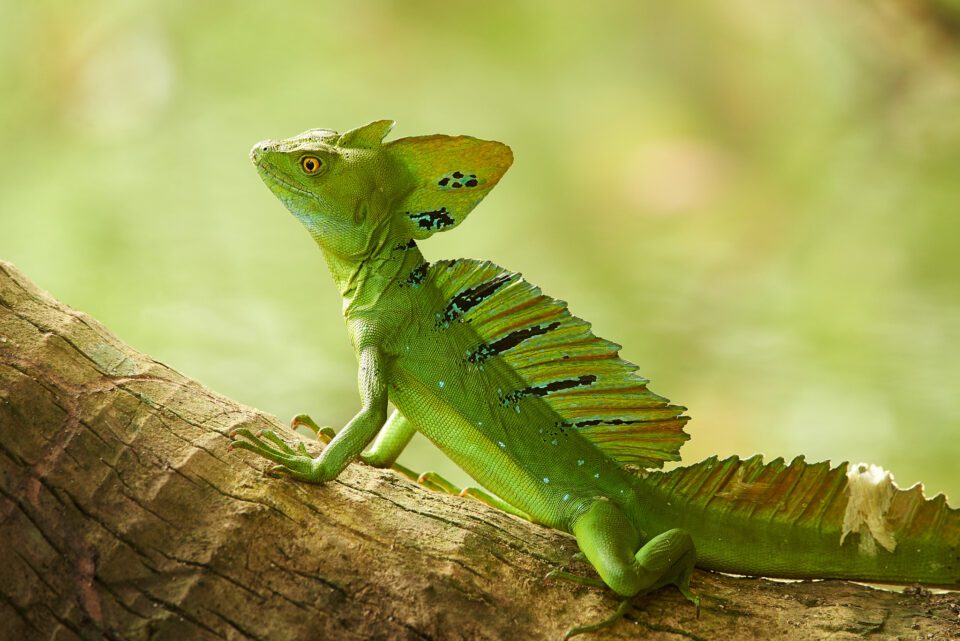 10. Nikon 70-200mm f/2.8E FL ED VR
One of the best 70-200mm lenses in the world, and not just the Nikon world, is Nikon's 70-200mm f/2.8E FL ED VR for the F mount. It focuses almost instantaneously, has impeccable image quality, and weighs a reasonable 1.43 kilos / 3.15 pounds. It belongs in the bag of any Nikon DSLR shooter who wants a fast telephoto lens.
I am not particularly in love with the position of the zoom and focus rings, and it's occasionally tricky to handhold the lens in the natural spot without accidentally shifting focus. Hear me out, it's only something you will experience if you're in a rush of the moment, the bird in front of you is stealing your attention, and you're crouched in some awkward angle. But it still matters.
Also, Nikon Z photographers have an even better 70-200mm f/2.8 option, which is why this lens is not ranked even higher on my list. But it is an excellent lens in almost every way, so don't take it as a negative that it didn't get a podium finish.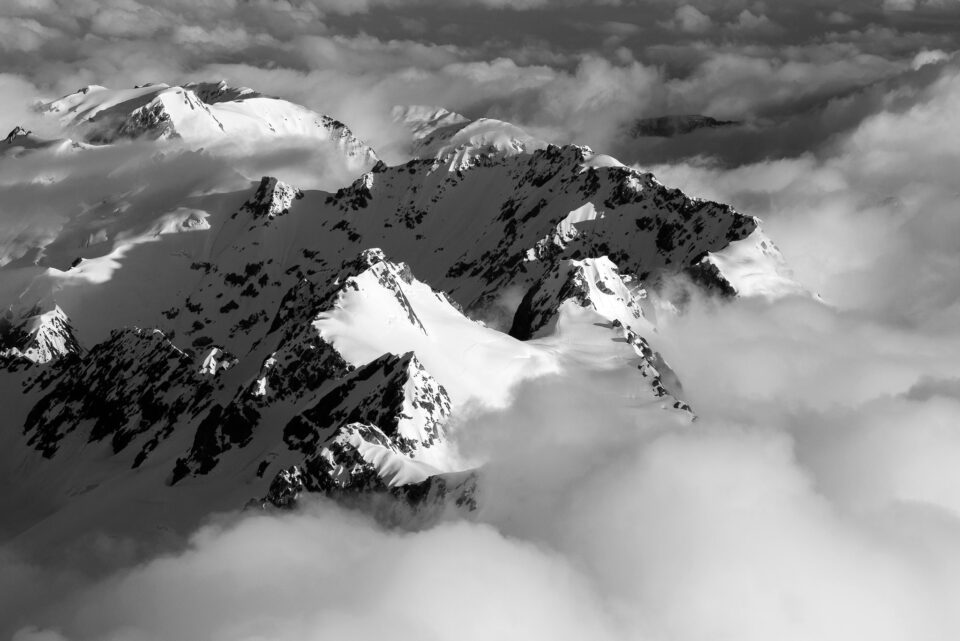 9. Nikon Z 180-600mm f/5.6-6.3 VR
The Nikon Z 180-600mm f/5.6-6.3 lens is the classic superzoom for the Nikon Z mount. It replaces the Nikon 200-500 f/5.6 lens loved by so many F-mount shooters. Not only does it improve on the old design in terms of sharpness, but it is also an internal zoom.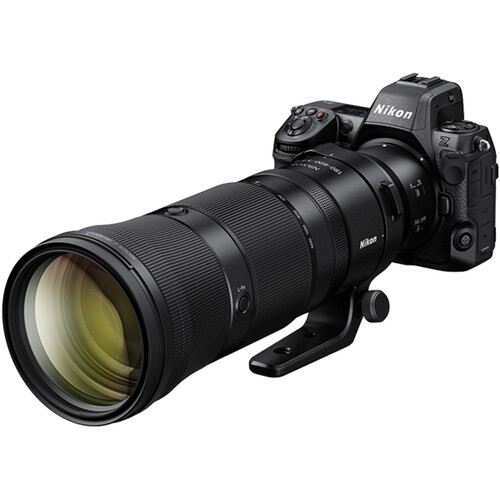 Although there are lenses that are a bit sharper such as the supertelephoto primes even higher on this list, this lens is by far the best combination of optical quality and versatility for wildlife shooters. Not only is this lens ideal for the vast majority of shooters, but it's also the lens I would want in my bag after my supertelephoto primes.
There was a time where a superzoom lens such as this one would mean sacrificing a fair amount of sharpness and light-gathering capability over the supertelephoto primes, but this modern upgrade is much closer in sharpness and so the main downside to this lens over the more expensive glass is simply just the aperture.
Although the Nikon Z 100-400mm f/4.5-5.6 is slightly ahead of this lens on this list, I would recommend this lens over the 100-400mm if your main concern is wildlife. Lenses like the Nikon 500mm f/5.6 PF lens or the Nikon 400mm f/4.5 S lens with a teleconverter may be lighter and have the same reach, but they do not have the portability and excellent close-focusing capability of this beauty.
8. Nikon Z 100-400mm f/4.5-5.6 VR S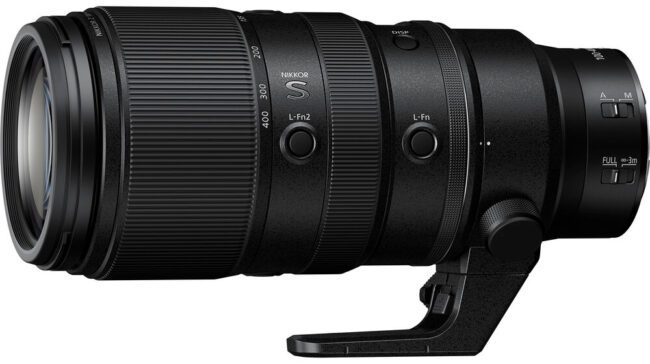 With this lens, we are entering the waters Nikon Z S series lenses. Increasing the mount diameter has freed up Nikon's engineers, and it shows in the new lenses. Speaking of this particular one, the only fact that will make you hesitate whether or not to get this $2,697 lens is the existence of the Nikon Z 400mm f/4.5 VR S.
Why would you want this telephoto zoom lens? First of all, because it's a zoom. As with the previous lens, you'll appreciate its versatility. Versatility and optical quality are often qualities that don't like each other much – but not so here. This lens is even versatile for close-up photography with a 0.38x maximum magnification!
At the same time, the Nikon Z 100-400mm f/4.5-5.6 is no slouch when it comes to focusing speed either. Its stepping motors can keep up with fast action in front of the lens. It also tolerates the use of Nikon's 1.4x teleconverter reasonably well, although its maximum aperture drops to f/8 on the long end of the zoom range.
And this is the point where you might be scratching your head and wondering why I generally prefer the Nikon Z 400mm f/4.5. Well, the maximum aperture is brighter, and it's a bit better optically. But if you want uncompromising quality and versatility in a telephoto zoom, the Z 100-400mm f/4.5-5.6 is the way to go.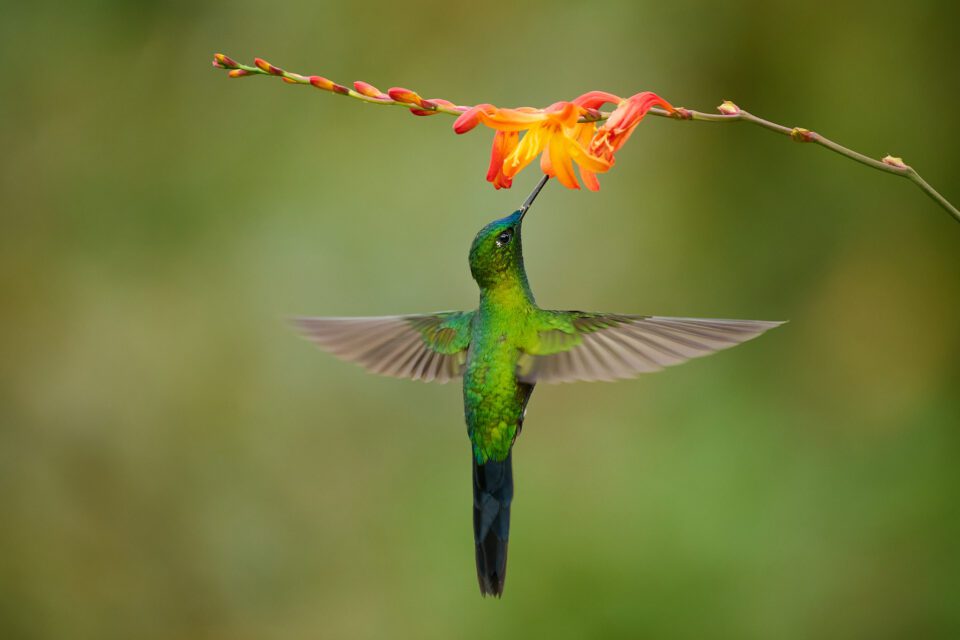 7. Nikon Z 800mm f/6.3 VR S

Before this lens was introduced in the spring of 2022, there was a long debate about how much over ten thousand dollars its price would be. $12,000? $15,000? When the lens was out and its price tag turned out to be $6,497, it was a shock to most. After all, its F mount predecessor, the Nikon AF-S 800mm f/5.6E FL ED VR, costs a whopping $16,300.
Meanwhile, the difference between the two lenses is a mere 1/3rd of a stop in favor of the older lens… and the weight is 2.2 kilos (4.9 pounds) in favor of the newer one. The use of a Phase Fresnel lens element is to thank for that.
Unlike the previous lens on my list, this is a very specialized tool indeed. Sure, you can shoot landscapes with it, even photographing the moon, but this lens was meant for photographers of very distant subjects. It will be useful wherever you can't get any closer to your subject.
The 0.16x magnification of this lens is similar to other telephoto primes. Just keep in mind that this magnification is achieved at a minimum focusing distance of 5 meters because of the 800mm focal length. When I was sitting in the hide with other photographers, my back almost broke through its back wall. I was simply unable to focus on the nearby songbirds. This is a lens for really distant and hidden animals.
The sharpness and contrast of this lens are very high, albeit a tad shy of Nikon's best-of-the-best. Focusing speed is excellent, on par with other gold ring lenses. As for the durabiltiy of this lens, it's plenty good for most uses. That said, I did get a bit of moisture on the rear element when I shot all day in a light drizzle (never removing the lens from the camera). So, I still consider the lens weather resistant, but not foolproof.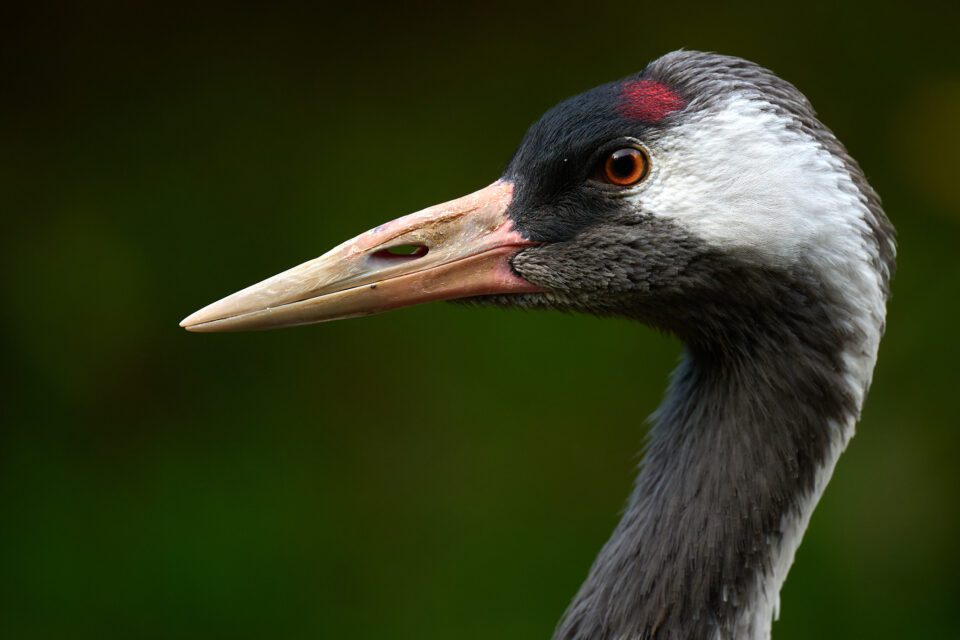 6. Nikon 800mm f/5.6E FL ED VR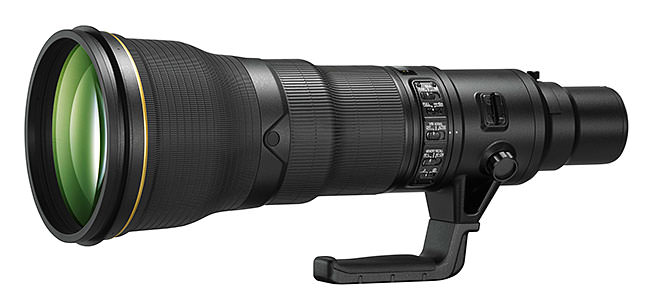 I believe that the sharpest lens Nikon has ever made, the lens with the most beautiful bokeh, and the fastest-focusing lens are all the same piece of glass – it's the Nikon 800mm f/5.6E FL. As incredible as this lens is, I can't rank it in the top three because it weighs as much as an elephant (slight exaggeration) and has such a specialized focal length. Not to mention, even if you're the type of photographer who says that price isn't a concern, price might be a concern if the price in question is $16,300.
But maybe a focal length of 800mm ticks the boxes for you, and you won the lottery. If so, this is a better lens than the Z 800mm f/6.3 VR S optically. It comes with a special 1.25x teleconverter meant only for your 800mm f/5.6. And if you're wealthy enough to buy it, you probably have paid someone to carry it for you anyway.
I'm putting it high on this list not because I expect many photographers to actually buy it – it's a flagship piece, not meant for most of us. There are more practical choices, to be sure. But the benchmark set by this lens is incredibly high.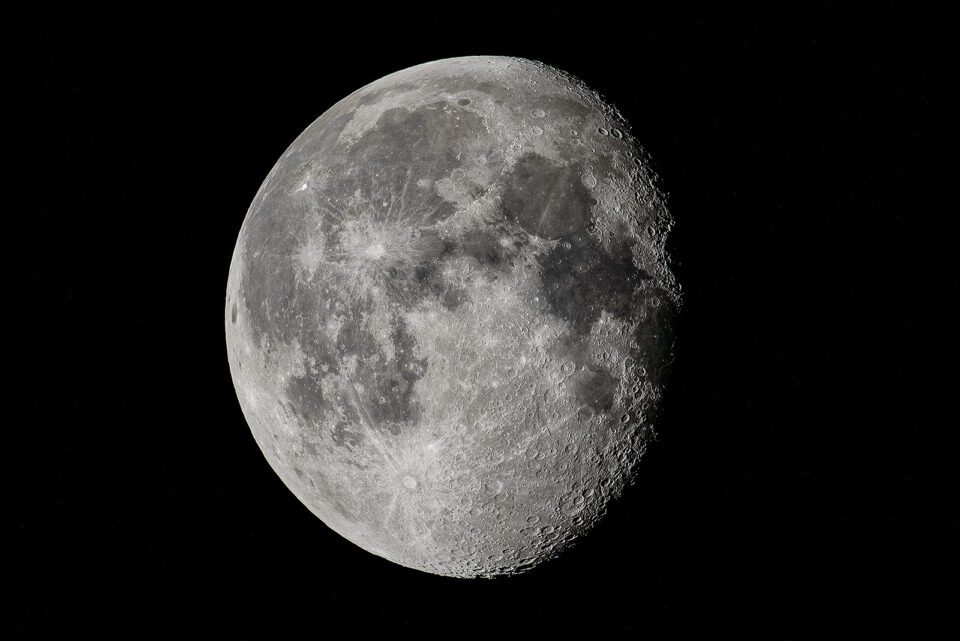 5. Nikon AF-S 500mm f/5.6E PF ED VR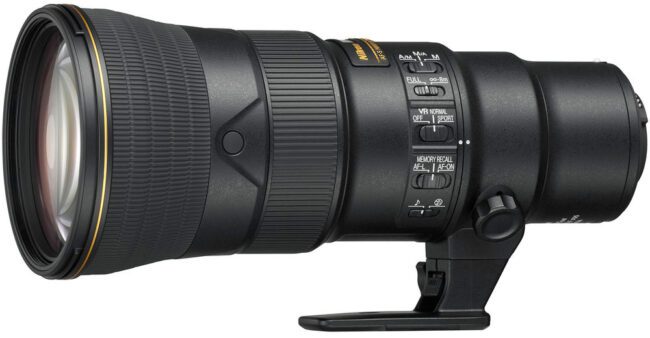 Nikon has not yet introduced a 500mm prime lens for the Z mount. And judging by the current roadmap, it has no plans to do so in the next year or two. But in the meantime, the Nikon 500mm f/5.6E PF has won a high-ranked spot on its own. Why did I make the decision to put it so high?
Most of all, weight and dimensions. Considering its focal length, this 1460-gram lens (3.2 lbs) is a true lightweight king. It has a solid minimum focusing distance, and a great price of $3,597. No wonder it was out of stock for so long.
Virtually the only disadvantage of the 500mm f/5.6 is the narrow maximum aperture of f/5.6. It's not the best lens for teleconverters. But if you look past that, it is hard to complain. (And Jason's review of the 500mm f/5.6 PF bears that out.)
For some, the question may be 500mm f/5.6 PF or 200-500mm f/5.6E ED. In this case, the versatility of the zoom is set against the faster focusing and better image quality (especially in the corners) of the prime telephoto. Thus, the 500mm f/5.6 easily wins the day for me. It is one of Nikon's most versatile telephoto lenses.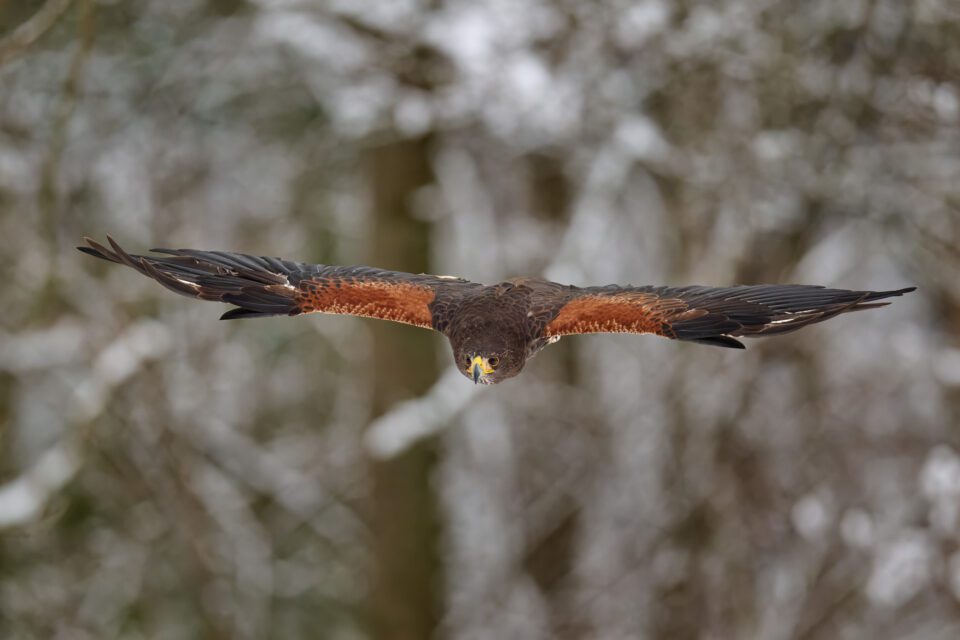 4. Nikon Z 70-200mm f/2.8 VR S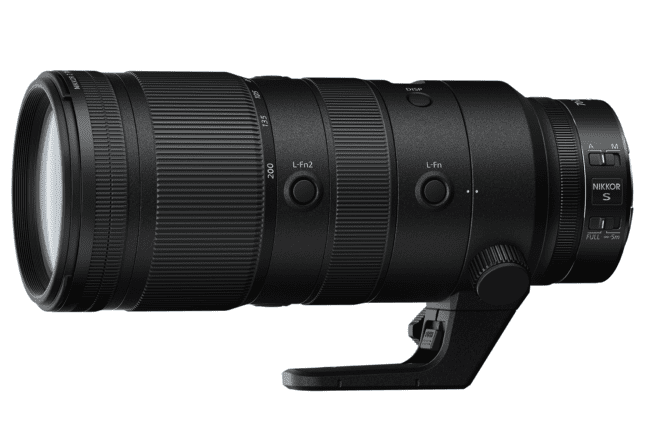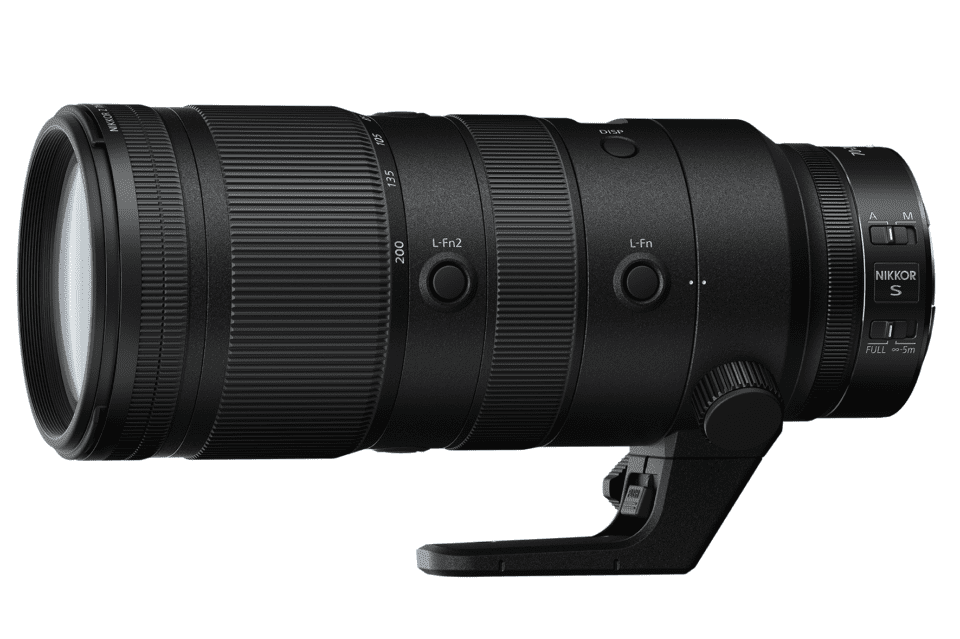 If I'm not mistaken, this is the sharpest zoom lens that Spencer and Nasim have ever tested in the lab. It is a perfect fit for a camera like the Z9. There are no optical flaws to speak of, it's relatively small and light (well, I said relatively) and it focuses in an instant.
The only reason that any lenses place higher on my list is because of focal length and aperture considerations. Can you say that a perfect 70-200mm f/2.8 or a perfect 400mm f/2.8 is a better lens? It's all relative. This could be #1 if you don't need a focal length beyond 200mm (or if you're comfortable using teleconverters to get there).
If I were more of a portrait photographer and less of a photographer of distant birds in flight, this would be the lens I long for. But as a wildlife photographer, I would want more reach without resorting to teleconverters. That brings us to one of my favorite Nikon lenses…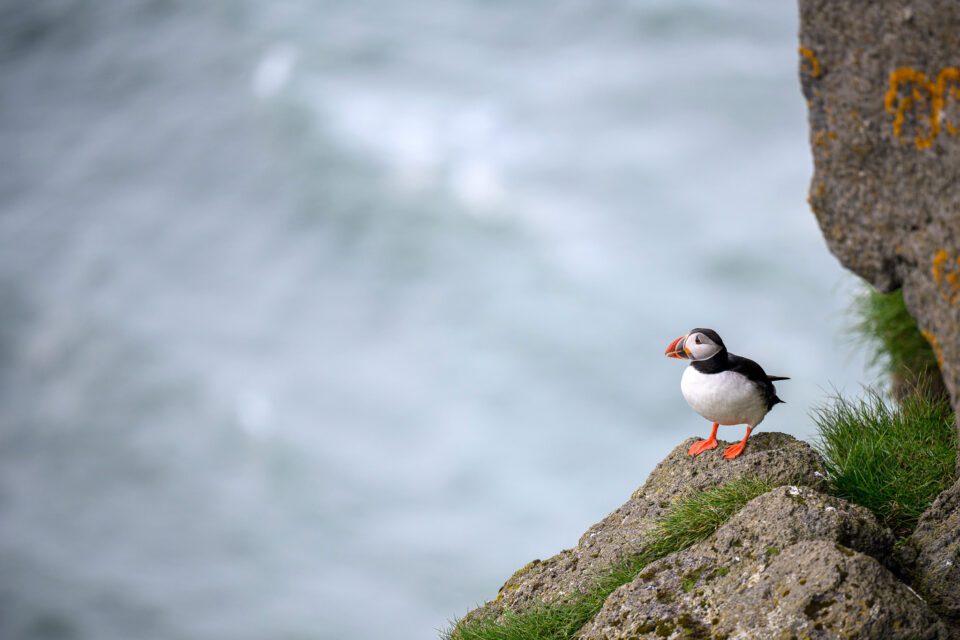 3. Nikon Z 400mm f/4.5 VR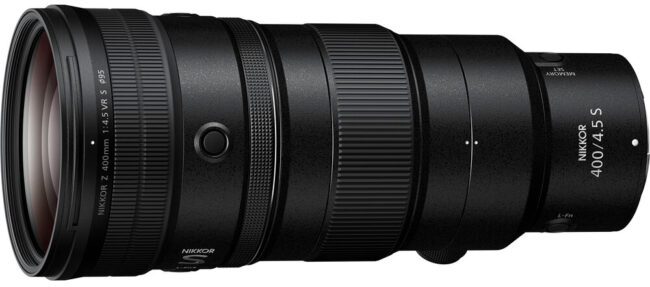 This is the last telephoto lens that even a mere mortal can dream of. For the price of $3,247, you get a lens that won't leave much room for more daydreaming. Optically, the Nikon Z 400mm f/4.5 is of such a high standard that I need to look at the EXIF data to make sure that I'm not using its considerably more expensive 400mm f/2.8 sibling. Flare resistance, bokeh… everything is top notch.
Like the previous lens, this one is incredibly light. At 1145 g (2.5 lbs), it's even lighter than the Z 70-200mm f/2.8 S, which weighs 1360 g (3.0 lbs). Even with the 1.4x teleconverter mounted, it remains a lightweight 560mm f/6.3 options. That's a good deal, don't you think? What is remarkable, it is not a PF lens!
The lens also allows the use of a 2.0x teleconverter, although a lot of light disappears. Still, if conditions are bright enough, the resulting 800mm f/9 will provide excellent reach while still delivering good image quality.
In terms of focusing speed, the lens focuses just as fast as the much more expensive Z 400mm f/2.8. So, is there any reason at all to dig (much) deeper into your pocket and get a lens that stands a notch higher? I've addressed this question in my article Nikon Z 400mm f/2.8 TC VR S vs 400mm f/4.5 VR S, as well as my Nikon Z 400mm f/4.5 VR S Field Test. But considering that I ranked its big brother one place higher, you know my answer.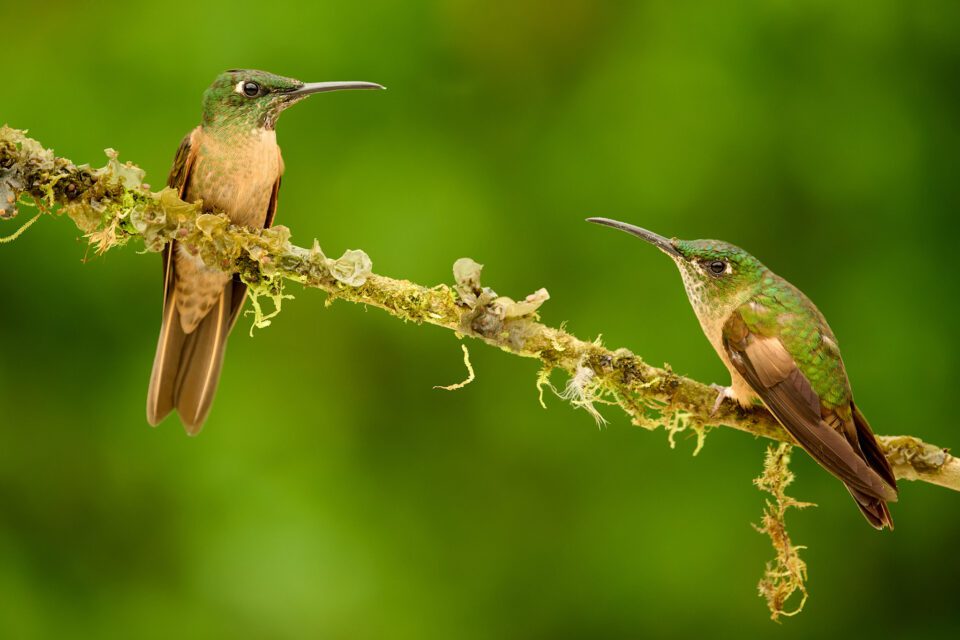 2. Nikon Z 400mm f/2.8 TC VR S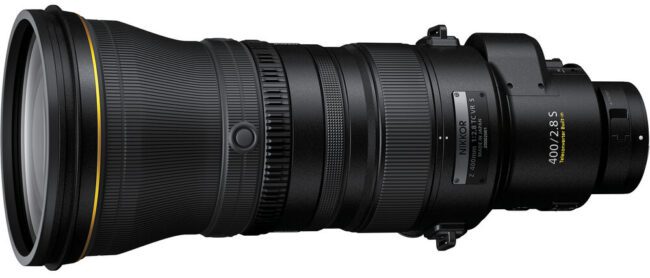 There are several reasons to sell your kidney and buy this lens. Let's take a look at them.
The number one reason is hidden under the abbreviation TC in the lens name: a built-in 1.4x teleconverter. A real game-changer! Take the teleconverter out of the pocket, take off one cap, take off the other cap, detach the lens and the camera, put the teleconverter on, put the camera on… that's the old way. With this lens, you just do a flick. For me, about 75% of my desire for this lens is hidden in that fleeting movement of the teleconverter lever.
Another 20% of my interest is largely due to the f/2.8 maximum aperture. This is because the lens can be combined with the built-in 1.4x teleconverter and still be at f/4, or with the Z TC-2x and still be at f/5.6. In addition, both teleconverters can be combined to make an 1120mm f/8 lens. So, although this is a prime lens, it shows an unusual degree of versatility.
The remaining 5% that would eventually make me pay $13,997 is attributable to the weight of the lens. It is, in fact, really low for a lens of this caliber. Only 2950 g / 6.5 pounds. To say here that this lens is sealed against dust and dripping water, and that its barrel is designed for professional handling, would probably be carrying firewood into the woods.
Although the lens isn't 100% perfect, which you can read in my Nikon Z 400mm f/2.8 TC VR S Field Test, I 100% want to buy it!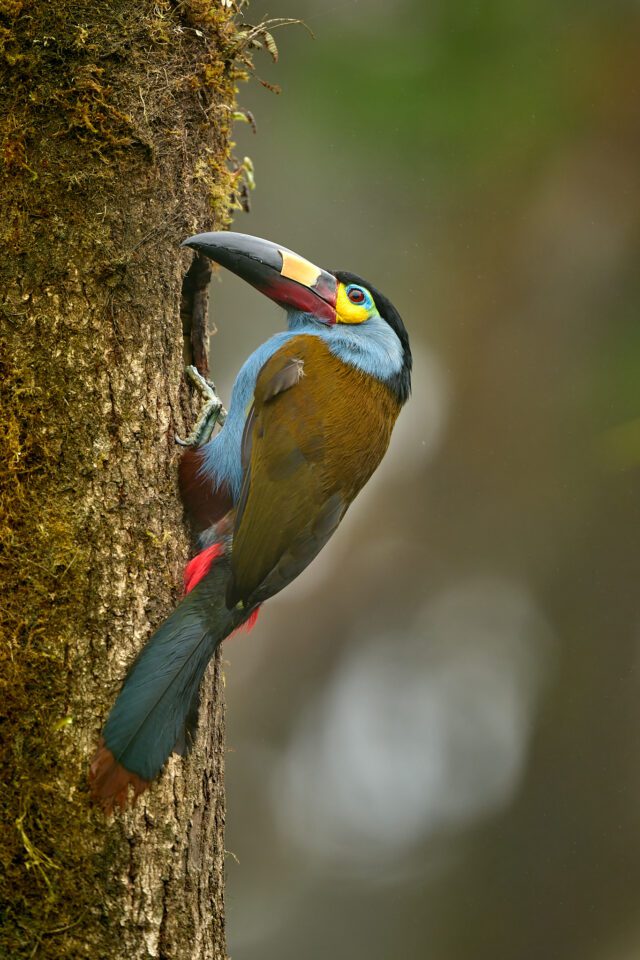 1. Nikon Z 600mm f/4 TC VR S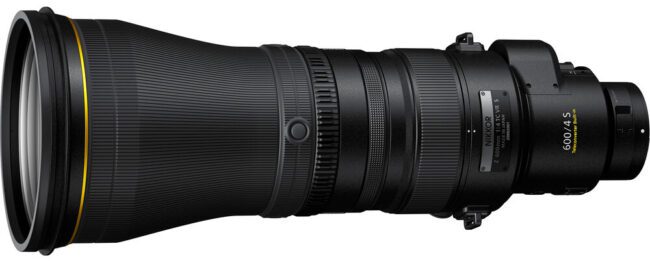 And the winner of my private ranking of the best telephoto lenses for Nikon is the 600mm f/4 TC VR S. If I wrote that to buy the previous lens I would have to sell a kidney, in the case of this gem I would probably have to also sell the remaining one. The price of $15,497 is very steep indeed (although not quite as bad as the aforementioned 800mm f/5.6E FL ED). Despite this high price, you'll still have to wait in a long line for this lens.
What makes the 600mm f/4 so special? At this point, I could basically copy all the text I dedicated to the previous lens. So I will be briefer. Reason number one, two, and three is the built-in 1.4x teleconverter. This is something that fundamentally leapfrogs the competition for using a telephoto lens in the field.
Just for context, the only two remaining telephoto lenses that have this feature are the Olympus M.Zuiko Digital ED 150-400mm f/4.5 TC1.25X IS PRO and the Canon EF 200-400mm f/4L IS USM Extender 1.4x. One is for MFT cameras and the other would deserve an update. (This is as of the time I'm publishing the article and hopefully will change soon!)
Another reason to get one is that it is a native Z mount lens. While the FTZ adapter doesn't degrade the optical quality, the focusing of the adapted lenses doesn't quite achieve the speed and reliability of the native ones, in my experience. The last major reason to click the "Add to Cart" button is the weight (3260g / 7.2 lbs). For the record, the lens has lost 550 g / 1.2 pounds compared to the previous version.
So if you have the spare funds to buy this lens and find a use for it, then there is no reason to hesitate. As I see it, the Z 600mm f/4 TC VR S truly is the best telephoto lens for Nikon cameras, even if others on this list make more sense for a typical photographer.
Conclusion
The trend we're seeing – a different, more interesting variety of telephoto lenses in recent years – is great for several reasons. First and foremost, it's indicative of people's growing interest in nature photography, something that I always love to see as a biologist. In fact, along with sports photography, wildlife photography is the main reason to use telephoto lenses in the first place.
Another thing that makes me very happy is that almost anyone can do this beautiful hobby nowadays. It is not necessary to spend ten thousand dollars or more for a ticket to the wildlife photo world. Even though some of the top ranked lenses on my list above are very expensive, they're allowed to be dreams. With a lens under $1000, you can take amazing pictures if you know how to do it. Any lens in this list is capable of producing a winning photograph if handed to a skilled photographer.
Looking back, I spent more time choosing the right telephoto lens than I did choosing a life partner. This shows two things. First of all, the wonderful qualities of my wife, but more importantly, the difficulty of choosing the right lens.
If my article has helped you navigate the current offerings, then I have succeeded in my goal. However, it is quite possible that I have missed some interesting lens, especially in the realm of third-party options where I have less experience. If you feel that it should appear in my list of the best telephoto lenses for Nikon, I would be very happy if you let me know about it in the comments below the article.