One of the key areas many photographers often struggle with, especially when starting out, is focusing. Being able to properly acquire focus on a subject or a scene is critical in making sure that the photograph is sharp where it needs to be. In this article, we will cover back-button focus in detail and go over its pros and cons. If you are not yet familiar with this technique, check it out below, as it might change the way you take pictures in the future.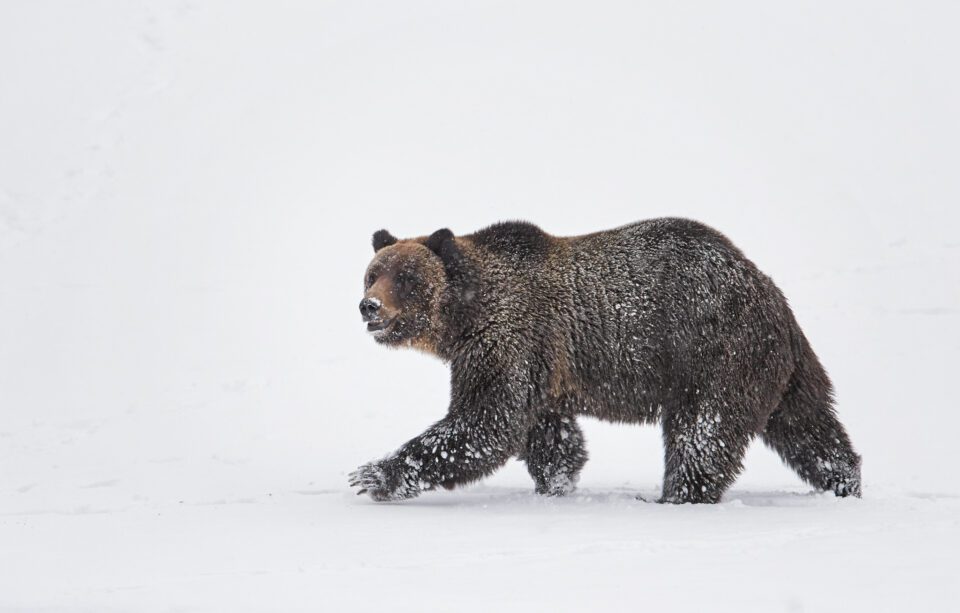 Critical focus is one of the most crucial elements we attribute to a good photograph. This is especially true in my field of nature and wildlife photography where the accuracy of the focus will usually make or break an otherwise good photograph. A basic understanding of a cameras focusing system is fundamental at the outset of our photographic journey, but I often find that a more in-depth mastery of the camera's focusing capabilities often takes a backseat while we improve other photographic aspects. Part of the reason for this is that it is effortless these days to pick up a camera and take sharp images with the default focus settings and issues only begin to arise when our subjects become more complicated. Whether it is a model's eye in portraiture or the beak of a bird-in-flight, proper focus forms an essential part of the storytelling mechanism of photography. The key to sharp images starts with a fundamental understanding of your cameras focusing system and settings, which is why it is important to understand what back-button focus is and how you can take advantage of it in your photography.
Simply put, back-button focus is the process of taking the autofocus function away from the shutter button and re-assigning it to another button on the back of the camera. If you are wondering why one would ever want to do that, below is the detailed explanation of how back-button focus works and why you might want to take advantage of it.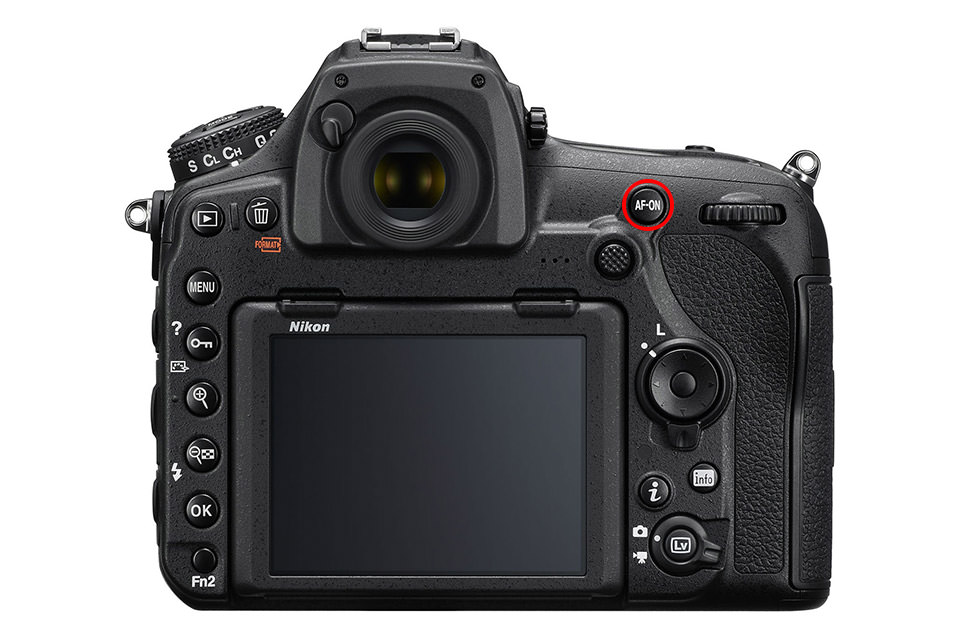 Usually, when you pick up a camera and half-depress the shutter release button, the focus system engages and tries to attain focus on your subject, which is the way most cameras are set up by default. With a bit more pressure applied to the shutter button, the shutter trips and an image is captured. This process occurs regardless of the autofocus mode set up on the camera. The problem with this default behavior, is that if your subject moves out of the plane of focus, you will need to half-depress the shutter release button again to refocus, or if you are shooting in continuous servo mode, you will need to half-depress the shutter release and hold it there to track the moving subject. This essentially means that the single button is used for two different purposes – one to focus and one to take a picture. While doing this, if you apply a bit more pressure to the shutter release button than usual, you will ultimately end up taking more images than you wanted. What if your subject is stationary and all you want is to focus and recompose for a better composition? Sure, you could switch to One Shot / Single Servo (AF-S) mode, lock on your subject then focus and recompose, but each time you switch from a stationary to a moving subject, you will need to remember to switch from One Shot / Single Servo (AF-S) to AI Servo / Continuous Servo (AF-C) mode to be able to continuously track the subject. In addition, if your subject is stationary and the camera to subject distance is the same, you will need to either turn off autofocus or remember to hold the autofocus lock button (if there is one) in order to prevent the camera from reacquiring focus again. Some cameras will allow you to keep half-depressing the shutter release to lock on focus and hold it, but if you accidentally let your finger off the shutter release button, you will be forced to reacquire focus again. All this unnecessarily complicates your focusing technique, since there are too many actions and settings to keep in mind.
Action photographers know that to make the most of the focus tracking of a camera, it is ideal to use the central focus point due to it usually being the most accurate, which also becomes a major problem in regards to compositional versatility. With the camera set to central-point focus tracking, it's highly likely that the subject's position will typically be right in the middle of the frame. While this can work at times, most compositions are better off with the subject placed off the center of the frame (i.e., the Rule of Thirds). A workaround would be to switch to AF-S mode as pointed out above and recompose, but it would be completely impractical for all action photography due to its lack of continuous tracking.
By moving the focusing function to a dedicated button (usually labeled as "AF-ON" or "AE-L / AF-L") on the camera and using the shutter release button only to take pictures, you can greatly simplify this process. Any time you need to focus, refocus or continuously track the subject, you engage the focusing button. If you need to take a picture, you engage the shutter release button. There is no need to remember which focusing mode you are using, because you can always keep your camera in AF-C mode. Dead simple.
Shoot in AF-C with the Benefits of AF-S
As I have already pointed out above, the biggest benefit of back-button focusing is ability to shoot in AI-Servo / Continuous Servo (AF-C) mode with all the benefits of One Shot / Single Servo (AF-S). Since the dedicated focusing button is only engaged when you need to focus, you can keep your finger off of it when you need to lock focus and simply keep on taking pictures.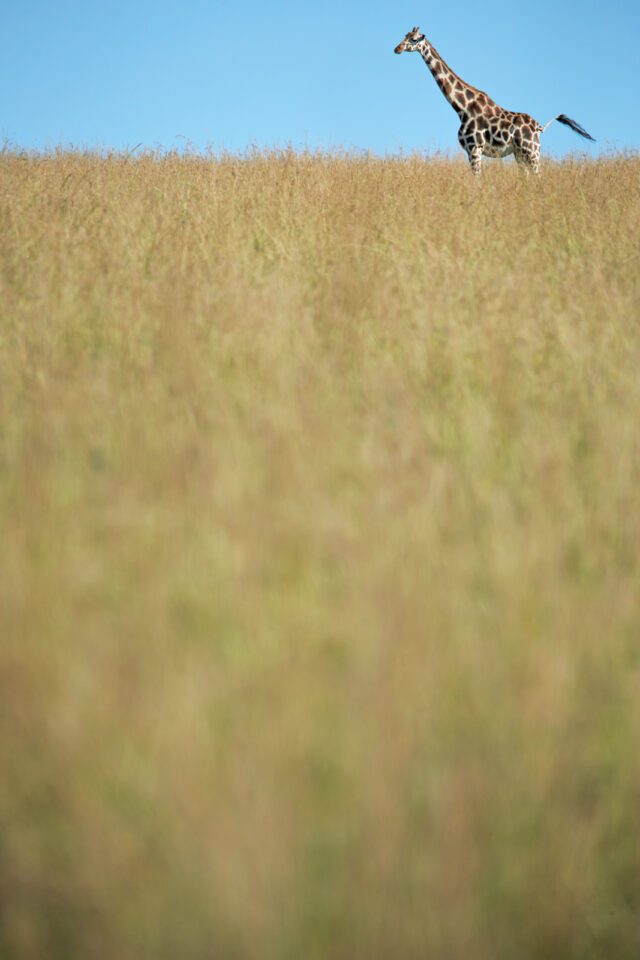 The above photograph of an endangered Rothschild's Giraffe in Kidepo National Park in Uganda is a perfect example of the benefit of using Back-Button Focus. I was taking pictures of a small herd of these Giraffes as they foraged for food. While taking photos of this group I tried to employ off-center composition in most of the images and so my settings included the left and right focus groups with AI-Servo tracking. When one of the members of the group ascended a grassy hill, I saw an opportunity to take a photo that emphasizes the grasslands with the distant Giraffe in the upper corner. His positioning in the far corner of the image meant that none of my Canon 1Dx's focus points could reach him while still maintaining my desired composition.
Again, I could move to AF-S mode and resort to the Focus and Recompose technique, but this would entail losing continuous tracking. In such a situation, Back-Button Focus enables a photographer to have the best of both worlds. With the AF-ON button pressed and the camera set to AF-C, I focus on the Giraffe using one of my top right-hand focus points. Once proper focus is acquired, I can let go of the AF-ON button (which stops all focus acquisition) and recompose the frame so that the Giraffe is where I want it in the image.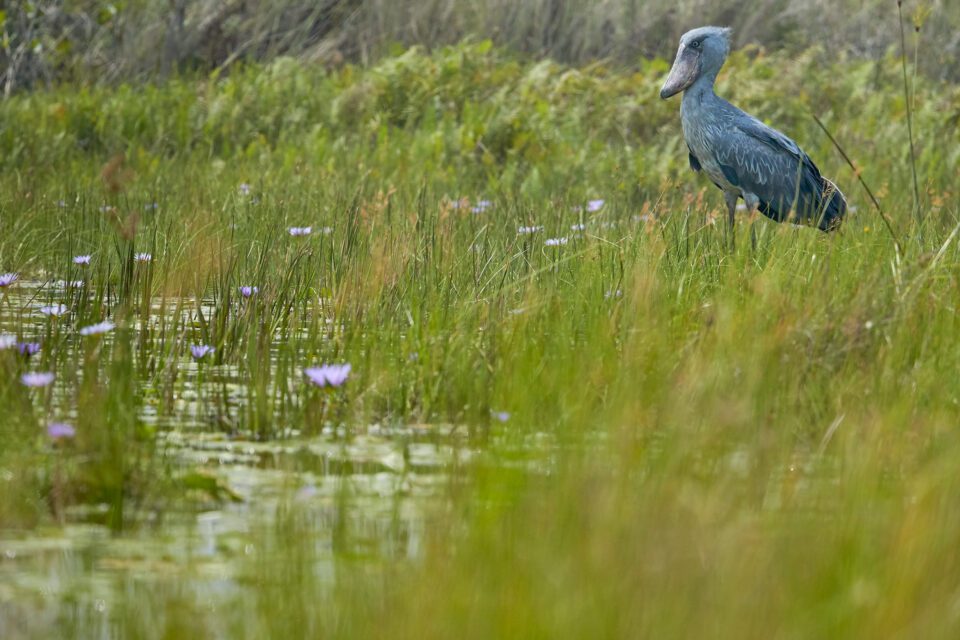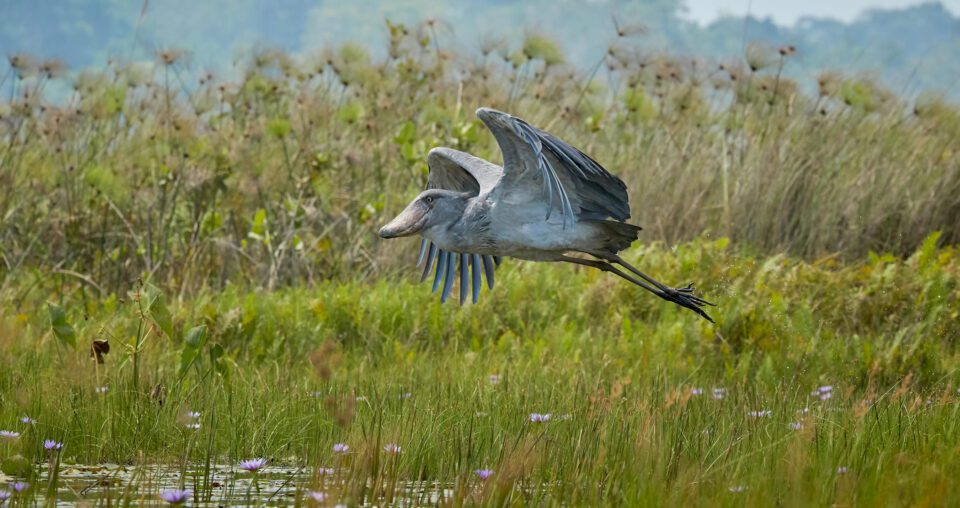 Another example of the benefits offered by Back-Button Focus is when you quickly transition from shooting a stationary subject to one that is moving. In the above case, you can find a Shoebill patiently waiting in the midst of a Papyrus Swamp in Uganda. I pointed my chosen focus point (the center point, as it is most accurate) at the bird and pressed AF-On to focus. Then, having released my finger from the AF-ON button, I recomposed the shot and pressed the shutter to take the image. Within a matter of moments, the bird decided to fly off. I just held down the AF-ON button to start the focus tracking and pressed the shutter button simultaneously to take images of the Shoebill in flight. The whole process is seamless and done with just one autofocus mode (AF-C) while at no point limiting my ability to focus and recompose.
Instant Manual Focus
Since camera's autofocus is only engaged when you press the AF-ON button, you can take complete control of the manual focus on most lenses without your camera overriding the focus when the shutter is released. This can prove incredibly useful for situations where your subject is heavily obstructed by objects that prevent the focusing system from acquiring correct focus.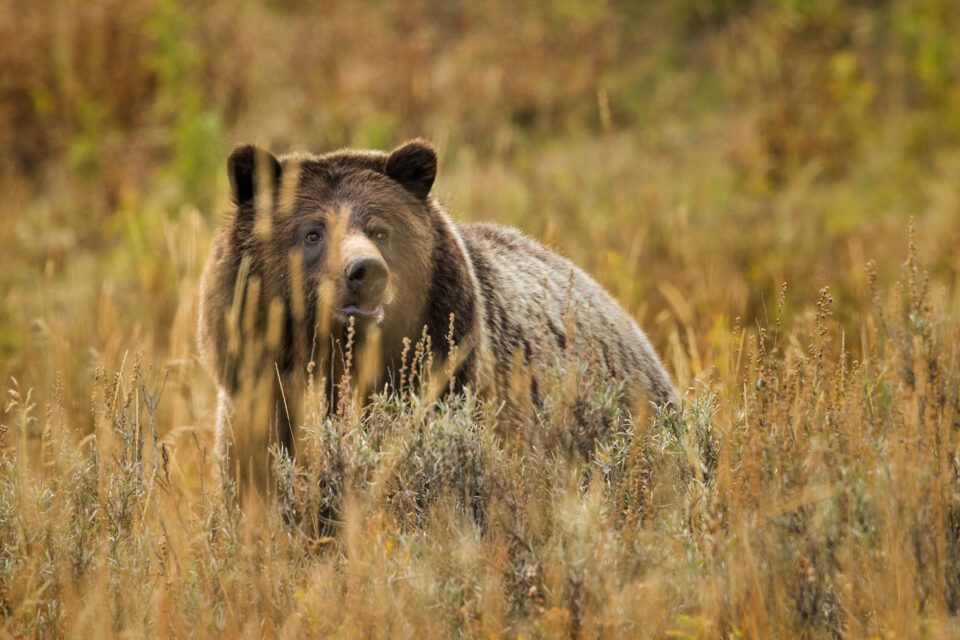 This photograph of a Grizzly Bear represents a situation where my focusing system struggled to acquire proper focus due to the high grass situated before my subject. I was missing critical moments due to the focus system continually jumping back and forth between the bear and the blades of grass. After some moments of struggling with the focus system, I decided to go ahead and take photos of the bear using manual focus. Because I was using Back-Button Focus at the time, the moment I stopped pressing the AF-ON button, I took complete control of the manual focus without my Canon 1Dx overriding my focus when I pressed the shutter button.
Ignore Obstructions
Moving subjects will often confuse the autofocus of the camera. Since AF-C is used to track movement, if something gets in the way of the subject, the focus system may attempt to lock onto the obstruction. With Back-Button Focus, you can momentarily remove your thumb from the AF-ON button while still taking photos of the subject using the shutter button.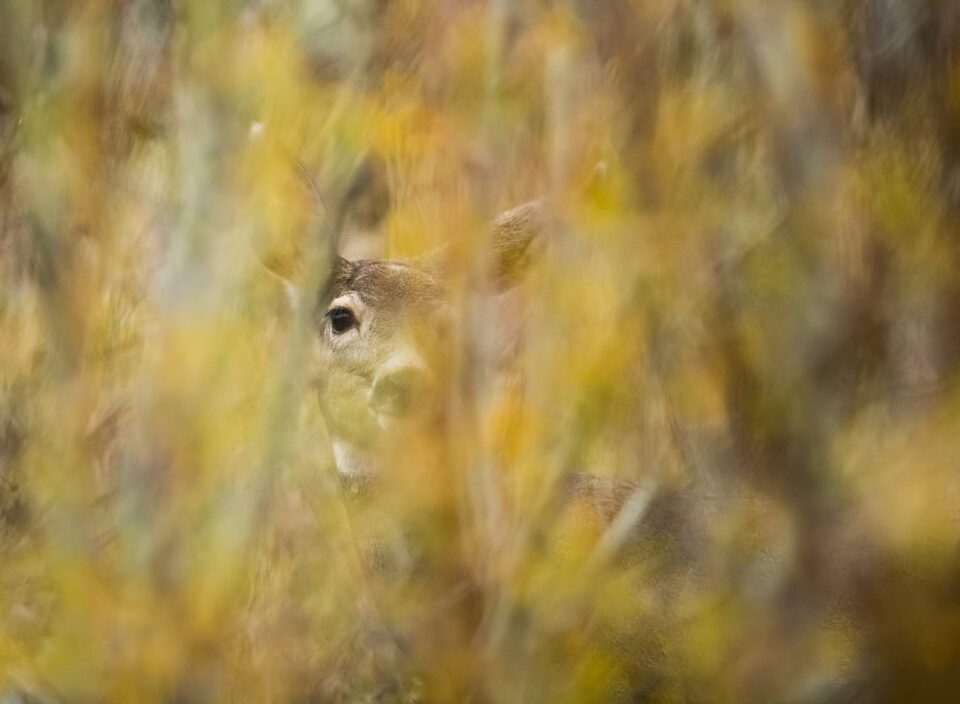 Drawbacks
One of the main drawbacks of Back-Button Focus is that it requires excellent coordination to operate fluidly. Initially, it might take some time and practice to fully master having to press two buttons to do the job that you had previously done with one. If there is one real difficulty to Back-Button Focus, is when you use it under challenging shootings conditions where it can become difficult to maintain the high coordination needed for it (such as when shooting with a heavy lens or when you are tired). This is especially true when you use it during very cold weather conditions. I experienced this first hand while shooting in Yellowstone during a snowstorm. After spending long hours outside in the sub-zero temperatures, my fingers became numb, and I lost the ability to accurately judge if I was pressing the buttons on my camera with the proper force to activate their functions. In such a case, it is much easier to only have one button which both enables focus and trips the camera's shutter.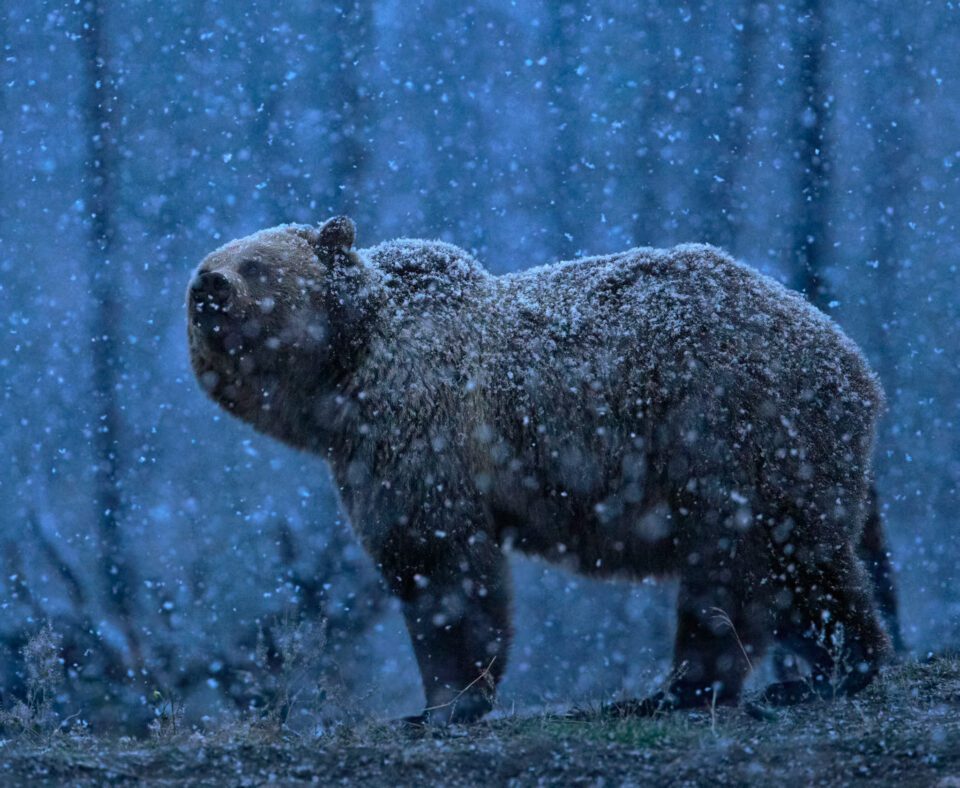 Because I was using Back-Button Focus at the time, I missed some photos due to not pressing the AF-ON button firmly enough. I recommend that in cold weather or in situations where you can't be 100% positive that you are correctly pushing all the cameras buttons that you revert to the default of focusing and taking an image with just the shutter button.
Another downside is that if your subject is always on the move and it is very erratic (such as a bird in flight), it simply tires your thumb to the point that it might be worth switching back to a single button. If you always shoot such fast action and you always default to the center focus point, you might want to evaluate if it is worth using back-button focus.
Canon
If you use a Canon camera, the process of setting it up for Back-Button Focus starts with the Custom Function Menu. Depending on which Canon model you are using, the Custom Menu will be laid out a bit differently, but in all recent models the following functions can be found in the Custom Function Menu:
Open Custom Functions in the Menu
Scroll to the Custom Controls screen
In the Custom Controls screen, set the shutter button to "metering start" (which stops the shutter button from engaging focus)
Set the AF-ON button to "metering and AF start"
Nikon
If you use a Nikon camera, the process of setting it up for Back-Button focus starts with the Custom Settings Menu. Depending on which Nikon model you use, the Custom settings Menu will be laid out a bit differently, but in all the recent models of higher-end DSLRs, the following settings can be found in the Custom Settings Menu:
Open the Custom Settings Menu
Select the "Autofocus" tab
Select "AF activation"
Select "AF-ON only"
For Nikon models that don't have an AF-ON button, you will need to set up the AE-L / AF-L button in the Custom Settings Menu to use it as if it was an AF-ON button:
Open the Custom Settings Menu
Select "Controls" tab
Select "Assign AE-L/AF-L button"
Scroll through the different options in the menu until you find "AF-ON"
When on the "AF-ON" option, select "OK"
Sony
If you use a Sony SLT or a mirrorless camera, you can also move the focusing button to one of the buttons. If you shoot with the latest cameras like the Sony A9, A7 III or A7R III, there is now a dedicated "AF-ON" button on those cameras that you can use for back-button focus.
Click on the Menu button which automatically places you in the first Menu tab (colored in red)
In the first Menu Tab scroll over to screen "AF2" screen
Scroll down to "AF w/shutter" and set that to "Off"
Fuji
Back-button focus on Fuji cameras is performed a little differently from model to model. Below is how you do it on the latest cameras like the Fuji X-T2:
Open "Set Up" in the menu
Select "Button/Dial Setting", pick Fn/AE-L/AF-L Button Setting, and assign AE-L or AF-L button to "AF-ON".
In "Button/Dial Setting", set "Shutter AF" to "Off"
If you have a Fuji camera that has a dedicated AF-ON button (such as the GFX 50S or the X-H1), then you need to perform the following:
Open "Set Up" in the menu
Select "Function (Fn) Setting" and make sure that "AF-ON" is set to "AF-ON"
Select "Button/Dial Setting"
Set "Shutter AF" to "Off" for both "AF-S" and "AF-C"
Fuji cameras have another method to perform back-button focus by allowing a button to perform focusing even when switched to manual focus. Here is how you set it up:
Switch the focus selection dial to Manual (M).
Open "AF/MF" in the menu
Select "Instant AF Setting"
Set "AF-C"