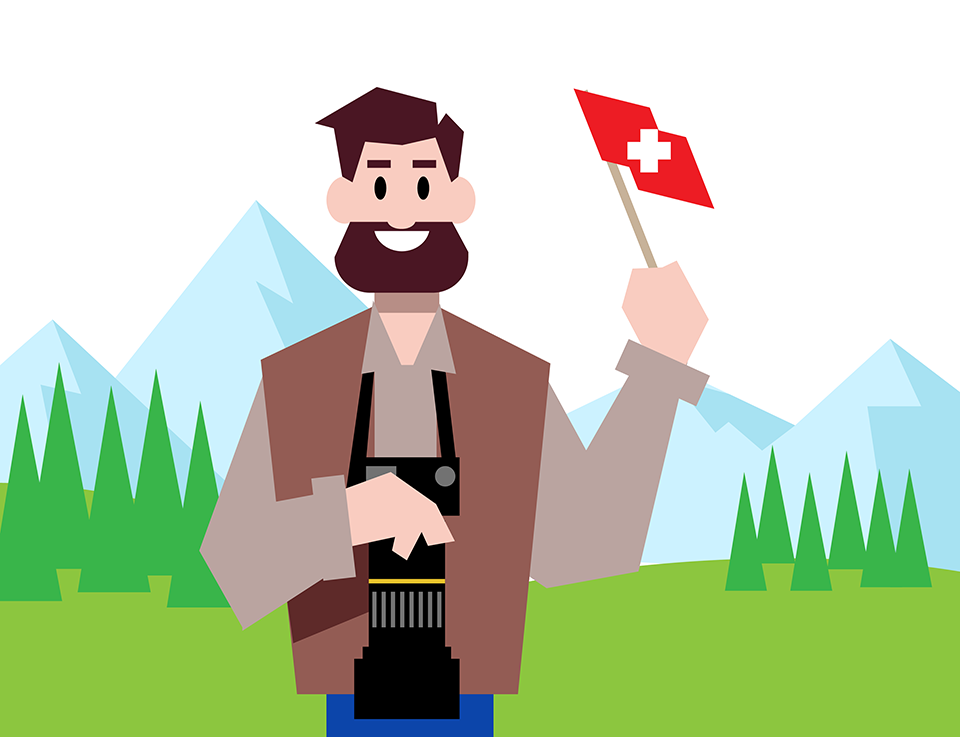 Many photographers who are new to super-telephoto lenses quickly discover that tripod feet supplied by all manufacturers on modern lenses are simply not suitable to be mounted on regular tripod heads. Unfortunately, with the exception of the supertelephoto zooms from Sigma, Tamron, and Olympus, most manufacturers such as Canon, Sony, and Nikon supply non-standard tripod feet with their lenses.
For new lens owners, it can be a rather frustrating experience trying to figure out which tripod head would fit their large and heavy lenses because nobody wants a lens worth thousands of dollars to end up crashing on the ground. And since most tripod plates are only equipped with a single mounting point, it can be extremely unstable and even potentially dangerous to mount anything heavier than a few pounds on them.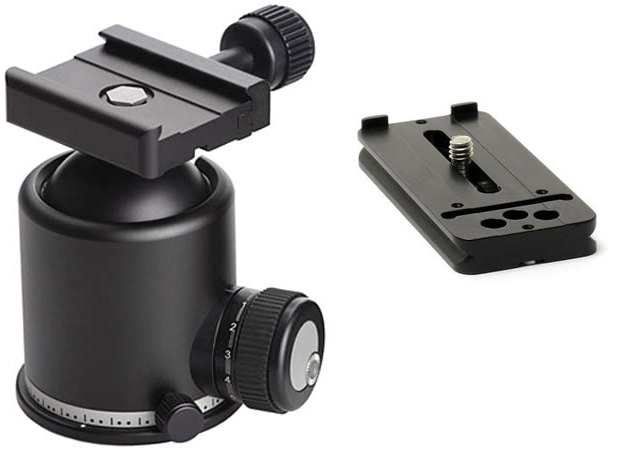 The solution, which has become somewhat of a standard nowadays, was developed by a company called Arca-Swiss back in the 1990s and since then has been popularized as "Arca-Swiss Quick Release System". The idea behind this quick release system is quite simple but very effective. Almost all professional photographers that use super-telephoto lenses have adopted the Arca-Swiss quick release system and more photographers are converting even their regular cameras to this format for ease of use, stability and compatibility reasons.
What is Arca-Swiss Quick Release System?
The Arca-Swiss quick release system is based on a two-piece mechanism. The first piece, generally referred to as a "plate", is attached to a camera or a lens (or any other device). It comes in a standard, "arca-style" 35mm wide form with a 45° dovetail and can vary in length. Here is an example of a fairly long Arca-Swiss plate that is used for super-telephoto lenses with two mount spots: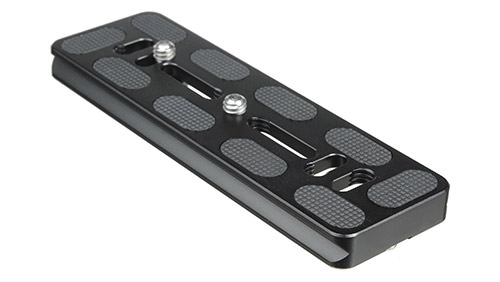 The second piece is the mounting base, generally referred to as a "clamp", where the plate gets attached and secured (generally resides on the top of a tripod head). The clamp can be fully opened, allowing the plate to be dropped in and secured, or can be partially opened to allow the plate to be slid into the position.
The biggest advantage of the Arca-Swiss quick release system is this ability to slide the plate without having to worry about mounting or dismounting anything. The 45° dovetail on the plate, as pictured above, allows the equipment to be moved across the clamp and secured in a specific location using a side knob or a locking release.
Arca-Swiss Plates for Cameras
Camera plates are typically attached using a single standard screw of 1/4-20 (per ISO 1222:2010 standard). Since plates can be made for specific camera models, they can vary in shapes and forms on the camera mounting side. The bottom quick-release side, however, must always stay the same.
There are a number of different types of Arca-Swiss plates. Let's go through some of the most common ones out there.
Camera Base Plate
The simplest of all Arca-Swiss plates is the "base" plate, typically a single-piece CNC-machined component that gets mounted on the bottom of the camera. Although there are a number of generic Arca-Swiss base plates available that will fit most cameras, the best plates are those that are specifically manufactured for a given camera body. Such plates have better fit since they are shaped to match the camera, and they often attach more securely than generic plates. However, camera-specific plates often cost more, and cannot be reused with another camera body.
Here is an example of an Arca-Swiss plate from Really Right Stuff for the Nikon D850 DSLR: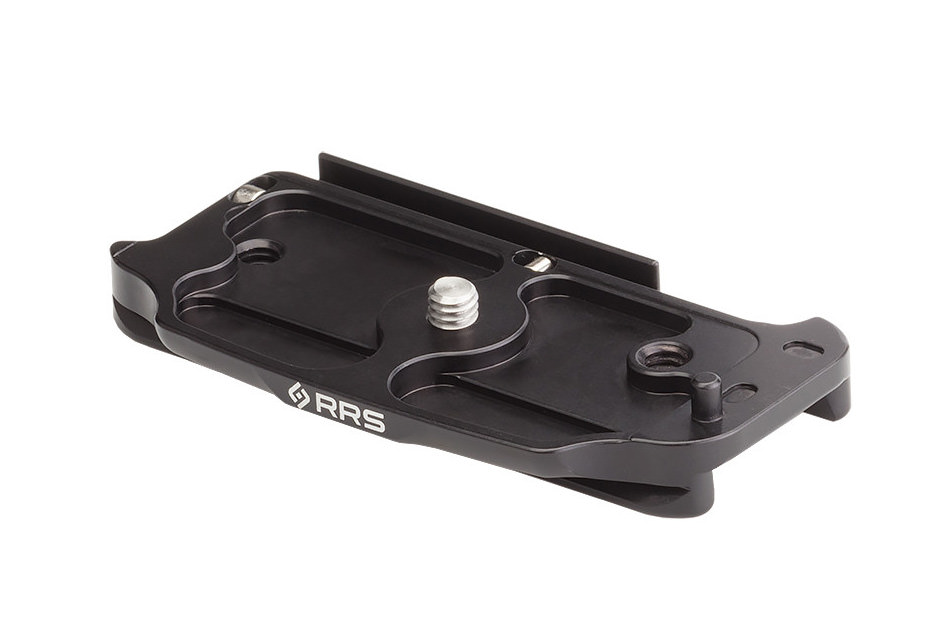 And here is how it looks once mounted on the Nikon D850: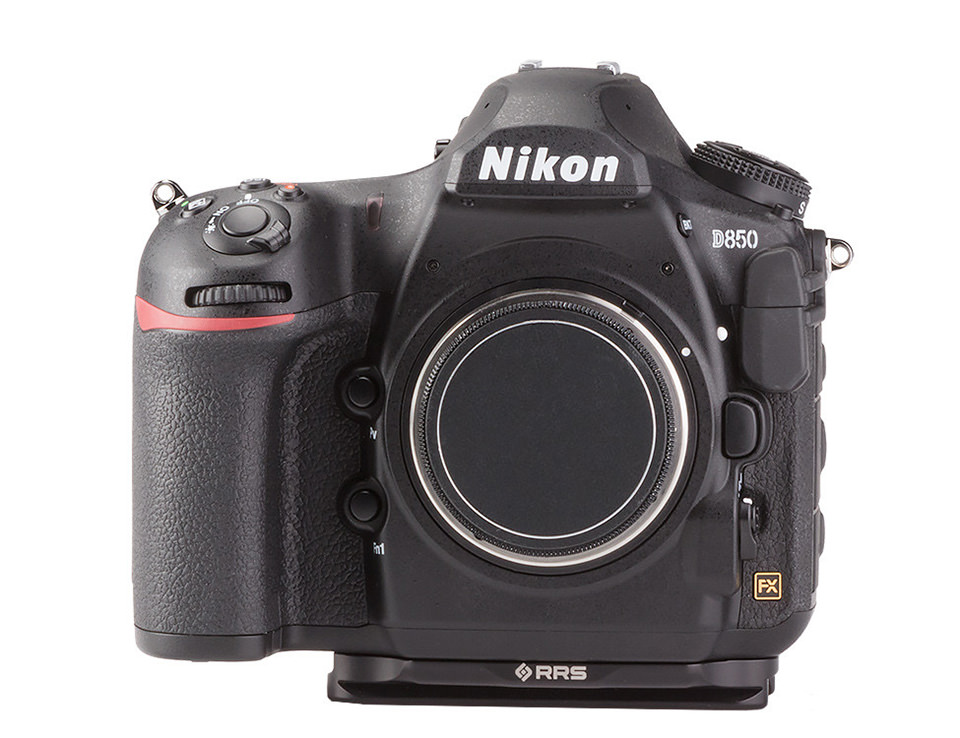 L-Bracket
While generic or camera-specific base plates work well, many photographers find them inconvenient to use when switching between horizontal and vertical orientation. For this reason, the "L"-shaped bracket, also known as "L-Bracket" is more practical, because it allows photographers to simply release the plate and reattach it from the side, rather than fiddling with the angle of the tripod head. Here is an example of a single-piece L-bracket for the same Nikon D850 DLSR: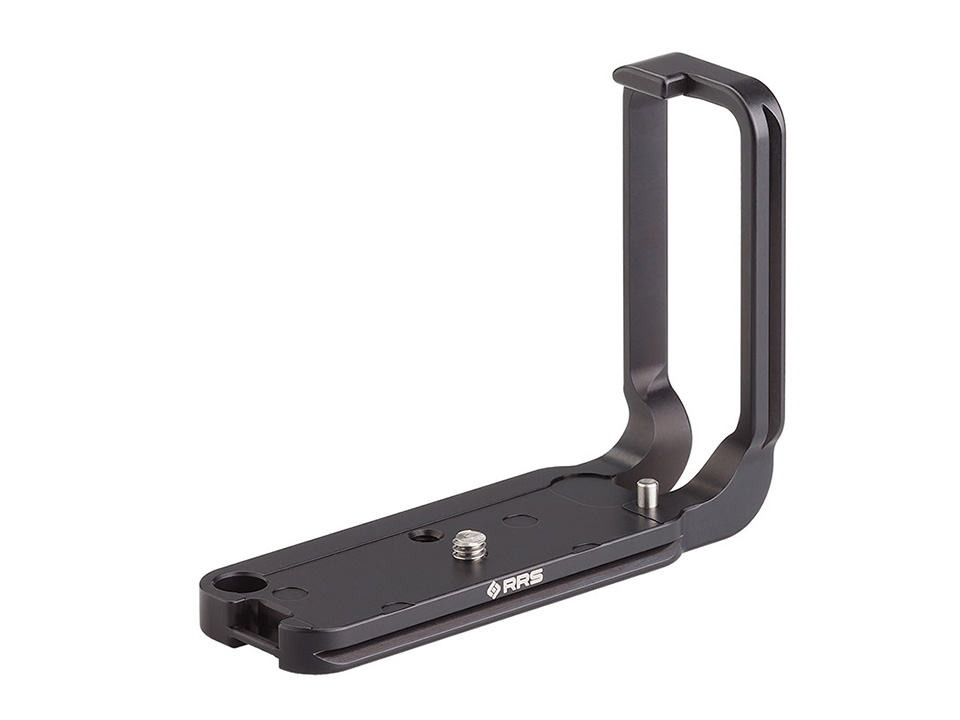 And here is how it looks when mounted on the Nikon D850: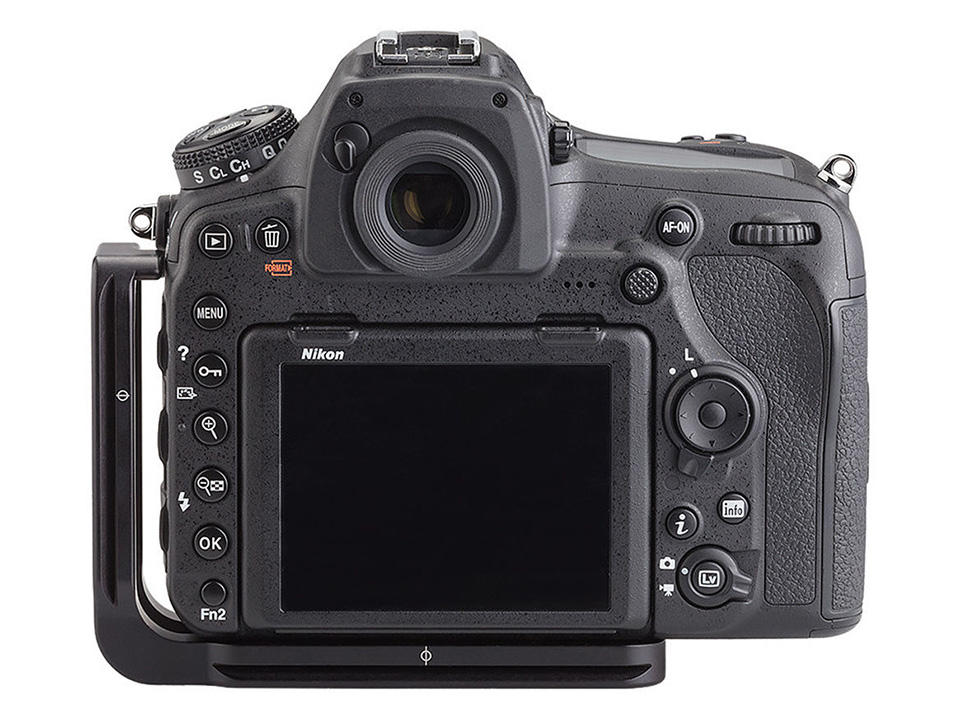 I personally love single-piece L-brackets and buy them for every camera I own. They are lightweight, and they save a lot of time in the field when I need to quickly switch from horizontal to vertical orientation and vice-versa.
Most L-brackets allow for maximum flexibility for mounting cameras, while still allowing access to side panels. However, some cameras make it hard to design L-brackets due to large side panel doors and other issues, which calls for a modular bracket approach.
Modular Brackets
Modular brackets offer flexible design, allowing other bracket components to be added for specific needs. For example, a modular L-bracket usually comes in two pieces – a camera base plate, and a side plate that can be attached to the base plate using screws. Manufacturers like Really Right Stuff provide flexible modular plates that are easy to attach and detach as needed, and they often even provide a Hex Allen Wrench as part of the design of the base plate, as shown below: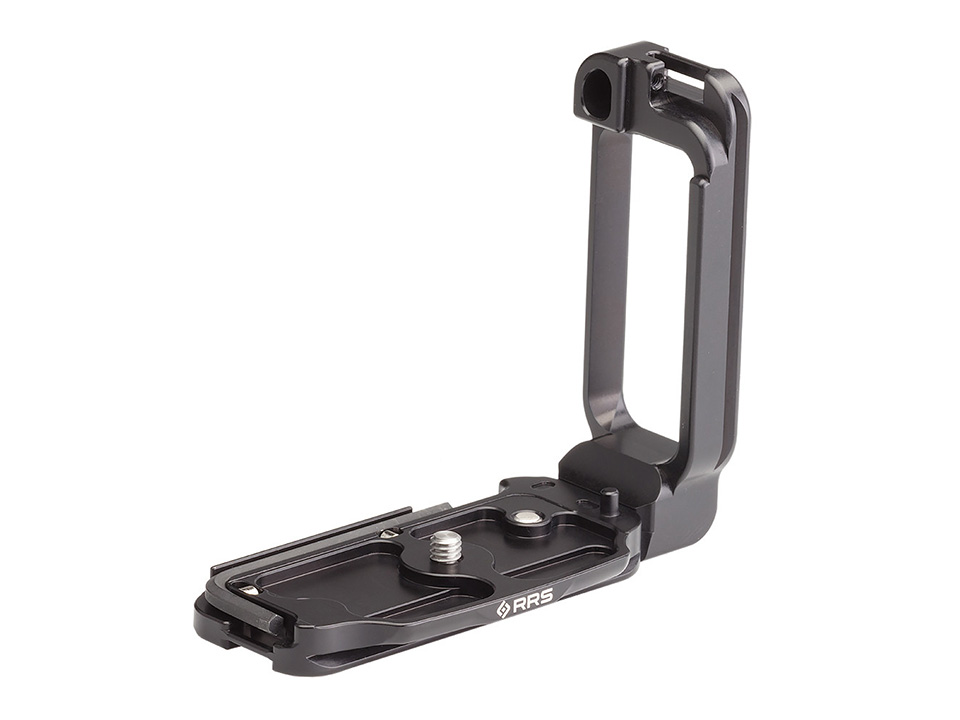 If you have the choice between a single-piece L-bracket and a modular L-bracket for your camera, my recommendation would be to go with a single-piece design, because it is going to be smaller, lighter and simpler to use.
Lens Feet and Collars
You can also attach a longer Arca-Swiss plate to the foot of a lens which does not have an Arca-Swiss compatible lens foot.
However, it is more convenient to get a special replacement arca-style foot which is specifically designed for each lens. Some of them are interchangeable (for example, a number of Nikon super telephotos like 300mm, 400mm, and 500mm mount exactly the same way), but mostly, you have to purchase a different model for each super-telephoto lens.
It is best to buy such replacement feet for each lens though so that you don't need to worry about changing feet in the field with the potential of losing screws and other parts. Here is an example of a replacement foot from Kirk: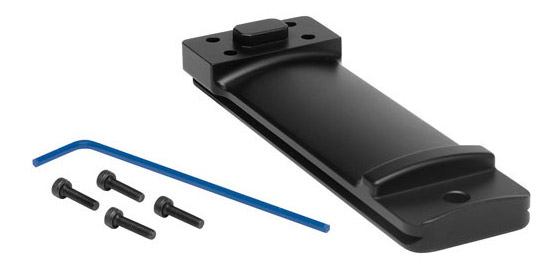 And here is how it looks when mounted on a lens and on a clamp: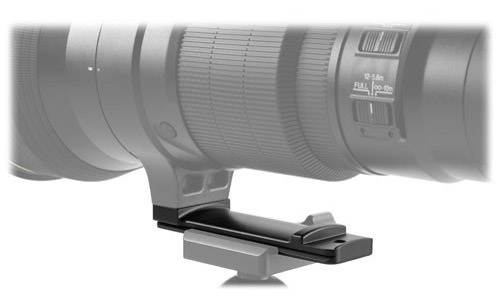 Here are some recommended replacement lens foots for the most popular supertelephoto lenses:
A few manufacturers have thankfully put Arca-Swiss-compatible feet on their long lenses, such as on the Tamron 150-600 G2 and the Olympus ED 150-400mm f/4.5 TC1.25X.
Gimbal Heads
As you can see, the long foot allows for movement on the base mounting clamp and is designed to balance the camera and lens combination. This is another huge advantage of the Arca-Swiss quick release system, as it could be used with a Gimbal-type tripod head that allows for very fluid motion of the setup for photographing fast-moving subjects.
Once fully balanced, one does not have to worry about securing the tripod head, which saves a lot of time and energy when shooting in the field. Wildlife photographers often choose Gimbal-type heads as their top choice for this reason alone. Here is the Jobu Design's DMG-HD4 (a great alternative to the famous Wimberley WH-200):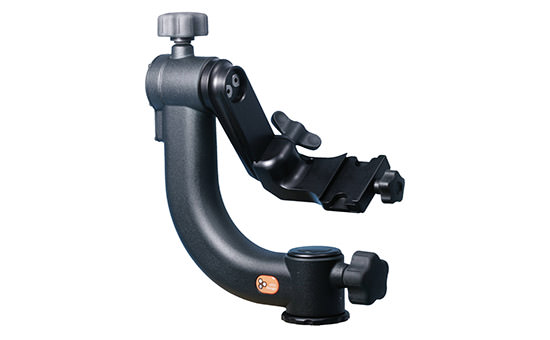 Once a heavy super-telephoto lens is balanced and secured on the clamp through its arca-style foot, both vertical and horizontal movements are possible without the need to constantly fiddle with various adjustments and knobs. While tripod ball heads have the tendency to quickly drop the setup towards the heavy side even at a slight angle, the Gimbal head system does not do that (provided that it is balanced).
Clamps
Over the years, manufacturers have been coming up with more creative ways to design their Arca-Swiss quick-release clamps. Today, you can find everything from the most basic screw-knob clamps to more advanced panning and sliding clamps for different photography needs such as panorama and macro photography. Here is an example of an extended clamp from Kirk: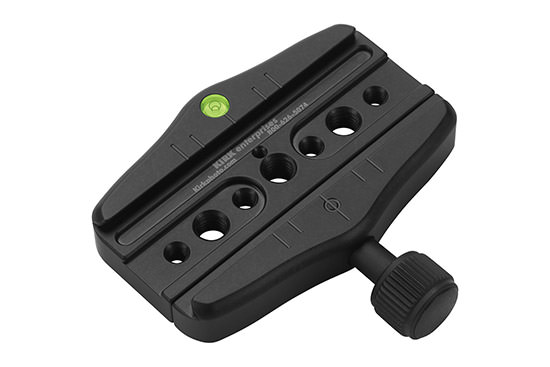 And here is my favorite Really Right Stuff panning clamp that I have been using for years: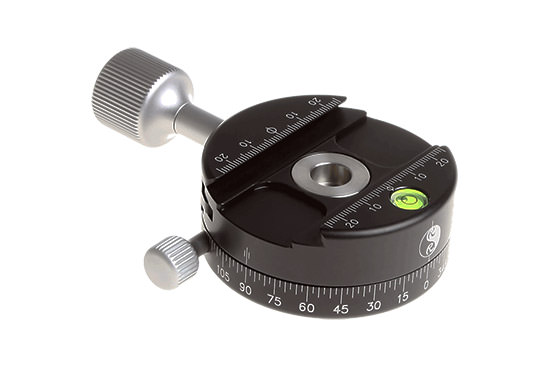 Panning clamps are great for general photography, as well as specialized needs like panoramic photography. With a panning clamp like the one above, you can buy a nodal slide for creating single row panoramas, or you can get a complex and expensive multi-row panorama setup with multiple panning clamps for both vertical and horizontal motion. See my article on how to create panoramas for more details about panoramic photography.
Versatility and Other Uses
Thanks to the versatility of the Arca-Swiss quick release system, it can be effectively used for pretty much any photography needs – from panoramic and 3D photography to complex macro setups. Since the plates can move up and down the clamps, opportunities for different setups are practically limitless. As a result, there are many different products and solutions on the market for all kinds of camera gear. And the best part is that you can mix and match different products without having to worry about compatibility issues because the standard for the plate is mostly the same.
Most Popular Brands
Here is the list of the most popular brands that manufacture Arca-Swiss quick release plates, clamps, ball-heads, and other accessories: