I recently witnessed how a friend of mine got robbed by an online camera store called AjRichard based out of New York, USA when he purchased a Canon 5D Mark II. The camera was out of stock for a few weeks in every single local and online store he trusted and he could not wait any longer. That's when he decided to expand his search and see if he could find an Internet store that had the 5D MKII in stock. He eventually ended up on Nextag.com looking at a list of merchants with "in stock" indicators. The top sellers all had very high ratings and he noticed that some of the sellers were advertising the 5D MKII at lower than the $2,500 "normal" rate that everybody else sells for. The top result was AjRichard.com and with over 1,000 reviews, 5 star rating and a "Trusted Seller" status, he decided to take the plunge and order the camera at just $2,350 – a really good deal he thought he was getting. The sad part is, he felt something was not right while making the purchase and still did it, thinking that his credit card company would protect him in case something went wrong. Next day, he got a call from AjRichard sales rep, who told him that camera battery and charger were not included in the $2,350 price and convinced him to buy those, along with some accessories he did not need. The order went up to $2,629 and he was promised free three day shipping. He needed the camera ASAP, so he agreed to complete the transaction and paid in full. Here is what his order looked like: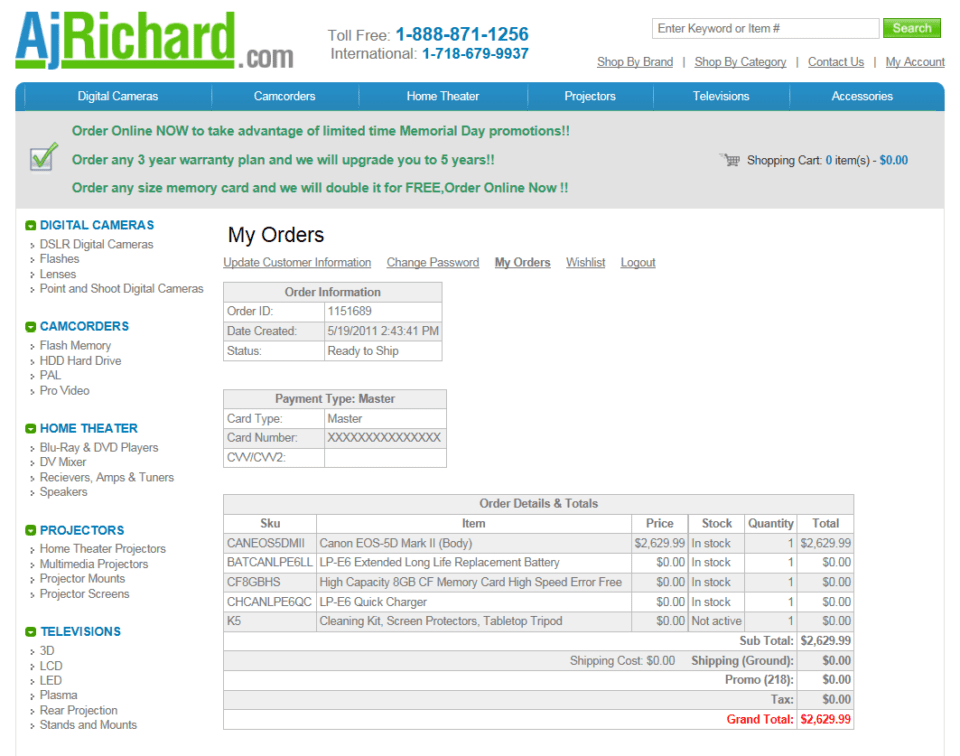 The moment I found out about his purchasing fiasco (which was on a Friday, approximately after two weeks since he placed the order), I picked up the phone and started calling AjRichard. I wanted to cancel the order as soon as possible and hoped to be able to recover his money. It was around 4 PM Mountain Time, which was 6 PM Eastern Time – the phone rang and then an automated message said that the store was closed. Unfortunately, it was the Memorial day weekend, so the store was closed for an extended period of time. On Tuesday morning before calling AjRichard, we checked the order status and the item was marked as "shipped". A tracking number from UPS was provided, which indicated arrival on the third of June, two weeks after the order was placed – and that's with the item being "in stock" with a free three day shipping. I called AjRichard and asked if it was possible to cancel the order. I was told that cancelling the order was not possible since the item was already shipped. Bummer. Now we had to wait till the package arrived. Meanwhile, my friend called his credit card company only to get disappointing news, that he would have to resolve the dispute with the merchant first. The whole dispute process could take several months.
I then decided to give a call to AjRichard and explore the purchasing process myself to see what I would get sold on on a $2,500 5D Mark II (as it was listed as of that day on their website). Here is an audio of the last part of the conversation, after I gave a fake name, address, email and credit card info:
Recorded Conversation with Mark @ AjRichard – click to listen/download.
And the above audio in text:
Me: Is this a new camera?
Mark: Brand new, factory sealed. OK, sold you the camera, we'll do the warranty, then what else do you need?
Me: That's it.
Mark: And the battery, you want to get the battery as well?
Me: Uh, doesn't it come with a battery?
Mark: It comes with one battery, which is only 35-40 minutes, so I would definitely recommend getting one of the extended life batteries.
Me: What do you mean by 30-40 minutes?
Mark: It is a short battery, it is not a long-life battery. You need to buy the extra one, the long one.
Me: So when you say 30-40 minutes, it is for taking pictures or video?
Mark: Both of them. When the screen is on or anything, it cuts down very short (yawns).
Me: Oh, so the one that comes with the camera only lasts for 30 minutes?
Mark: Yeah. Then you have the two hour which is $129 and a four hour which is $169.
Me: Wow, so if I take this camera and take pictures, it is only going to last for 4 hours?
Mark: If you do the bigger battery, yeah.
Me: Let's go with a bigger battery then.
Mark: OK, I will put the charger as well.
Me: Wait, wait, what is a charger?
Mark: No, you get the charger as well I am saying.
Me: Oh, so the battery comes with a charger?
Mark: Correct.
Me: Doesn't the camera come with a charger though?
Mark: That's what I am saying, you get the charger with that! The camera comes already with a charger in the bag with the battery.
Me: OK, so the only thing I am buying then is the battery, no charger right?
Mark: Correct. If you want, there is a separate charger, which is faster, if you want the "rapid" charger. It charges the battery within an hour, instead of waiting for 8 hours, it charges your battery in an hour.
Me: Oh, well, I guess I travel a lot, so let's add that too.
Mark: And do you want to get a memory card?
Me: No, I already have a compact flash memory card.
Mark: Now they have a special memory card if you are doing like video and stuff. They have a special card which is for high definition.
Me: Yeah, I just got the one from Best Buy the other day and they told me that it can record video.
Mark: I mean if you want, because we have the new ones which are "error free" and "ultra high speed". They are the ones that when you take a picture you are not going to have a 3-5 second delay time, and they actually say on the packaging "1080p high definition video".
Me: Uh…I think that's what my packaging says – it says "for recording 1080p video". It is the "Sandisk Ultra" or something like that.
Mark: Hmm yeah, those aren't error free, but they'll work, they'll take pictures and stuff.
Me: So when you say "error free", what does it mean?
Mark: Error free means you are not going to get any glitches if you do action shots and someone running, you are not going to get any blur in the picture or anything like that. And you are not going to lose any pictures.
Me: Ohh.
Mark: You know, I'll do this deal for you. I have a kit you might be better off doing, like right now if you are doing the camera with the battery, charger and the warranty and your total price was $3149.88, I have a kit I could do for you. It is a little more like $3399 as a whole bundle, but you would actually first get instead of the 4 hour battery I would give you two of the 6 hour batteries, so you get two batteries and it would be the six hour ones. You get also the charger now, which is the the charger that charges your batteries within one hour and it works in the house and in the car, so it is both AC/DC and it charges your batteries within one hour. Also, if you ever travel overseas, it is going to work overseas as well. You'll get the 5 year warranty and I will give you the "platinum" warranty, it is the warranty you could take to any local service center. It will cover the screen, cover everything on that full parts and labor and it also covers professional cleaning as well.
Me: And the warranty we are talking about is US warranty right?
Mark: Yes, this will give you 5 years that you could take local, so you don't have to ship to them or anything. And also covers the screen and everything. You are going to get the 32GB memory card, the ultra high speed "error free", which is the bigger card.
Me: What brand is it?
Mark: That's "Digital Film", that has the full 5 year warranty, it is made for high definition video 1080p and also when you take the stills you are not going to have the delay time or the errors or anything. It is ultra high speed and error free.
Me: What was the company name again? Digital Film?
Mark: Digital Film, uhum.
Me: I have never heard of them.
Mark: Oh they are very good. The make the special ones for video and stills as well. Also if you do that kit you will get the car reader, so you get the ultra high speed card reader and you get everything for $3,399, which is worth it, because it is like $200 more, but you are getting the memory card, which is usually like $300 by itself, you are getting an extra battery, and you are getting the 6 hour one, so you are getting 3 batteries total.
Me: Oh wow, that sounds like an overkill for me though.
Mark: Yeah, so I will do that for you.
Me: OK.
Mark: So everything together comes out to…let me give you the order number as well, do you have a pen and paper?
Me: Sure.
Mark: The order number will be 1152214 and the total with everything will be $3549.98. And that's with shipping, insurance, everything in that.
Me: What kind of shipping do you guys have?
Mark: You will get that probably within 3 to 5 days.
Me: So on the website it says "free shipping".
Mark: Yeah, that is free shipping I did for you. The insurance is extra, usually it is like 8 percent, I gave you a break on that as well, so this way it comes to you insured and everything.
Me: So insurance is 8 percent of the total dollar amount on top of that?
Mark: It usually is, but I gave you a break on that, I did not charge you the 8 percent.
Me: Got it, OK, sounds good. How much did you say it was for shipping?
Mark: Everything together was $3549, with insurance and everything.
Me: So that includes the shipping.
Mark: Yeah and everything. I put the express shipping and everything for you.
Me: When you said "express" shipping, is that like through Federal Express?
Mark: No, UPS. Instead of like 10 days, you will get it in like 5 days, so you will get it quicker.
Me: Oh, OK. Can I change that to 3 day shipping?
Mark: Yeah, you want to do that? I can do that for you.
Me: How much is that going to cost?
Mark: I will do it for the same price.
Me: So instead of 5 days I will get it in 3 business days then?
Mark: Yeah, you will get it by Friday.
Me: OK, that sounds good.
Mark: All right, so I will do that for you and I will process it right away.
Me: Sounds good, thank you very much. What was your name again?
Mark: My name is Mark, my extension here is 218.
Me: Thank you very much Mark.
Mark: Thank you Nick.
Me: Bye.
The camera that was $2,499 is now $3,549, thanks to Mark's sales efforts. Wow. I can't imagine what they are selling to other people that don't know what they are doing. Everything was going so wrong, I don't know how I did not just explode in laughter (which we did, as soon as I hung up). The best part is when he says "Error free means you are not going to get any glitches if you do action shots and someone running, you are not going to get any blur in the picture or anything like that". A lesson for beginners – now you know where all that blur is coming from! Just buy the right card and your images will be sharp and you will catch all the action shots in the world. LOL. Did you notice how smooth he went from $3399 to $3549? And that was apparently for "insurance" that he gave me a break on. That's $150 that I got screwed on for shipping on a $2,500 camera.
Wondering what happened to my friend's order? He received an opened half-empty 5D Mark II + 24-120mm kit box with what looked like a new 5D Mark II, with no lens or warranty card. Everything else was in the box, including manuals and battery + charger. The second battery and charger he got were from some unknown brand. He also received a worthless $3 cleaning kit and some other junk he did not need. He called AjRichard and this time it was supposedly a different guy, but with the same voice as Mark. The sales person said that he shipped a brand new 5D Mark II and that the box was not open. When my friend told him that he wanted to return the order and get his money back, Mr. Mark said that he would have to charge a 15% restocking fee for the entire order. Plus, he would be responsible for shipping and insurance as well. My friend decided to keep the camera.
Lessons learned:
Never buy photography equipment from an unauthorized seller/dealer.
Never fully trust third party sites like Nextag.com for vendor ratings and trustworthiness.
Know that if anybody lists prices significantly lower than top sellers like B&H and Adorama, most likely they are scammers.
Do not assume that your credit card company will help you when you make stupid decisions.
Do not engage in phone conversations about your order with sales people, unless the company is calling to verify your payment/address information.
Do not believe in 8% insurance fees, there is no such thing.
Buy from reliable online and local sellers with a long history.
Always check your gear after buying it. Check for camera shutter actuations and check all lenses you receive.
Always be extra careful when buying from online merchants. Read seller reviews from multiple sources and Google for information on the seller.
These guys should be shut down for what they are doing. The good news is, they are probably not going to stay in business much longer. The bad news is, they will probably reopen another company under a different name and continue to rob people. If we as consumers do not learn how to differentiate good guys from bad guys, companies like AjRichard will thrive on new, often "not-so-knowledgeable" customers. Please spread this message to your friends and family and do not let it happen!
Let me know if you have experienced anything like this before – our community should know who to stay away from. I will soon create a list of sellers I fully trust in a separate post and provide some tips on purchasing camera gear.