By now you have probably heard about Adobe's decision to stop development of Adobe Creative Suite (which includes such software as Photoshop and Illustrator) and move to a completely different subscription-only model. In short, Adobe does not want to sell packaged versions of its software anymore and wants you to instead pay for select software packages or the whole Creative Suite on a monthly basis. With the new Adobe Creative Cloud subscription strategy, you will no longer be able to purchase boxed software – you will have to pay a monthly subscription for using either individual software such as Photoshop, or pay for the whole suite. There will be no other option. Software will be delivered over the Internet and once you get it installed, it will make occasional requests over the Internet to Adobe.com to verify your subscription status.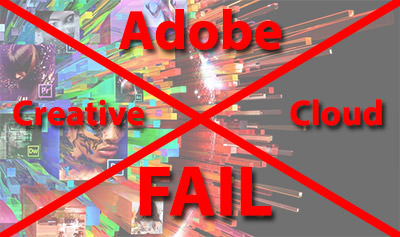 Our readers might be wondering what we at Photography Life think about this change, so here is my personal take. I think this is by far the most arrogant and selfish decision on behalf of Adobe. While I actively use Photoshop, Illustrator and Lightroom software for my work, I am already considering alternatives at this point. Not because I find the pricing to be too high, but because I think what Adobe is doing is simply wrong.
Adobe Software Update Past
Historically, Adobe released new versions of Creative Suite software every couple of years. As new versions of software were rolled out overtime, Adobe had a lot of challenges with getting people to upgrade to the latest version. Continuous development and innovation are both costly for a software development company, so Adobe worked hard on adding new and useful features to lure people into upgrading. At the same time, Adobe had to fix problems and deliver updates on existing versions for certain modules like Camera RAW that had to be kept up-to-date due to new camera releases. At one point, Adobe executives decided to cease the development of Camera RAW on older versions of Creative Suite and only push those updates if you owned the latest version. So if you bought a new camera and wanted to be able to open up its RAW files, you had no choice but to upgrade.
What we are seeing now, is a step further in the same direction. Now you have no choice to upgrade – the "upgrades" will be delivered free of charge, as long as you continue to pay the subscription fees.
Adobe Creative Cloud is not a Traditional SaaS
A lot of people got confused by the term "Creative Cloud", because the word "cloud" typically means that the software lives on the Internet and is run through a browser. While Creative Cloud certainly comes with integrated cloud services, it is not your traditional Software as a Service (SaaS) model. For typical SaaS software, you pay a monthly fee for accessing and storing your data. Since the data is stored completely on the cloud, you must have an active Internet connection in order to use it. Because of this, most SaaS software is browser and device agnostic – you rarely need a "thick" client to access it. In the case of Adobe Creative Cloud, it is a completely different story. Because Adobe applications require a lot of computer resources, it is impractical to put everything into the cloud. The Internet speed is simply not there to support such graphics-heavy applications. What Adobe has done instead, is offer some services (such has online storage and collaboration) that are accessible via the Internet and the rest of it is the same old Adobe Creative Suite that does not need the connection to the Internet.
Problems with Creative Cloud Subscription Model
By seizing the development of Creative Suite boxed software, Adobe is leaving no choice for current CS users that want to upgrade in the future. While this might not be a big deal for people that occasionally use Photoshop to edit their old photos, think of what happens when you buy a brand new camera. Unless you upgrade to a subscription model, you will not be able to open its RAW files anymore. Your only workaround will be to get the latest version of DNG converter and convert all RAW files to DNG format before you can open them in older versions of Lightroom / Photoshop. Here is a summary of problems with the Creative Cloud:
You never own the software – you are paying a monthly subscription fee and you will never own the software license.
You have no control over pricing – if Adobe decides to charge more for the Creative Cloud, you will be forced to pay more.
You cannot sell the software – since you don't own it, you cannot sell it. In the past, if you bought Photoshop and decided to get rid of it, you could transfer your license to another person and recover at least part of your investment.
You lose access when you don't pay – everyone goes through tough times. If for some reason you cannot pay for the software, you will lose access to it.
It is expensive – for those who only want to use Lightroom and Photoshop, the Photography package at $10 per month is a good deal. However, if you need other software such as Premiere, be prepared to pay $20 per month per software. In fact, many will probably choose the whole Creative Cloud bundle at $50 per month (requires annual commitment), which translates to $600 per year in subscription fees. Everyone on the Internet seems to be doing math based on retail box versions of Adobe products, plus upgrade fees. When was the last time you paid full price for a software product? Deals can be found all the time, so it is not like most people pay the full price to start with. I have been a Photoshop user for over 10 years now and I only paid for it once. I upgraded it two or three times and at one point went from CS2 to CS5. I was never forced to upgrade and did it only when I was interested in the new version and features. Thus, for many like me, the new monthly subscription model is much more expensive compared to an upgrade fee every 2-3 years.
Adobe Creative Cloud requires high speed Internet – first, you have to be able to download gigabytes of data over the Internet. I feel sorry for anyone that is on slow networks, especially abroad. Second, you must periodically download large updates when they are available. You will need a lot of patience if you are on satellite, slower DSL, etc.
You lose access to proprietary Adobe files if you stop your subscription – Adobe has many proprietary file formats like PSD, AI, EPS, PPJ, etc. that can only be effectively opened with Adobe products. Once you lose access to Creative Cloud, you will either have to pay the subscription price, or use some other third party tool to open it.
I am sure I am missing other problems, but this is a quick summary of what came to my mind as I was writing this article.
What Adobe Should Have Done
I have been in Information Technology for more than 15 years. I have been through enterprise-wide ERP software implementations, bought and used software and even participated and contributed to large scale software development. Adobe should have learned from other software companies on how to handle its product pricing and strategy before making its Creative Cloud jump. When it comes to software, many companies today offer both packaged and SaaS versions, letting the customer choose what works for their needs. And for many software packages, there is an option to move back from the cloud to a local environment – again, it is all about giving customers choice. But what Adobe has done is what some people referred as "extortion" – a forced migration to future upgrades and limited pricing choices. Heck, even Microsoft commented on Adobe's decision to move to the subscription model as "premature".
What Adobe should have done, is give its customer two options – a boxed version with an upgrade path, essentially continuing the Creative Suite line, and a choice to go to the cloud. People that would benefit from collaboration and other benefits of the cloud would choose a subscription model, while everyone else would stay happy with their "owned" copies of the software.
Adobe Creative Cloud Security Fail
On October 3, 2013, Adobe reported that its security was breached and hackers were able to obtain private information including customer names, encrypted credit/debit card numbers, expiration dates and other private data for 2.9 million customers, all part of the Creative Cloud subscription model.
There is no guarantee that this kind of breach will not happen again in the future – even Adobe admits that it is the "reality of doing business today" (see the press release below). Keeping customer data secure is a huge responsibility and Adobe should have tightened its data security before rolling out the Creative Cloud to the masses.
Here is Adobe's official Press Release:
POSTED BY BRAD ARKIN, CHIEF SECURITY OFFICER ON OCTOBER 3, 2013 8:08 AM IN EXECUTIVE PERSPECTIVES

Cyber attacks are one of the unfortunate realities of doing business today. Given the profile and widespread use of many of our products, Adobe has attracted increasing attention from cyber attackers. Very recently, Adobe's security team discovered sophisticated attacks on our network, involving the illegal access of customer information as well as source code for numerous Adobe products. We believe these attacks may be related.

Our investigation currently indicates that the attackers accessed Adobe customer IDs and encrypted passwords on our systems. We also believe the attackers removed from our systems certain information relating to 2.9 million Adobe customers, including customer names, encrypted credit or debit card numbers, expiration dates, and other information relating to customer orders. At this time, we do not believe the attackers removed decrypted credit or debit card numbers from our systems. We deeply regret that this incident occurred. We're working diligently internally, as well as with external partners and law enforcement, to address the incident. We're taking the following steps:

As a precaution, we are resetting relevant customer passwords to help prevent unauthorized access to Adobe ID accounts. If your user ID and password were involved, you will receive an email notification from us with information on how to change your password. We also recommend that you change your passwords on any website where you may have used the same user ID and password.
We are in the process of notifying customers whose credit or debit card information we believe to be involved in the incident. If your information was involved, you will receive a notification letter from us with additional information on steps you can take to help protect yourself against potential misuse of personal information about you. Adobe is also offering customers, whose credit or debit card information was involved, the option of enrolling in a one-year complimentary credit monitoring membership where available.
We have notified the banks processing customer payments for Adobe, so that they can work with the payment card companies and card-issuing banks to help protect customers' accounts.
We have contacted federal law enforcement and are assisting in their investigation.

We are also investigating the illegal access to source code of numerous Adobe products. Based on our findings to date, we are not aware of any specific increased risk to customers as a result of this incident. For more information, please see the blog post here.

We value the trust of our customers. We will work aggressively to prevent these types of events from occurring in the future. Again, we deeply regret any inconvenience this may cause you. If you would like additional information, please refer to Adobe's Customer Support page.

Brad Arkin

Chief Security Officer