The secret to a good black-and-white print is controlling the dynamic range. The dynamic range is the range of tones, from the blackest black to the whitest white in an image. In a black and white photograph, you want to make full use of the entire dynamic range. The problem is that, when printing, the printer usually hits the limitations of its dynamic range long before our eye (and camera, and monitor) stops differentiating detail. As the printer lays down ink to create your black tones, there will be a point at which you can no longer differentiate the detail in those blacks anymore. The same is true with white – every printer has a point where white simply becomes "paper white" and you can no longer see any ink at all. And if that's not bad enough, this "black point" and "white point" will be different for every printer/paper combination!
Fortunately, there is a simple solution to this problem. By using a simple black and white test chart, you can see how your particular printer and paper handle the white and black areas of your pint and you can edit your picture to maximize the available dynamic range of your printer: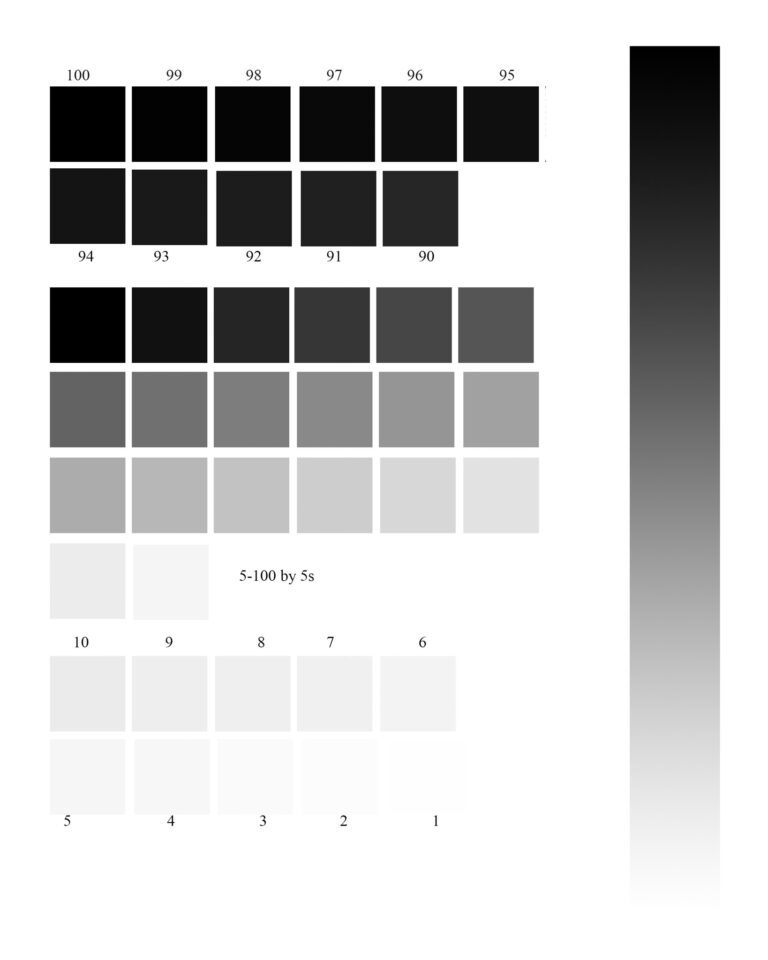 How to Understand This Chart (or Make Your Own)
You can either use the test chart above or create your own. The important part is that you have a document with a black-to-white gradient, and also swatches of gray tones that transition gradually from dark to light in small increments. Whether you're using this test chart or creating your own, you'll need to open the info pallet in Photoshop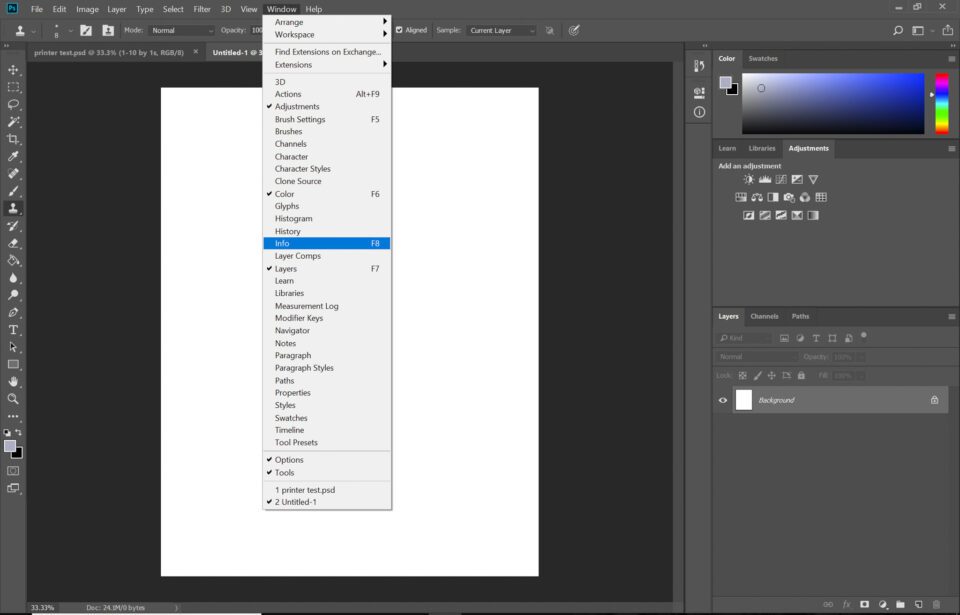 In the info pallet, click on one of the eye dropper icons and select RGB color from the drop-down menu. Click on the other eyedropper icon and select grayscale from the drop-down menu.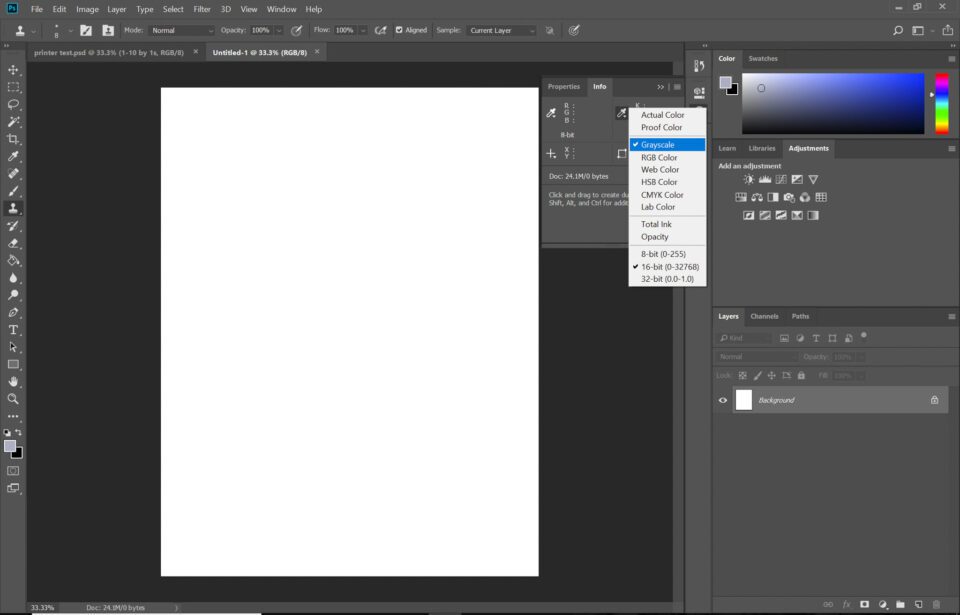 If you are creating your own test chart, there are a number of ways you can do this. I prefer to use the grayscale info pallet in 8 bit to measure my gray values, simply because it works on a scale of 1-100, making it simple to create gray swatches with incremental changes in value. If you look at my test chart, the first 11 gray swatches start at black and decrease in lightness by 1% in each square. When you hover your cursor over the squares and look at the k value in the info panel, you will see that it starts at 100% black in the first square, and each square decreases in darkness by 1%.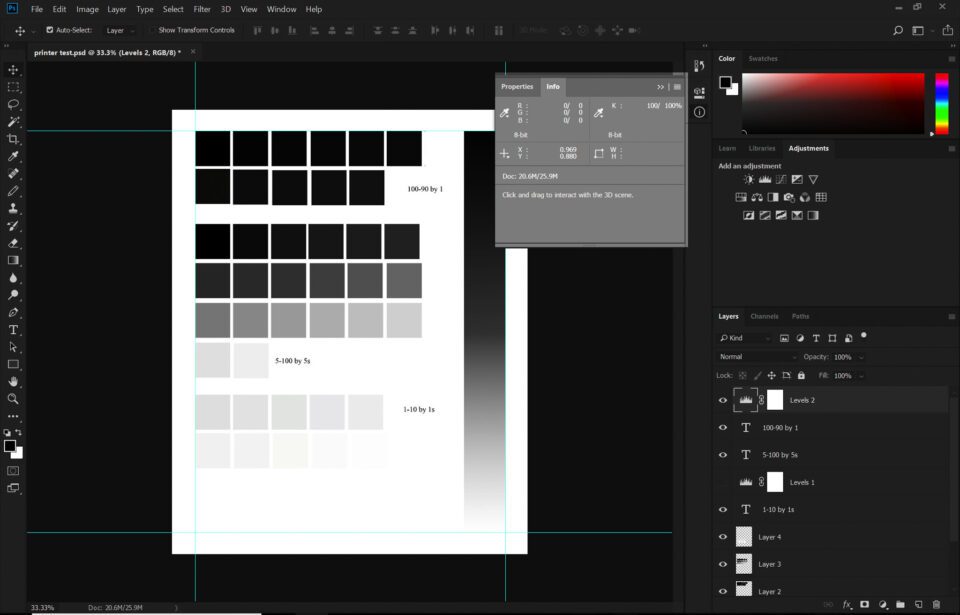 In the middle section of squares, I incrementally decrease the darkness of each square by 5%, and in the bottom section the lightness decrease by 1% again, beginning at 10, down to 1. The side of the chart also includes a gradient from pure black to pure white.
The important part is that you show the decreasing gray values incrementally in small increments. If you choose to create your own chart, how you set that up is up to you.
Tips for Printing and Analyzing Your Black and White Test Chart
Since this is a printer test chart, it's not doing us much good on the screen! The next step in this process is to print out your test chart using the same printer, paper, and setting that you intend to use for your photograph. Once you've printed it, you're looking for how your printer/paper combination handles those grayscale values, especially in the whites and blacks.
When evaluating the blacks, you want to look closely at that top section of swatches. Where can you see a difference in tone from one square to the next? You may find that the first 3 squares look identical, but the fourth one looks lighter. Or you may get all the way down to the second row before you can see a change in tone.
Evaluate the whites the same way, except this time you're looking for the point at which you can see the square – the point at which the printer actually starts to lay down a visible layer of ink, and it's not just paper white. At any point, you can return to the onscreen version and hover over a swatch or a tone on the gradient and see its value in the info panel. You can use the gradient on the side too, to help you see how the various black and white tones are going to reproduce and see how much detail you're going to retain in the darkest and lightest tones.
Now that we can see how our printer is going to reproduce those black and white tones in our image, it's time to put that information to work in creating the best possible photographic print we can. Let's say that this is the photograph I'm attempting to print:
And for the sake of this example, I'm going to assume that with my printer/paper combination I could begin to see a difference in the black tones at 94%, and I could start to see the white tones at 4%. Every printer and paper combination will be different, so make sure you print a test chart for every paper you use.
The first thing I do when I open the photograph I want to print in Photoshop is to take a look at the shadow areas. I simply run my cursor over the shadows, with the info panel open so I can get a feel for which areas are darker than that 94%. If you look at the screenshot below, you can see that the shadow area my cursor is hovering over has a black value of 98%, and moving my cursor through those shadows tells me that I have a number of small patches in the 95-99 range that will all print in the same black tone. In this particular image, my highlights are less of a problem, but I do have some spots in the clouds and the rocks that are slightly lighter than that 4% that will be visible in our print. Despite the fact that this image looks great on screen and great to my eye, the test print shows us that there are a few subtle changes we need to make before printing the image.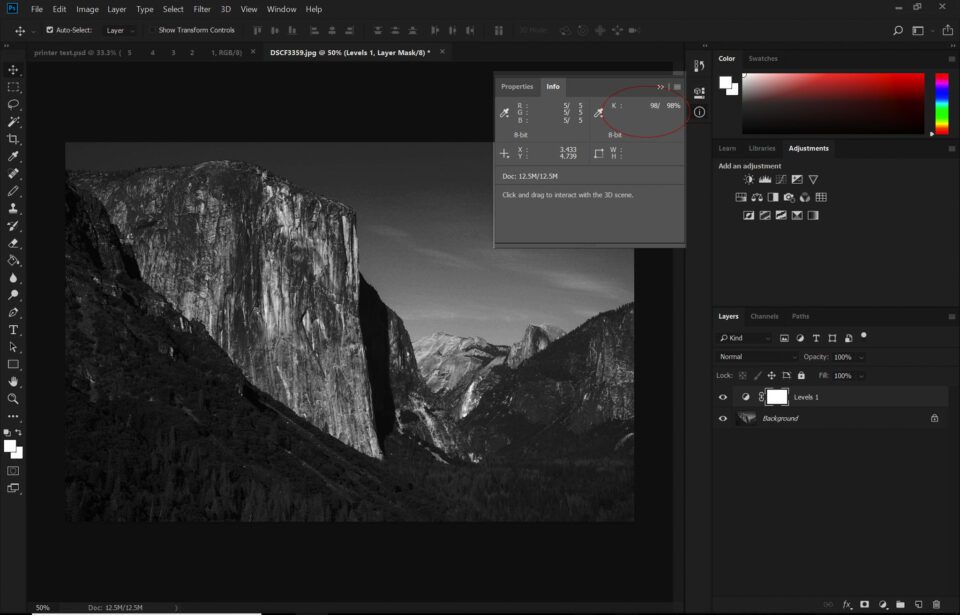 Editing Photos Based on the Black and White Test Chart
To edit this image for printing, we are going to use the levels panel.
Earlier, when evaluating our gray tones, we were using the grayscale (K) value in our info panel – but Photoshop's levels tool works in RGB instead (from 0 to 255 rather than 1 to 100). So, before getting started in levels, we need to know the RGB values that are equivalent to our grayscale values in order to set our black and white points. Since 94% is the first square where I could see a difference in dark tones, our darkest black should be set at 95%. On the white end of the spectrum, I want to maintain detail in all of my whites, so I don't want any of my highlights printing lighter than 4%. To find the RGB values in this image, all you need to do is hover your cursor over the square with the grayscale value you are trying to evaluate. Then, look at the RGB value that should also be visible in the info panel.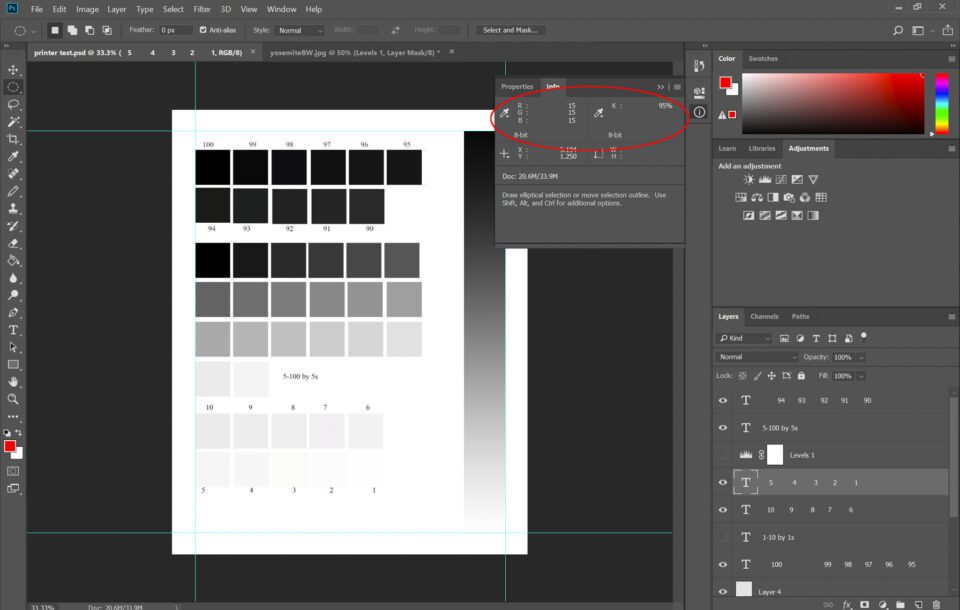 The screenshot above shows that the grayscale value of 95% corresponds with a RGB value of 15. Doing the same thing for my 4% on the white end gives me a RGB value of 247.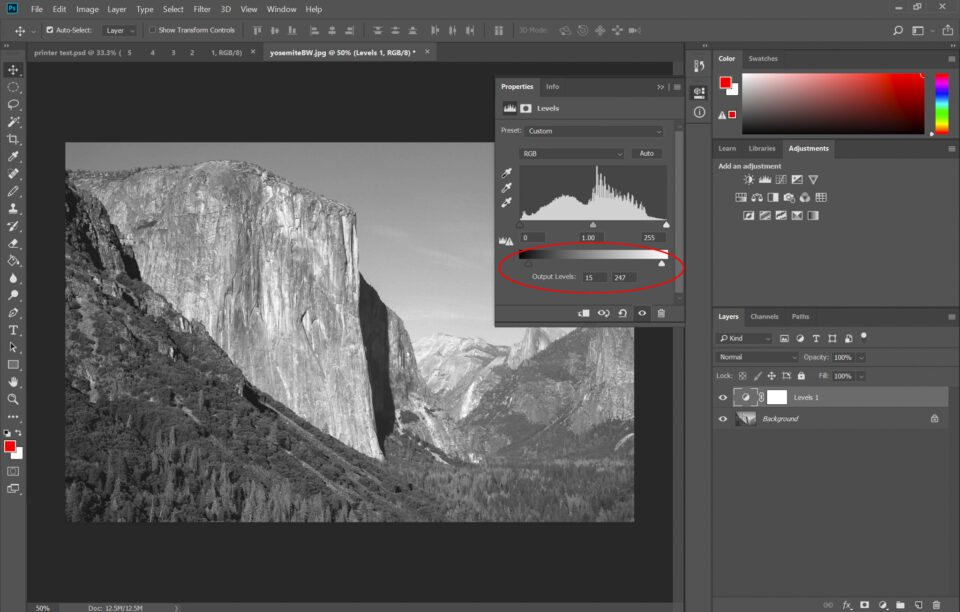 At this point, I'm going to create a levels adjustment layer (windows > adjustments > levels). There is an output slider under the "levels properties," where I will enter the RGB values found in the last step: 15 and 247. This will redistribute all the tones in our image within those values, preventing us from losing detail when we print.
Toggling the eye icon next to the levels layer in the layers panel will show you the before and after. The difference is subtle but important. You can see a comparison below: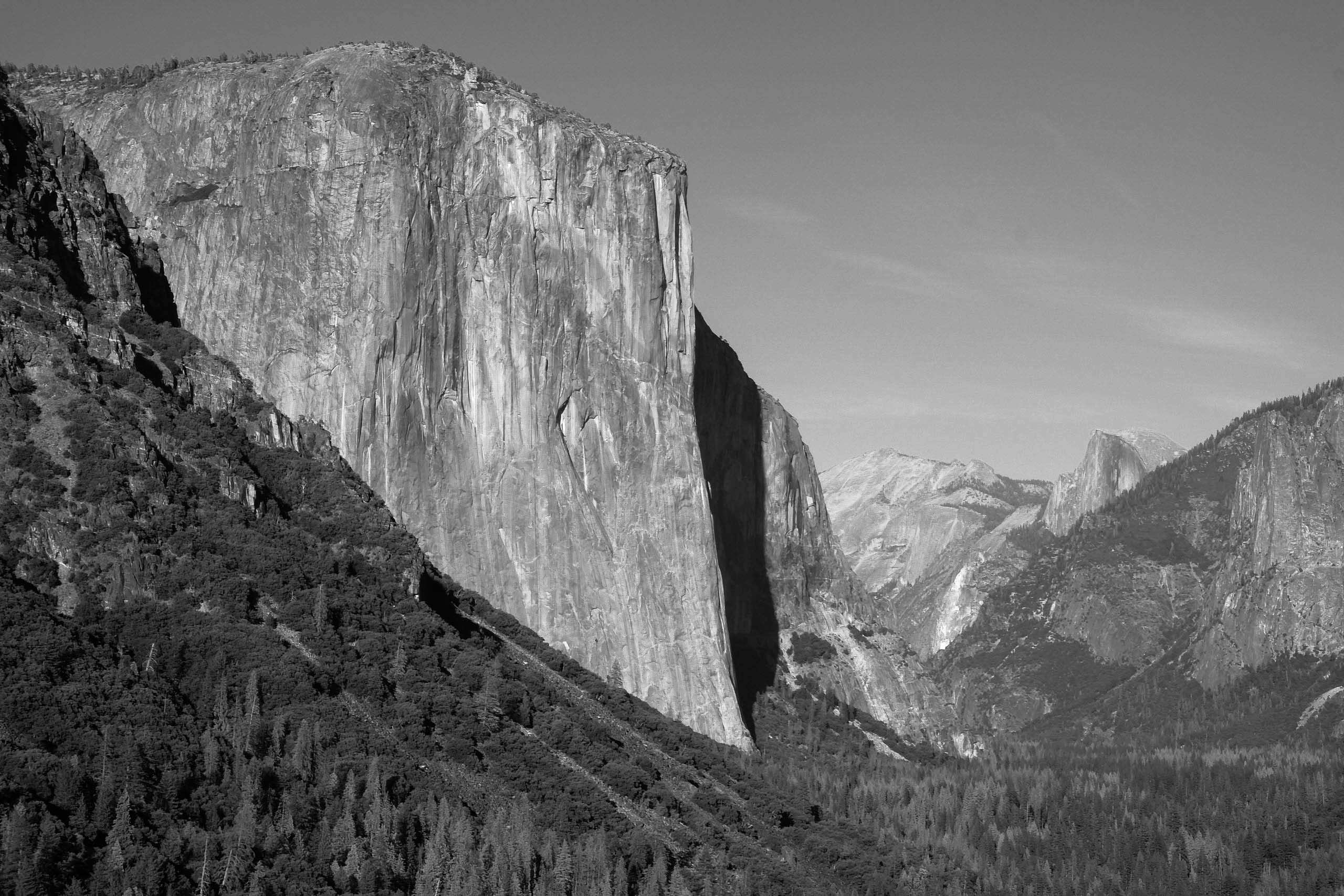 To our eye, the before version is more attractive, with its increase in contrast and dark blacks. But our printer can't reproduce all of those tones. The after version will take advantage of the printer's entire – albeit more limited – dynamic range and give you the best possible print.
Using the Black and White Test Chart in Your Own Prints
Whether you create your own or use this one, going through this test chart process will help you make the best possible black and white prints. Personally, I print this test chart for every type of paper I use, and I keep the printed copyright in the paper box. When using a lab for printing, I print a copy of the test chart as an 8×10 image, so that I can edit my images accordingly before sending them out for good. Once you've done it a few times, it is a very quick process that will make a big difference in the quality of your black and white prints.
---
Thank you to Photography Life reader Meg Faehl for this tutorial! You can see more of Meg's work on her website, and follow her on Instagram as well. This article was written as part of our 2018 guest post contest.