Have you ever traveled to the shopping mall in search of a product, only to be met by dozens of similar options to choose between? Lowest-price vs best-value, long-lasting vs quick-acting, eco-friendly vs cost-effective: we are drowning in possibilities that years ago didn't exist. Perhaps nowhere is the epidemic of choice more prevalent than in the digital camera world today. Since I began reviewing mirrorless cameras a couple of years ago with my partner Mathieu Gasquet, I've been surprised by just how many models exist for each brand. For instance, in the six years since mirrorless cameras first began to appear on the market, a total of thirty-six Micro Four Thirds system cameras and nineteen Sony E-mount cameras have been released, an astonishing number if you consider that new film cameras would be released only every two or three years.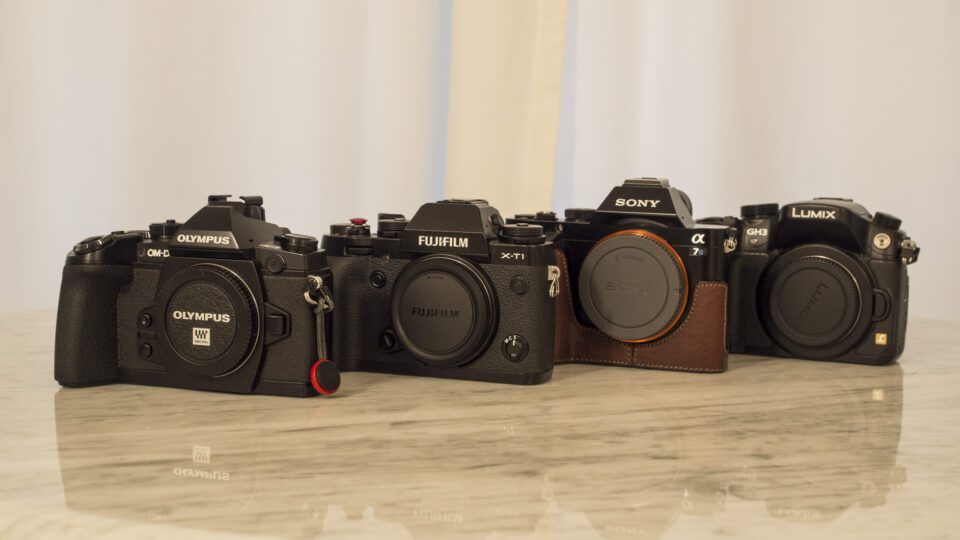 But why is too much choice an issue? We all know that too little choice breeds unhappiness because our needs aren't being met, but in truth, too much can trigger equally disastrous effects.
Impulse purchasing is common, as people presented with too many options often prefer to make a quick decision than an informed one. At the other extreme, we have complete decision avoidance. Both results are damaging to camera brands as the former buyer likely won't be satisfied with his or her purchase, and the latter won't invest in a new product at all. The irony is that we are wired to crave this excessive choice, regardless of the negative effects it has on our ability to manoeuvre through life and make good decisions.
Choosing the right mirrorless camera
We often receive emails from people of varying skill levels asking which mirrorless camera is the best for them. This isn't an easy question to answer as no two photographers' needs are alike. People have different photography goals, different budgets, and different interests, and what might work for one person might not work for someone else. For this reason, I have devised four fictional case studies that represent the most common types of people who contacts us with the question "which mirrorless should I buy".
Note: This list was updated in February of 2017 and may not include the most recent camera models on the market.
Case A: Larry – Beginner
Larry is a smartphone photographer who is becoming serious about photography, and wants a new camera that will help him take professional-looking images.
Budget: $500
For Larry, everything about his new mirrorless camera will be a step-up from his smartphone. He will have to come to grips with the basics of shutter speed, aperture, ISO, exposure compensation, and lens selection while learning how to use composition and light to his advantage. He needs a camera that is straightforward to use yet gives him the possibility to "get messy" and experiment.
Luckily for Larry, each mirrorless camera brand has a series of interchangeable entry-level models that allow you to adjust the basic settings without being bombarded with all the buttons, dials and functions an advanced user would expect.
In the same vein, entry-level models almost always lack certain high-end features found on flagship models, both to cut costs and keep the camera as simple as possible. For instance, you will rarely find an EVF (electronic viewfinder) or hot shoe on an entry-level camera. Other aspects like burst speed, high ISO values and AF performance may lag behind the market standard, but not to the extend that it would bother a beginner.
Interestingly, there is usually little disparity between the image quality of contemporary low-end and high-end models of the same brand.
Recommended model:
The Sony a5000 is the perfect example of a technologically-advanced mirrorless in a very affordable package. Out of all entry-level mirrorless cameras, it features the sensor with the most megapixels (20MP APS-C) and works well for low-light shooting up to 3200 ISO. For occasional movie shooters, there is the option to record Full HD video in AVCHD format (50i and 25p). You also get WiFi/NFC connectivity, a 180° tilt screen for challenging angles and selfies, and that wonderfully sturdy and compact design that typifies the Sony Nex and Alpha series.
He may also like:
Case B: Shelly – Advanced Amateur
Shelly has owned an entry-level DSLR and kit lens for a couple of years. She has become very good at taking photos of her family and flowers/insects in her garden, and would like to take her photography to a new level. After reading about the benefits of mirrorless camera, including compactness and reduced weight, she has become curious about switching systems.
Budget: $1000
Shelly is the kind of photographer who has reached a crossroads in her photography: she knows all the basics, has developed an interest in specific genres, but has yet to settle on a system. Since she hasn't yet invested in a series of lenses, she doesn't feel financially bound to the system she owns.
Since Shelly's main reason for switching would be for the compact and lightweight characteristic of mirrorless cameras, it is important that the model she chooses fulfil these two requirements. Similarly, it is also essential that her new camera possess features that allow her to grow as a photographer, including a viewfinder to aid with composition, a hot shoe for extra accessories such as an external flash, and of course, image quality on par with or better than that produced by her DSLR.
If a victim of the dreaded G.A.S. (Gear Acquisition Syndrome), she will also be keen on having as many features as possible, including a tilt/touch screen, WiFi, function buttons, and serious movie recording.
Recommended model:
The GX8 is the second Micro Four Thirds rangefinder-style camera to feature a built-in, tiltable EVF. Both well-built and designed, it features a 20.3 MP Micro Four Thirds sensor, a tilting touch LCD, Wifi and NFC connectivity, fast autofocus, and professional video features such as 4K video at up to 30 fps. Being a Micro Four Thirds camera, it also has a very wide range of high-quality compact lenses at its disposition.
She may also like:
Case C: Phil – Professional looking for a second fixed body
Phil is a professional photographer who is satisfied with his DSLR. He is looking to add a professional compact camera to his kit for informal shooting.
Budget: $1500
Phil has been a professional photographer for over 30 years, and is more than happy with the system he has chosen. He has all the lenses and equipment he needs to cover weddings, portrait sessions, and sports events, but has decided to purchase a smaller and lighter compact camera to take with him to informal events and on holiday. Since he isn't particularly interested in carrying around lots of lenses and extra gear on his down time, (he does enough of that while on assignment) the new generation of high-end fixed-lens compact cameras have caught his eye.
For Phil, it is important that his new camera be discreet, deliver good image quality, perform well in low-light, and deliver fast autofocus.
Recommended model:
The Fujifilm X100F is the fourth generation X100 camera from Fujfilm, and one of the most beloved models in the entire X series. It features a 24.3MP APS-C X-Trans CMOS III Sensor, X-Processor Pro and a fixed 23mm f/2 (35mm equivalent) lens. A special feature is its advanced hybrid viewfinder with 100% OVF coverage and real-time parallax correction, as well as a high-definition EVF. Of all the high-end compacts on the market, it is the one that most resembles an analog film camera due to its vintage exterior and external dials. Its subdued appearance, along with its almost inaudible leaf shutter, make it one of the most discreet compact cameras around today.
He may also like:
Case D: Pat – Professional wanting to switch to mirrorless
Pat is a professional wedding photographer who owns two high-end DSLRs and a series of professional primes and zooms. She is beginning to experience back pain due to the weight of her gear, and would like to switch to a smaller and lighter professional system.
Budget: $3000/irrelevant
It came as a shock when Pat's doctor told her that she should stop carrying around heavy gear for her work. A successful wedding photographer for 15 years, she is now faced with the life-changing decision of either switching to a lighter system or changing professions.
Pat knows that for the switch to be feasible, she needs a well-rounded system that not only delivers the kind of image quality and performance she is used to on her DSLR, but also covers the same focal lengths. Compatible flash units, battery grips, filters, and professional support are all points that interest her as well.
Given that she is trading in her old gear for a new system, her budget is quite flexible.
Recommended model:
The Olympus OM-D E-M1 Mark II is one of the smallest, lightest and most complete mirrorless cameras on the market. Being part of the Micro Four Thirds line-up, the camera has a wide range of professional lenses at its disposition from M.Zuiko, Lumix and third-parties, all of which can be stabilized thanks to Olympus' proprietary 5-axis stabilization. It has high image quality, excellent autofocus in both AF-S and AF-C, a large high-resolution EVF, and great ergonomics. Professional support exists for E-M1 Mark II users in most of Europe and the USA.
She may also like:
Buying a new camera is never easy, but I hope that these four case studies have proven useful in helping you make your decision. To find out more about mirrorless cameras, we invite you to explore the plethora of informative reviews on Photography Life, and visit our website, MirrorLessons, where my partner Mathieu and I review and compare mirrorless cameras out in the field.
---
About the author: When she's not studying languages or indulging in weird and wild ethnic foods, Heather Broster is a self-employed blogger. She is the co-founder of MirrorLessons, a blog dedicated to reviewing the latest mirrorless cameras in real-world situations. Drop her a line on Twitter!