Our perception of any piece of technology is greatly influenced by it's ease of use and overall user experience. For example, when I bought my first DSLR, my decision came down to Canon vs Nikon. I tried Sony, Pentax and Olympus and didn't like them for one reason or another, but I knew that I could be happy shooting with either Canon or Nikon. How did I finally end up making my decision? The menu system. I preferred Nikon's menus and navigation over Canon's, so I bought a D40. Now, eight years and tens of thousands of dollars later, I'm still a Nikon guy, all because of the difference in menu design.
In this article, I'm going to share a few simple tricks that I've picked up over the years that make using my Nikon a little bit easier. To some of you, these might be completely obvious and old news, but to others they might very well change the way you view and use your camera!
All images shown are from the D800 menu. Your menu may look a little different.
1) Formatting Memory Cards
If your camera has two memory card slots, you'll usually want to format both memory cards before you start shooting. Back in the days before I learned this trick, here's how I used to format my memory cards: format my primary memory card, turn off the camera, take it out, turn the camera back on, format my secondary memory card, turn off the camera, put my primary back in, turn the camera on and then start shooting. Do you format your memory cards this way, too? Well, time to stop it! Here's a much faster and easier way to format both memory cards without ever having to turn your camera off:
Hold down the two buttons marked as "Format" in red to format your card.
Notice that on the control panel (top screen), one card is flashing. This is the card that you are about to format.
Go ahead and format that card by pressing the two buttons again.
Now, hold down the two buttons to format your card. Notice the same (primary) card is still flashing.
Turn the command dial (rear wheel) one click. Notice that the card that's flashing has changed to your secondary card?
Go ahead and format that card.
That's it! Now both of your cards have been formatted in about half the time as the old way.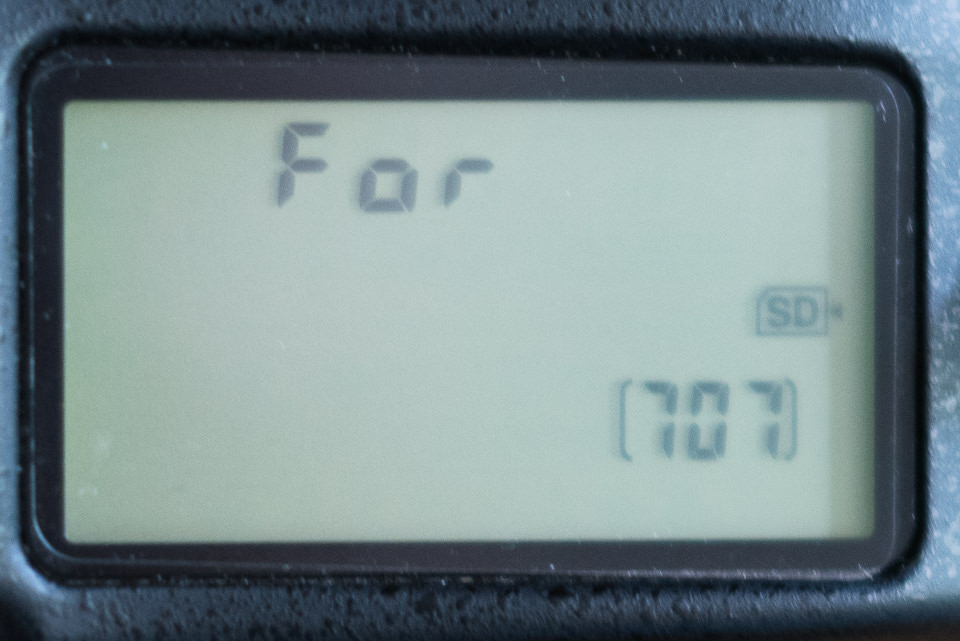 Why you should care: Saves time and decreases how often you have to remove/insert memory cards
Should work on: any Nikon DSLR with two memory card slots
2) Quick Image Scrolling
Have you ever looked on with envy as Canon users quickly scrolled through 10 images at a time while reviewing their shots from the day on the back of their camera? I have too. Although it's not as elegant, I found a solution for quick image scrolling on Nikons:
Go into Custom Setting Menu > Controls > Customize Command Dials > Menus and Playback
Choose On
Now when you're reviewing images, you can zoom out to the thumbnail view and quickly scroll through using the sub-command dial (front wheel).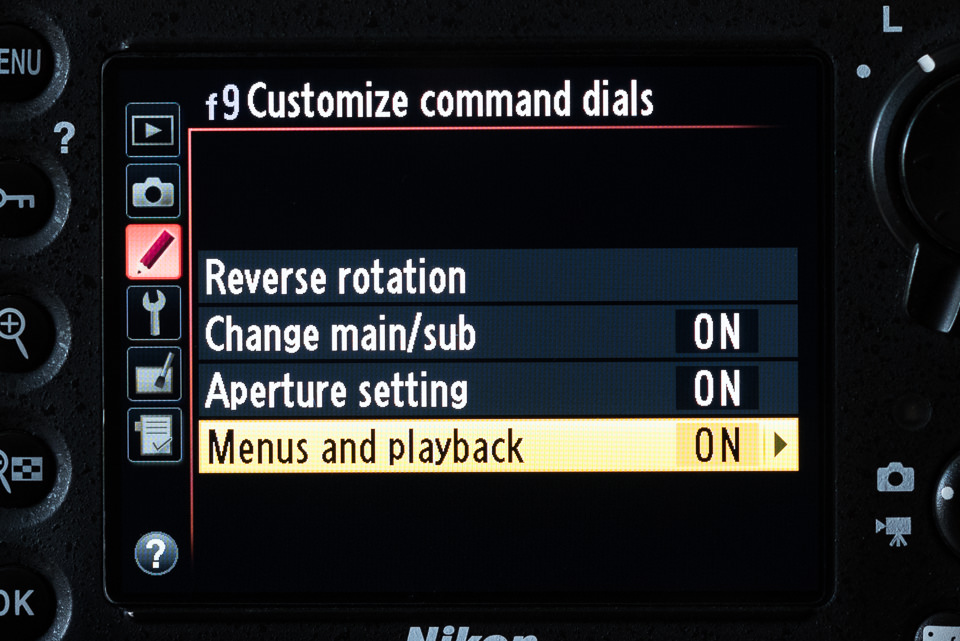 Why you should care: Saves time when reviewing images in-camera
Should work on: Any body
3) Buffer Indicator
This one is super simple and is just an act of observation. No need to change any settings at all!
Have you ever noticed the number in the lower-right corner of your viewfinder and in the lower-right corner of your control panel (top screen) that looks like this: [r16]? If you don't know what I'm talking about, grab your camera, make sure there's a memory card in it, and press the shutter button halfway down like you're focusing. Look in your viewfinder or on the top screen and you'll see it appear when you press the button. Your number will probably be different, but you get the idea.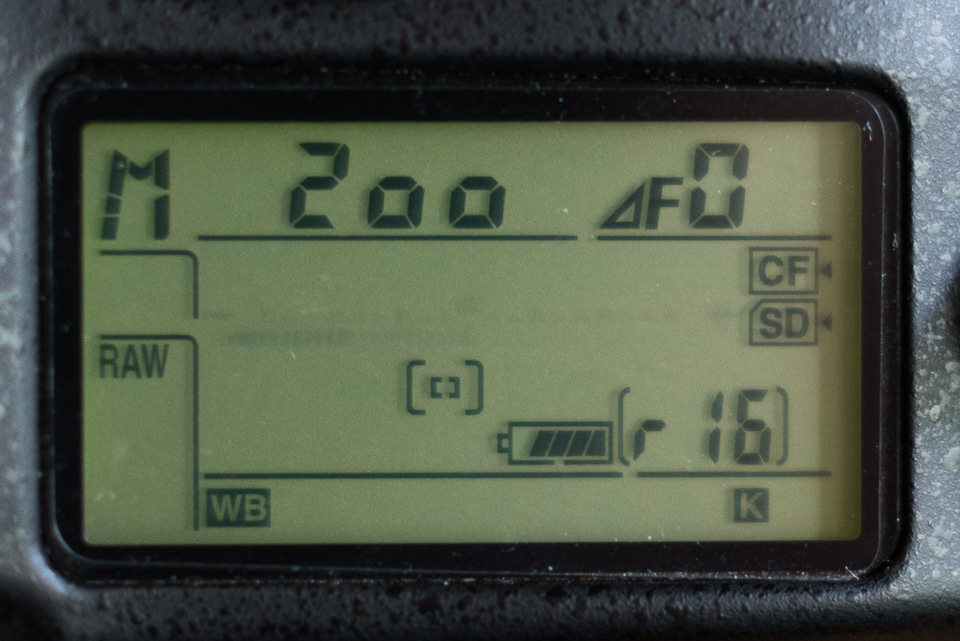 Do you know what that indicates? It's the number of shots remaining in your buffer. For the longest time I had no idea and couldn't anticipate when my buffer was going to fill up. Now, when I'm shooting bursts of images I keep an eye on that number and know when I'm about to fill my buffer. If I happen to fill it up, I also can see when it starts to empty so that I can start shooting again.
Why you should care: Decreases likelihood of missing shots due to a full buffer
Should work on: Any body
One of my favorite features of all Nikon DLSRs I've owned is the My Menu feature. If you've never used it, here's a quick summary of what it is. Basically, you can create your own custom list of options from the different menus available in the camera, up to 20 items. I add a few of the top things that I frequently use and don't want to have to search through menus for (Battery Info, Self-Timer Settings, Virtual Horizon, Time Zone, Auto ISO and Date).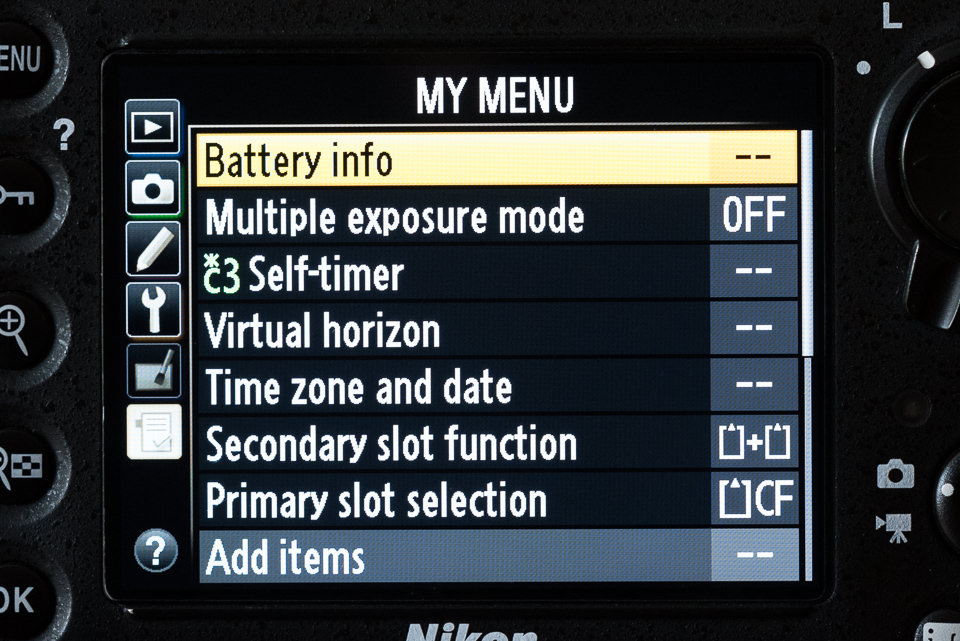 To set up your "My Menu", just go into the Menu screen and scroll through the menus on the left until you get to "My Menu". From there you can add items and organize it.
Now, once you have your My Menu set up, here's the real trick for quick access. You can set up the Preview or Fn button on the front of the camera to access My Menu. Now all of your most frequently used menu features are available at any time with the push of a button! Here's how to make this happen:
Go into Menu > Custom Setting Menu > Controls > Assign Fn (or preview) Button > Fn (or preview) Button Press
Some cameras may have the option for >MY MENU while others may only have > Access top item in MY MENU.
That's it! Just choose which button you prefer to access My Menu and your most used menu items are at your fingertips.
If you only have the option to access the top item in My Menu, not a problem. When you access the top item by pushing your chosen button, simply arrow to the left and you'll be in My Menu and will have access to all of your other My Menu options.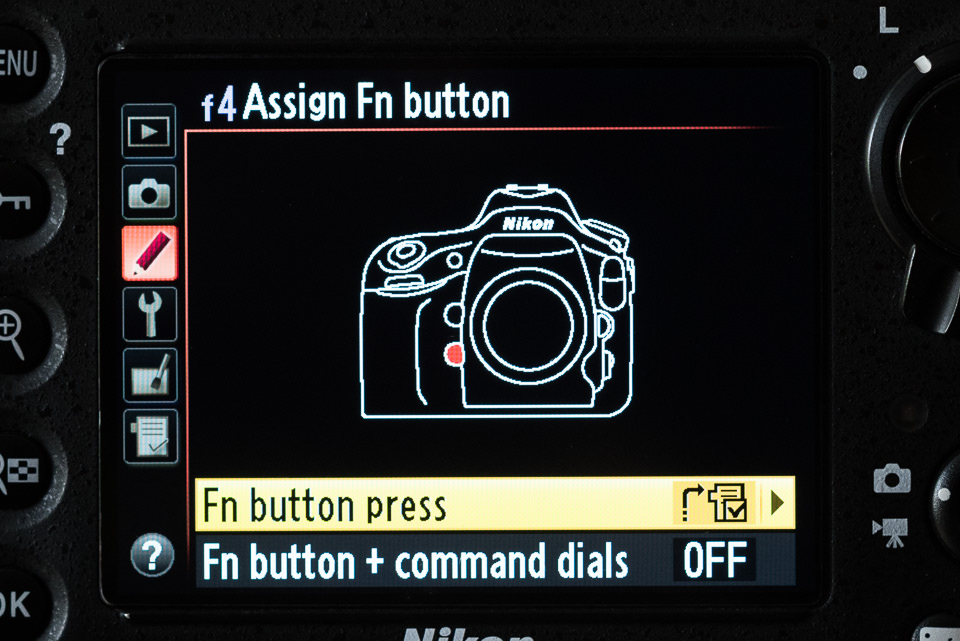 Why you should care: Immediate access to your most-used menu options
Should work on: Most high-end Nikon DLSR bodies
This is one trick I wish I had learned about years ago. Sometimes when I second shoot weddings with other photographers, they want me to use different camera settings than I typically use for myself. I'd find myself changing settings like white balance, image quality and which card was my primary before the wedding and then have to remember what I changed and change everything back before I started shooting for myself again.
Once I discovered Shooting Menu Banks, my life changed for the better. What are Shooting Menu Banks? Basically, you can save the settings for your camera in a Bank (you can even name it so that you remember what it's for). For example, here are the changes my body makes when I select my "2nd shoot" Bank: changes to Auto White Balance, records images as M-Fine JPEG to the primary card and RAW to the secondary card and changes my primary slot to my SD card.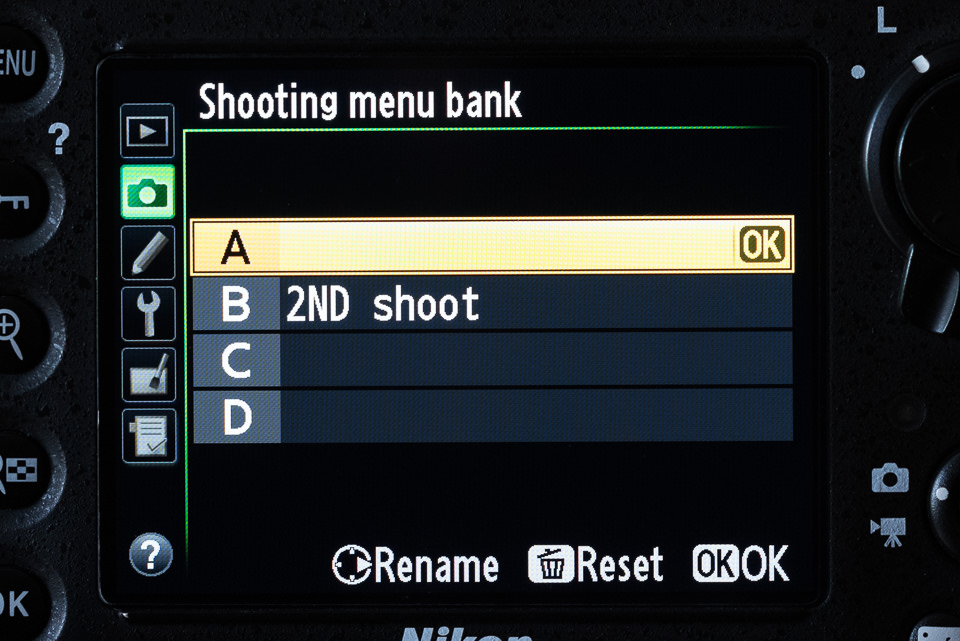 As the name suggests, the Shooting Menu Bank lets you create different banks for anything in your Shooting Menu, while the Custom Settings Bank lets you create different banks for anything in your Custom Settings. You can create up to 4 banks in each.
If you don't shoot weddings, you'll definitely still be able to find a use for this trick. For example, you might want to have different Shooting Menu Banks for shooting in different lighting conditions. Or perhaps you could set up one bank for landscape photography, while setting up another for portraiture. You might have different Custom Settings Banks if multiple people use the same camera body and have different preferences for settings.
Here's how you set up your own Shooting Menu and Custom Settings Banks:
Let's assume you want to set up a new Shooting Menu Bank…
Go into Menu > Shooting Menu > Shooting Menu Bank
You should currently be in Bank A, which means your current camera settings are saved as Bank A.
To set Bank B, navigate down to B and press OK. You should now be back in the Shooting Menu and the first item, Shooting Menu Bank, should read B.
Now, any changes you make to your shooting menu will be saved as the default for Shooting Menu Bank B.
If you want to give Bank B a description, simply right arrow in the Shooting Menu Bank when B is highlighted.
To switch back to Bank A and your original camera settings, just navigate up to A and press OK.
It's the exact same process for Custom Settings, only you'll go into Menu > Custom Settings Menu > Custom Settings Bank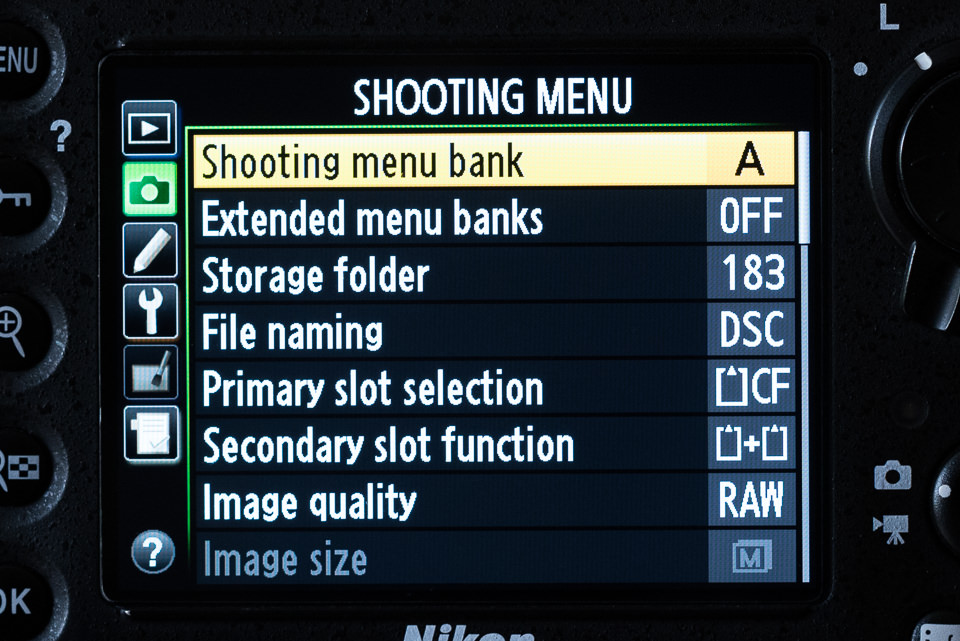 Why you should care: Less time spent changing camera settings
Should work on: Most pro-level bodies (Dxxx, Dx) as well as most newer D7xxx bodies
If you own a Nikon D600 / D610 or D7000 / D7100 series cameras, you have even more user-friendly U1 / U2 settings that can be permanently saved, then accessed via the top dial of the camera.
6) Instant Zoom During Playback
Another really neat feature that comes in really handy is the ability to instantly zoom in to a specified magnification level when viewing a photo. Instead of having to press the Zoom In / Zoom Out buttons many times, you can configure the center button of your multi-selector on the back of the camera. When reviewing a photo that you have just captured, pressing this button will zoom in and pressing it again will zoom out back to the full image. The neat thing about this feature, is that it zooms in to where your focus point was!
Here is how you configure it:
Go to Menu -> Custom Setting Menu -> Controls -> Multi selector center button -> Playback mode -> Zoom on/off
From here, you need to pick the magnification level. Personally, I like "Medium magnification" or "1:1" on the Nikon D810, which displays the image at pixel level
Once set, press the playback button to display a captured image, then press the multi selector center button. You will see the image get instantly zoomed in
Pressing the button one more time will zoom out to the full image
Why you should care: Saves a lot of time when reviewing images and allows to check sharpness immediately after capture
Should work on: High-end / professional Nikon DLSR bodies (does not work on the D600 and D610, but does work on the D7100)
Conclusion
That's only six tricks, but I know there are many more out there that can save us all a bit of time and make our time spent shooting a little bit easier. These are my favorites, but I've got plenty more that I use. In the comments, please feel free to leave any tips that you think others might find helpful. Maybe we could do a second article with the best reader tips! Happy shooting!