Since the Nikon D810 got announced yesterday, we have been getting a lot of questions from our readers via emails, comments, and Facebook messages. After answering many questions and doing some additional research, I decided to compile everything I have gathered so far in a single article. Looks like the biggest number of questions is coming from existing Nikon DX and D600/D610/D700 owners, who are considering moving up to the D810 as an upgrade. Some Nikon D800 and D800E owners like myself also find some of the new D810 features attractive, but there are still some items that remain unclear from the announcement (such as the camera buffer size), so the below article will hopefully address some of those questions and concerns as well.

Nikon D810 has no OLPF / AA filter
This one might be particularly interesting to existing D800E owners. If you remember from our previous coverage of the D800E, the difference between the D800 and the D800E is the filter stack in front of the sensor. Basically, the D800 has two stacks of anti-aliasing / blur filters along with the regular UV / IR filter, which is what effectively reduces moire in images. The D800E, on the other hand, has a blur filter in the front of the filter stack, which is canceled out by another filter at the end, as shown in the below illustration (a detailed PDF illustration from Nikon is available here):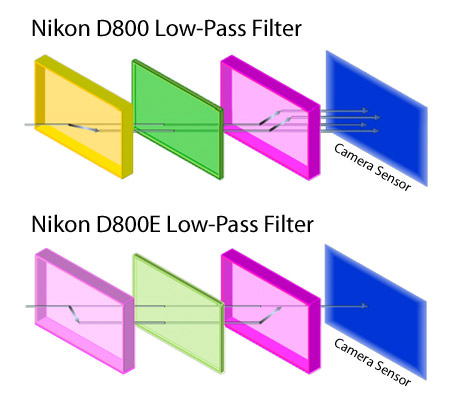 The new Nikon D810 does not have the two low pass filters, so there is nothing that needs to be canceled out. Only a regular filter stack (mostly to combat UV) is present in front of the camera sensor. As we have shown in our D810 review, there is practically no difference between the D810 and the D800E. This reveals that the Nikon D800E filter stack was probably designed that way for cost reduction reasons. Now there is no need to do that since both D800 and D800E have been combined into one line.
Some older Nikkor lenses might perform better on the D810 than on the D800 / D800E cameras. Remember, older lenses were designed for film cameras and film has no glass in front of it. Roger Cicala did a great job explaining all this in his article on sensor stacks and their effects on lens performance. If we find any difference in performance between old and new lenses, we will report it here.
EXPEED 4 means better autofocus performance
Those that have had a chance to use the new Nikon D4s probably noticed that autofocus has gotten noticeably better compared to the D4. Part of the reason is the faster EXPEED 4 processor, which is able to apply faster calculations to fast-changing scenes, which in turn improves autofocus speed and accuracy. The Nikon D810 gains exactly the same autofocus system as the D4s, so we can expect similar improvements in performance.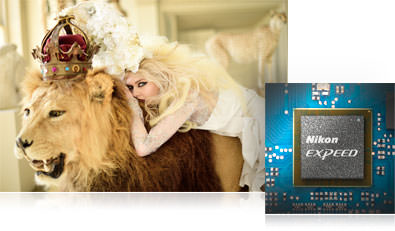 EXPEED 4 is 30% faster than EXPEED 3
With a roughly 30% faster processor, the D810 will be able to process images faster too, so the improvement is not only limited to the autofocus system. Thanks to the faster processor, images are also handled faster and more aggressive noise reduction algorithms are applied at high ISOs in the imaging pipeline. EXPEED 4 also translates to faster frames per second and other performance gains listed below.
Group-area AF really works
If you had a chance to work with the D4s, you might have already fallen in love with the Group-area AF mode, which works very well for tracking fast-moving subjects. Instead of a single point, Group Area AF activates four AF points to track subjects, resulting in better accuracy and consistency from shot to shot. Wildlife and sports photographers might find this new autofocus setting very useful. So this feature is not another marketing gimmick – we found it to be useful while testing the Nikon D4s (we are working hard on the review as we speak).
Battery and MB-D12 are compatible with the D810
Another good news is that you do not need to worry about buying different batteries for the D810, because the older EN-EL15 battery is compatible with the D810. In addition, the MB-D12 battery grip for the D800/D800E is also compatible with the D810, which should make it easier to transition for existing owners.
5 FPS Full RAW, 6 FPS in DX and 1.2x Crop Modes and 7 FPS with the MB-D12 Battery Grip
The Nikon D810 shoots 1 FPS faster than the D800/D800E and now does not require the MB-D12 battery grip to get to 6 FPS – you will be able to shoot either in 1.2x or DX crop modes at this speed and if you need more speed, you can jump to 7 FPS with the older MB-D12 Battery Grip.
Electronic Front-Curtain Shutter completely eliminates camera shake
If you have used the D800/D800E, you have seen how much simple shutter vibration can impact images when shooting at slow shutter speeds. For this reason, I typically end up enabling the "Exposure Delay mode" in the camera menu, setting it to 3 seconds. Still, even 3 seconds can sometimes cause vibrations, especially when shooting with super-telephoto lenses. The new Electronic Front-Curtain Shutter is amazing in this regard.
If you have shot with a Sony NEX-6 or similar cameras that have the feature know how useful it really can be in those low light situations. Basically, once the mirror is raised and the camera is in Live View mode, the shutter does not have to close and reopen at the beginning of the exposure. The shutter is only lowered at the very end of the exposure, which obviously does nothing to introduce potential blur. As long as you do not have continuous vibrations due to wind or other factors, the Electronic Front-Curtain Shutter will yield sharp, blur-free images. This is a huge improvement for me personally, as I continuously struggle with vibrations when testing lenses or working in low light when traveling with lighter and less stable tripods. And by the way, this mode will also work in Mirror Lock-Up mode, so it is not just limited to Live View!
New shutter and mirror design make the D810 quieter
The Nikon D810 is much quieter than the D800 and D800E, which is great news for wedding, reportage, and documentary photography.
Lower Base ISO of 64
As you may already know, cameras give the best dynamic range at the lowest base ISO. With the D800 and D800E, the base ISO was 100, so you get the best performance at ISO 100. Although these cameras offered a "low boosted" ISO of 50, it is not native to the sensor, meaning that it is a software boost, which only reduces the dynamic range. With the D810, the base ISO is 64, so it is native to the sensor. This means that the best dynamic range on the D810 will be at ISO 64 and you can further "low boost" it to ISO 32. Although we only found very small differences in dynamic range performance between the D810 and D800E, lower ISO still presents advantages in some situations. Being able to shoot at ISO 32 means that you might not need to carry your ND filter all the time when you need to use a slower shutter. For photographers that want to shoot wide open with fast f/1.4 lenses or with flash in bright daylight conditions, this is a definite plus.
Higher Native ISO of 12,800
The native ISO range has been expanded to 64-12,800 range from 100-6,400. The one-stop improvement in the high ISO range translates to lower amounts of noise at high ISO levels, particularly past ISO 1600. Unfortunately, RAW support from Adobe and other companies is still quite poor and it is hard to determine the real improvements at high ISOs the D810 brings. Still, it is nice to have the option of shooting at ISO 12,800 with such a high-resolution sensor.
Better Optical Viewfinder and OLED Display
The Nikon D810 has a better and brighter optical viewfinder when compared to the D800 / D800E, because special coating is applied to the pentaprism (similar to how Nikon applies coatings to lenses). The D810 is the first Nikon FX-format camera with an OLED viewfinder display. Previously, the Nikon D7100 was the only model in the Nikon line that had a similar display.
Twice Larger Buffer Size
One big question that interests many wildlife and sports shooters is the buffer size of the camera. With a mediocre continuous shooting speed of 5 FPS, the D810 is no D4s. But what is usually bad is not the speed of the camera, but its buffer that tends to get full too quickly. That's why many are still hoping that there will be a Nikon D400 or a D9000 with a DX sensor because the Nikon D7100's buffer is too small for professional use. Some mirrorless cameras often advertise insane FPS stats like 10 FPS, but if that only lasts one second, then how good is it for real use?
Although the D800 and the D800E last longer in DX mode than the Nikon D700, their buffers are just not suited for continuous shooting. After doing a bit of research earlier today, I found out that Nikon actually doubled the buffer size on the D810, which is great news for those that are considering the camera for action photography. Take a look at the below graph that I published earlier in the Nikon Buffer Capacity Comparison article:
| DSLR | Image Type | FX Size | DX Size | FX Buffer | DX Buffer |
| --- | --- | --- | --- | --- | --- |
| Nikon D810 | NEF (RAW), Lossless compressed, 12-bit | 31.9 MB | 14.6 MB | 47 | 100 |
| Nikon D800 / D800E | NEF (RAW), Lossless compressed, 12-bit | 32.4 MB | 14.9 MB | 21 | 38 |
| Nikon D810 | NEF (RAW), Lossless compressed, 14-bit | 40.7 MB | 18.3 MB | 28 | 97 |
| Nikon D800 / D800E | NEF (RAW), Lossless compressed, 14-bit | 41.3 MB | 18.6 MB | 17 | 29 |
| Nikon D810 | NEF (RAW), Compressed, 12-bit | 29.2 MB | 13.3 MB | 58 | 100 |
| Nikon D800 / D800E | NEF (RAW), Compressed, 12-bit | 29.0 MB | 13.2 MB | 25 | 54 |
| Nikon D810 | NEF (RAW), Compressed, 14-bit | 36.3 MB | 16.4 MB | 35 | 100 |
| Nikon D800 / D800E | NEF (RAW), Compressed, 14-bit | 35.9 MB | 16.2 MB | 20 | 41 |
| Nikon D810 | NEF (RAW), Uncompressed, 12-bit | 55.9 MB | 24.4 MB | 34 | 78 |
| Nikon D800 / D800E | NEF (RAW), Uncompressed, 12-bit | 57.0 MB | 25.0 MB | 18 | 30 |
| Nikon D810 | NEF (RAW), Uncompressed, 14-bit | 73.2 MB | 31.8 MB | 23 | 46 |
| Nikon D800 / D800E | NEF (RAW), Uncompressed, 14-bit | 74.4 MB | 32.5 MB | 16 | 25 |
| Nikon D810 | JPEG Fine (Large) | 18.1 MB | 8.6 MB | 100 | 100 |
| Nikon D800 / D800E | JPEG Fine (Large) | 16.3 MB | 8.0 MB | 100 | 100 |
The above chart shows that the buffer on the D810 is almost twice bigger when compared to that of the D800 / D800E, which is a huge difference. Being able to shoot up to 12 seconds continuously on the D810 is exciting and will make many sports/wildlife shooters happy!
Nikon D810 SDK will be available
Nikon is planning to release a Software Development Kit (SDK) for the D810 soon, which should allow companies to be able to write software to take interface with the D810. No more reverse-engineering mess to deal with, which will shorten the development times and allow third-party developers and manufacturers to make great tools for the camera. If Nikon makes the D810 very open, we might even see third party addons like Magic Lantern for the D810. This is a huge deal and we are happy to see Nikon move towards being more open.
Improved Metering and Auto White Balance Performance
The Nikon D810 has an improved scene recognition system with its 91,000-pixel RGB sensor, which not only improves metering performance and accuracy, but also results in better auto white balance accuracy. And with the face detection feature improvements, photographing people should be easier and more accurate when compared to the D800/D800E cameras. The D810 also comes with the new "Highlight Weighted" metering mode, which detects the brightness in a scene and determines optimum exposure, thus preventing blown-out highlights. This particular feature will be useful for photographing people in the mid-day sun, concert photography and other tricky environments.
Drastic improvements of video quality and new features
Canon might have had the video recording crown for a while now, but that might change with the D810 – Nikon really improved the video quality output of the camera. The changes are very noticeable, particularly when shooting in full HD modes.
The D810 can shoot full HD video at 60p and Nikon has added other great features such as Zebra Stripes (for highlight overexposure control) and audio levels in live view mode. In addition, there is now a new "Flat" picture control for a low-contrast look that can be later manipulated in post-processing (think of it as RAW for video). Lastly, the D810 now has a "Power Aperture" feature, which allows the videographer to smoothly control lens aperture during live video footage, while it is being recorded to a local SD or CF card.
Auto ISO in Manual Video Mode
Videographers will love this new feature because it automatically adjusts the brightness of the scene when changing between dark to bright. You set the desired shutter speed and aperture, while the camera adjusts ISO for you. No more pausing and shutter speed adjustments in differently lit environments – now you can shoot in one go and keep full control of the exposure.
New, improved battery – up to 33% longer shooting time
The Nikon D810 ships with a newer EN-EL15a battery, which will allow capturing up to 1200 images on a single charge. That's a 33% improvement in battery capacity, which is great for not just stills, but also for shooting video footage.
Better LCD screen with 1,229k dots
A small, but still good to have change is the updated LCD – instead of 921,000 dots on the D800/D800E, the D810 now has a total of 1,229,000 (same screen as on the D4s). More dots translate to more details when viewing images. The new screen is more power-efficient and allows for more brightness and contrast levels. In addition, you can actually customize the colors on the LCD through the camera menu system, so the "green tint" problem from before has now been eradicated.
Clarity slider and finer adjustments of Picture Control
Nikon is now allowing for much finer adjustments of picture controls and adding a new Clarity slider, which is similar to the Clarity slider in the Basic Panel in Lightroom. In short, you get more punch in JPEG images, with a more defined "pop" around objects like clouds. This is a great setting to have for JPEG shooters but does not apply to RAW images (since Picture Controls are only applicable to JPEG files).
sRAW file format support
The D4s was the first Nikon DSLR to feature the new (for Nikon) sRAW format and the D810 now also receives it. We are working on an article that explains what this format is all about, but for now you just need to know that it is more of a marketing gimmick rather than a useful feature. It turns out that the sRAW file format only contains 11-bit processed data, so it is not really a RAW file. Think of it as a JPEG file with reduced resolution, albeit with a little bit more color information. Plus, the sRAW files are not all that smaller, so you would be better off shooting in full RAW format with fewer bits and compression instead.
Superior ergonomics
The Nikon D810 has a different grip that is slightly narrower and yet deeper for more comfortable hand-holding. To make it similar to other recent Nikon DSLRs, the bracketing button on the top dial has been moved to a dedicated button on the front of the camera, while the metering mode selector has been moved in its place on the top left dial. We welcome this change, since the added Highlight-weighted metering mode would have made the previous button look cluttered and harder to use. Another "i" information button has been added to the rear of the camera, which allows accessing some of the camera's functions, similar to what we had seen on the D7100.
The 36.3 MP sensor on the D810 is NOT the same as on the D800 / D800E
Many of our readers have been asking if the D810 has the same sensor as the D800 / D800E, but perhaps just tweaked for ISO 64. That is certainly NOT the case. While all three cameras have the same physical size, the total number of pixels is actually different – 37.09 million pixels versus 36.8 million on the D800 / D800E. This is not just another software boost – the sensor technology itself is different. And no, this is NOT the same sensor as the one on the Sony A7R.
Much better Interval / Time-Lapse shooting options
The Nikon D810 has much better options for shooting time-lapses. Instead of the typical 999 frame limit we see on Nikon DSLRs, the D810 now can shoot up to 9,999 frames and has plenty of other great options available such as exposure smoothing to improve the quality of timelapse sequences.
There are two kits that will save you money
Nikon decided to bundle a "filmmaker" and "animator" kits, with a bunch of lenses, filters and other accessories. If you do not already own the gear, buying one of these packs will actually save you money. For example, the filmmaker's kit with 3 prime lenses will save you roughly $900, so it is not just a compilation of gear. The Animator's kit, for example, contains the Nikkor 105mm f/2.8G VR lens, which is worth $920 by itself. The kit is sold for $3,999.95, so you are getting the lens for $700 and the other parts of the kit like the Dragonframe software and the EH-5b/EP-5B Power Supply and Connector are basically free, as shown on this page at Nikon USA.