During the Labour Day weekend I spent an enjoyable afternoon viewing the 2017 Canadian National Exhibition (CNE) Air Show in Toronto, and thought I'd share a few images captured during the event. As is my standard practice I went down to one of the Lake Ontario shoreline parks and found a good vantage point just west of the Exhibition grounds and east of Jameson Avenue.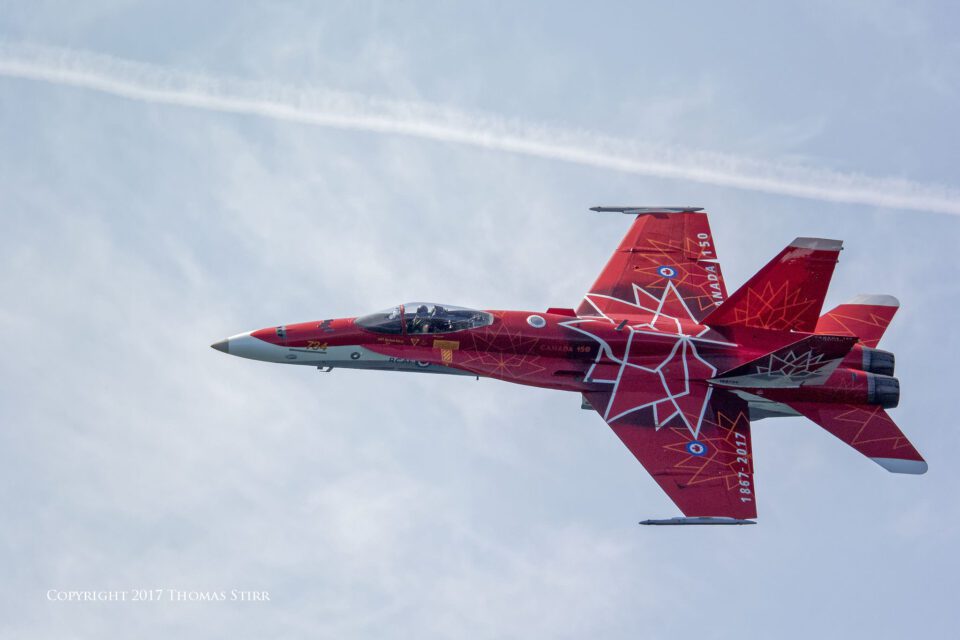 I was able to capture a good angle of the Royal Canadian Air Force's CF-18 Hornet that features a paint scheme that honours Canada's 150th anniversary.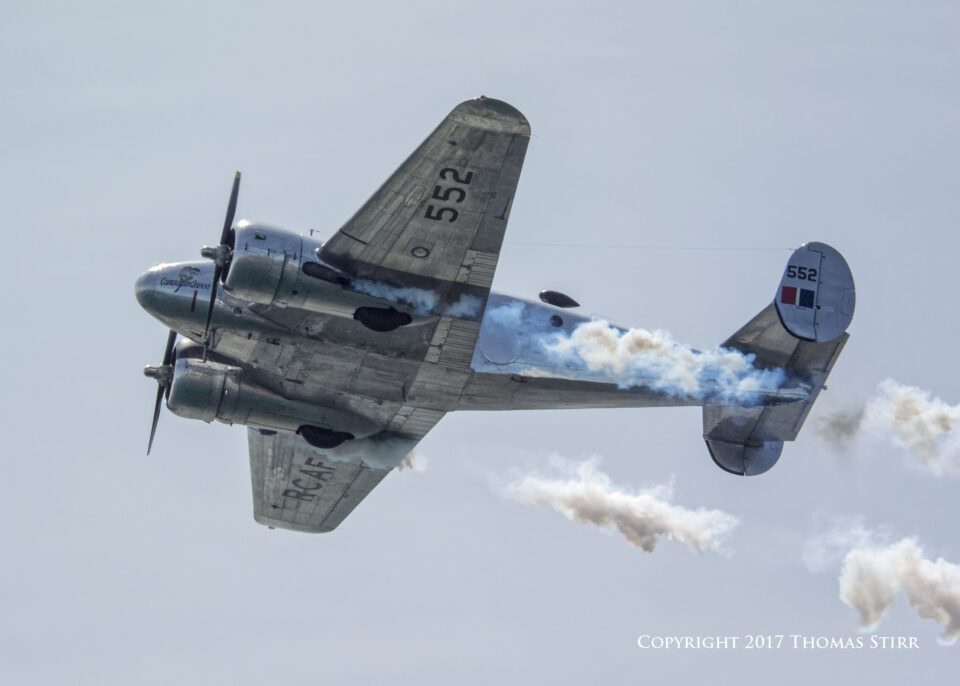 One of the vintage aircraft at the event was a Beech 3NM Expeditor which did a number of passes along the lakefront while laying down a pair of smoke trails.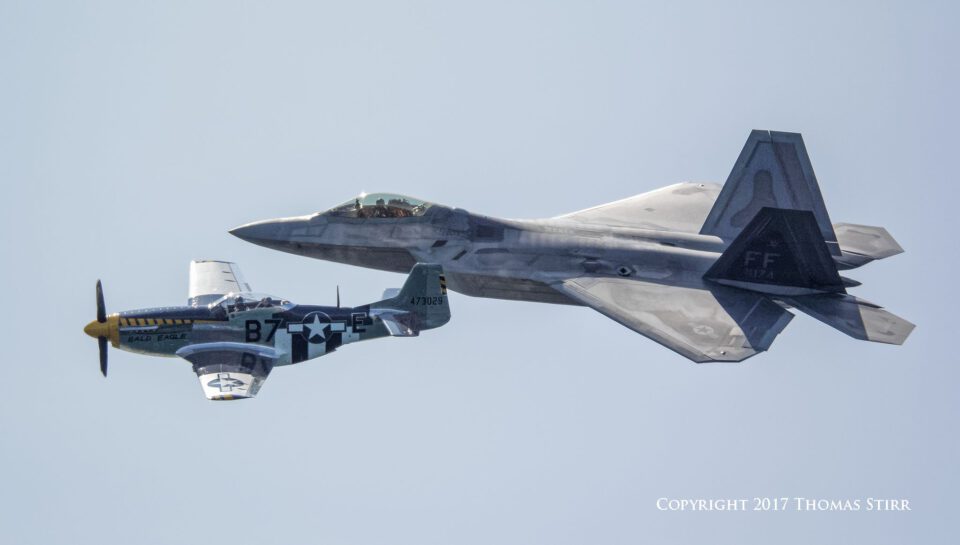 A US Air Force P-51 Mustang along with a US F-22 Raptor flew in close proximity to each other during a couple of slow fly-bys. It was amazing to see how much aircraft have changed over time with the F-22 dwarfing the Mustang.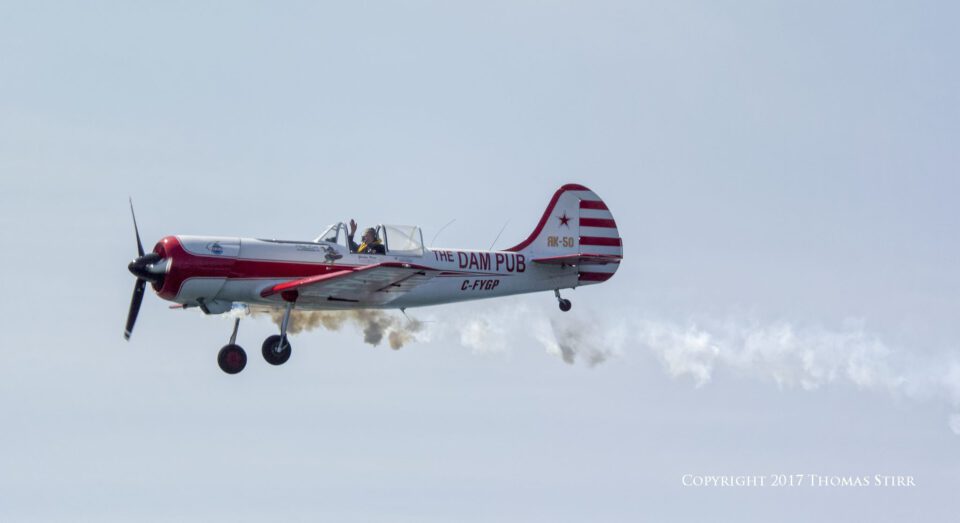 One of the stunt planes at the show was the only YAK 50 registered in Canada. The pilot, Gord Price, had taken a long sabbatical from aerobatic flying and treated the crowd with his return.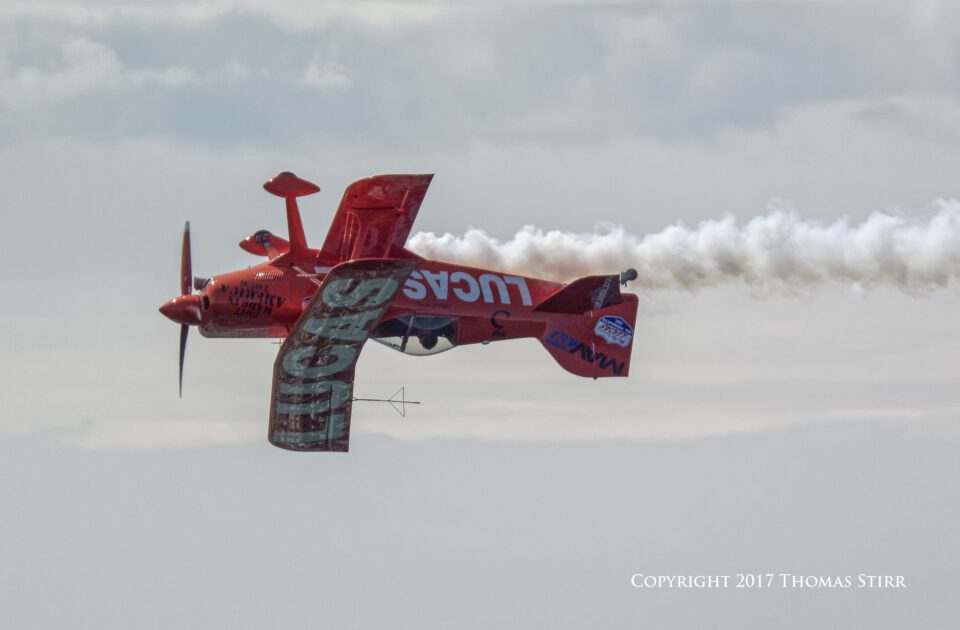 A crowd favourite at the CNE airshow is the Lucas Oil Pitts Special Super Stinker, piloted by Mike Wiskus who put on an amazing demonstration of dives, rolls and loops.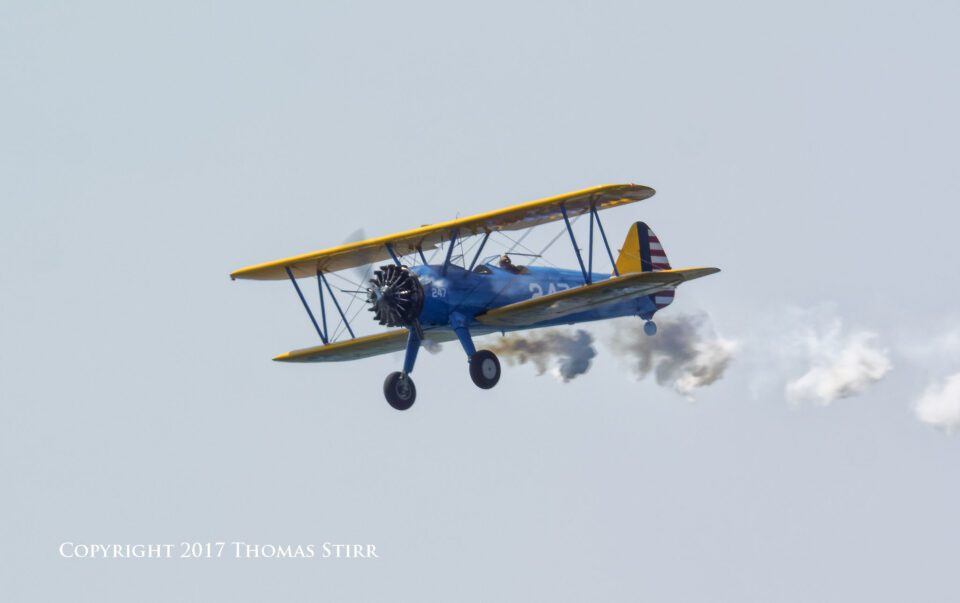 You may have noticed that the props on the aircraft in most of my images do not have any blur as I typically shoot at fast shutter speeds when at the air show. This year I did experiment a bit with my Nikon 1 V3 and 1 Nikon CX 70-300 f/4.5-5.6 zoom lens to see if I could get some prop blur. In order to get a reasonably slow shutter speed I shot in Aperture priority, and set my V3 to ISO-160 (the lowest ISO available on the V3), then stopped my CX 70-300mm lens down to f/13. Shooting with a shutter speed of 1/320 was slow enough to get some decent prop blur in the image above.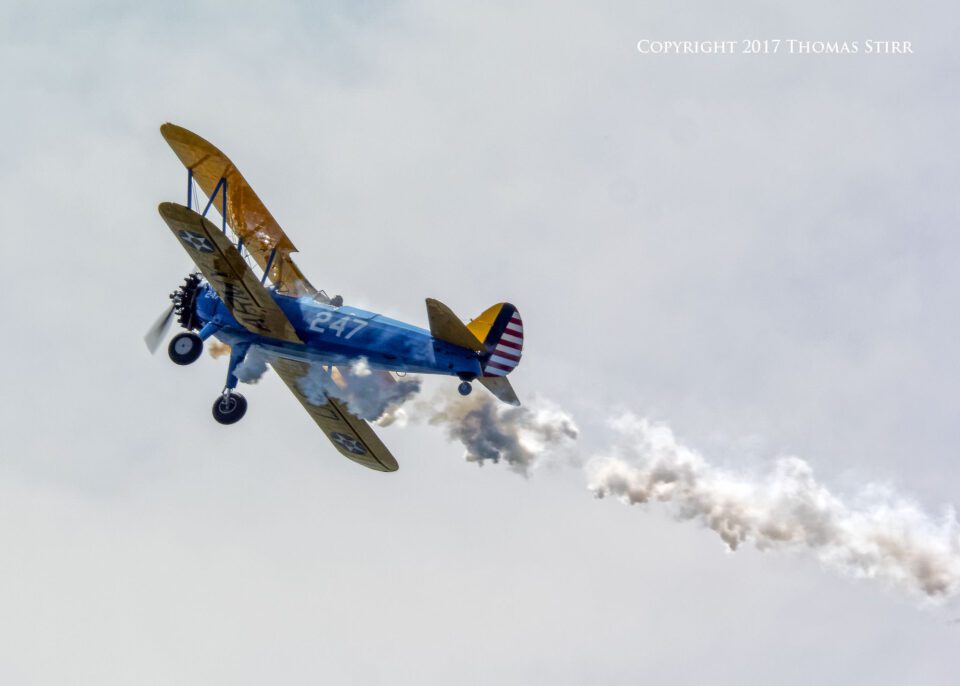 Given the small 1″ sensor in the Nikon 1 V3, stopping a lens down to f/13 isn't the greatest camera setting to use as some softening from diffraction is unavoidable when shooting at this aperture.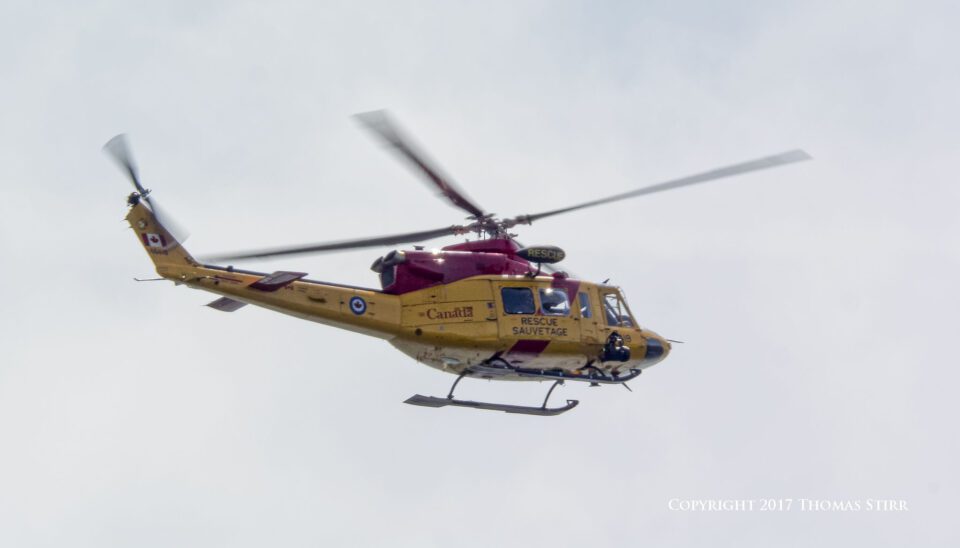 Since the blades on helicopters move quite slowly when compared to airplane propellers, I needed to stop my CX 70-300mmm lens all the way down to f/16 to capture the image above. Shooting at 1/320th only created a small amount of blur with the rotors on the helicopter.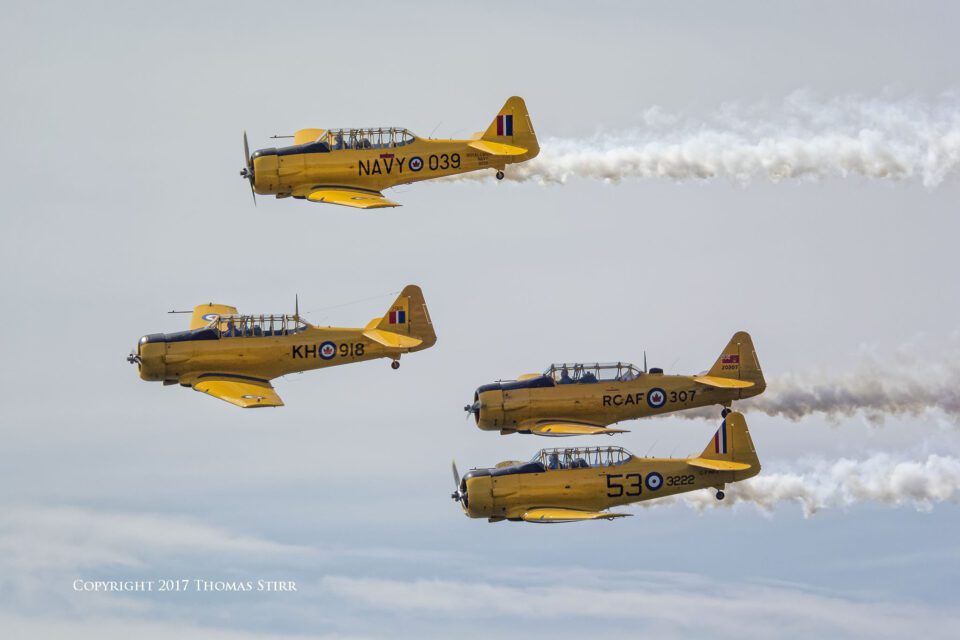 The Canadian Harvard Aerobatic Team (CHAT) is one of my favourite demonstration flying groups to photograph. The four pilots put on a great show with very precise formations, laying down nice patterns of smoke trails.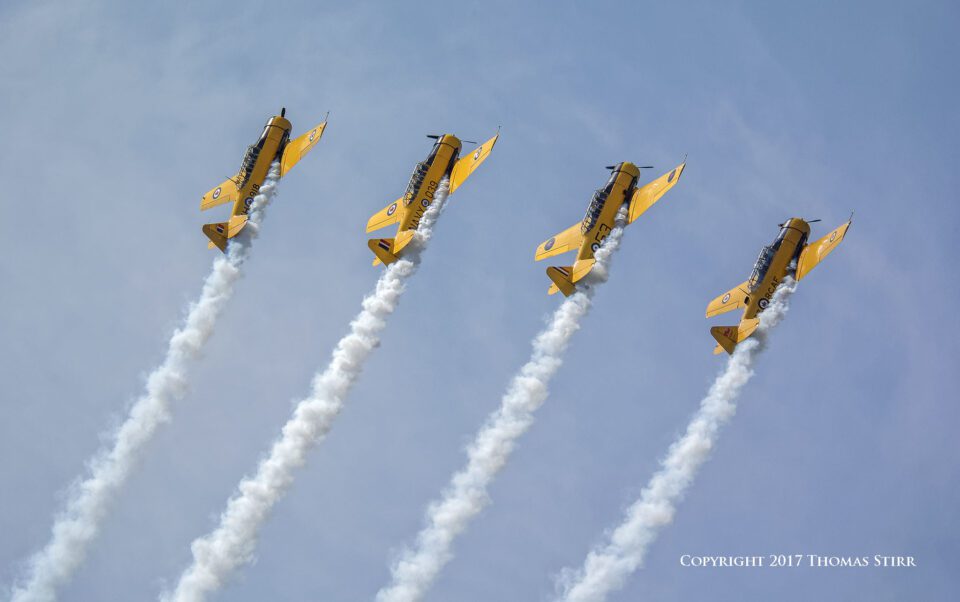 Patience is always required in order to get some good light on subject aircraft. I used a combination of single frame captures as well as AF-C runs, depending on the aircraft and the flying maneuvers they were doing.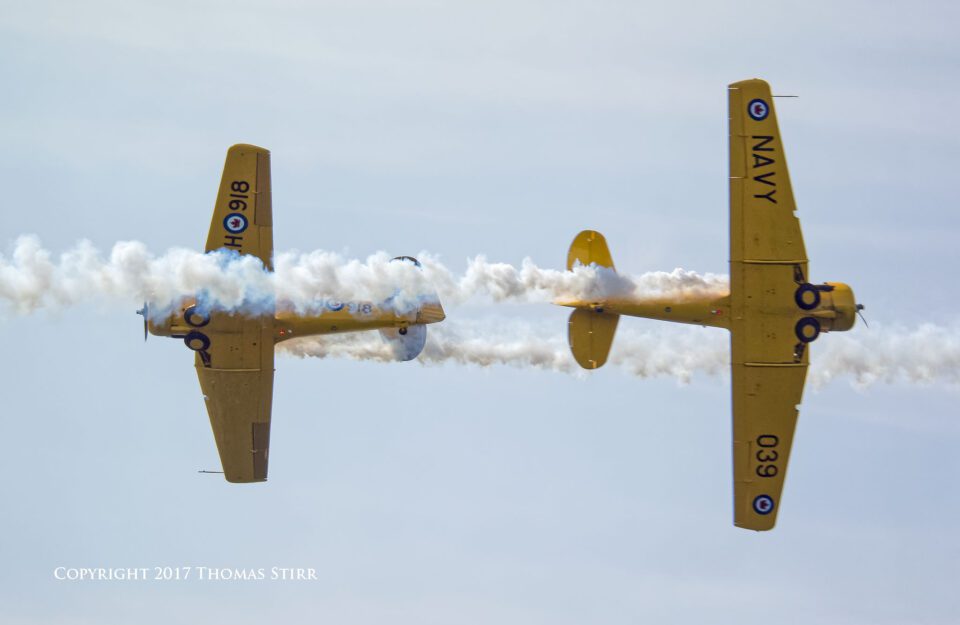 Capturing images of aircraft doing cross overs is always one of the highlights at an airshow. These types of images are actually pretty simple to create when using a Nikon 1 V3 and shooting at 20 fps in AF-C with subject tracking. All a photographer needs to do is track one of the aircraft as it approaches its partner aircraft in the cross over maneuver. When the aircraft being tracked rolls to its perpendicular position, press and hold the shutter down until the approaching partner aircraft enters, then leaves, the image frame. Using this technique I was able to capture 5 frames that had at least parts of both aircraft in them. The image above was the fourth frame in the series. Jet aircraft are obviously much faster, often yielding two potentially useable images using this same technique. rather than 4 or 5 potentially useable images with slower moving aircraft.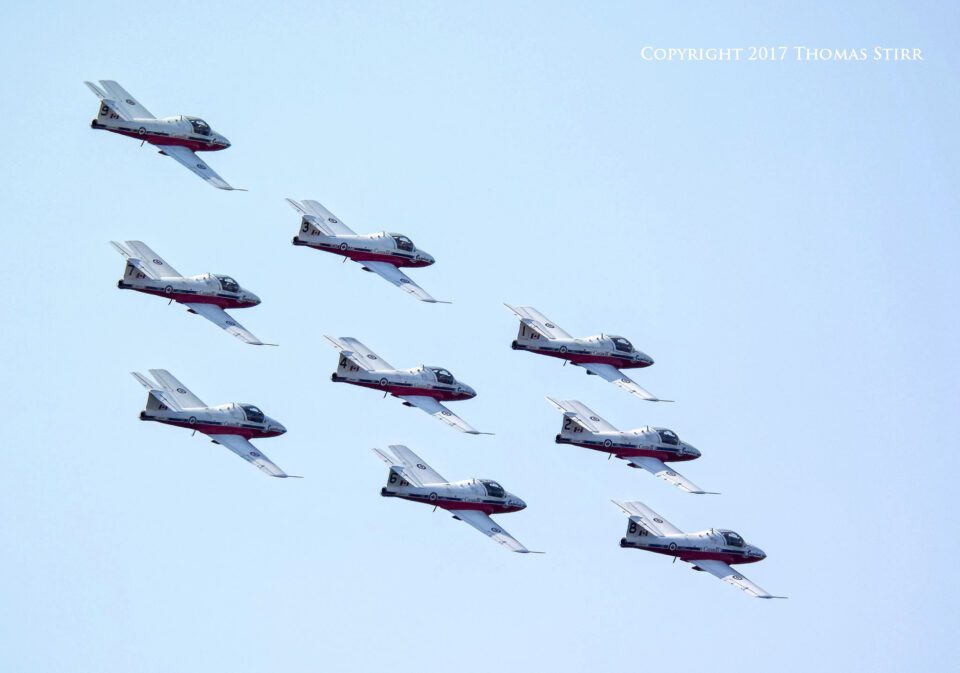 It is a tradition at the Canadian National Exhibition Air Show that the Canadian Forces (CF) Snowbirds close out the event. The 431 Air Demonstration Squadron is a Canadian icon and always puts on a spectacular show for the crowd.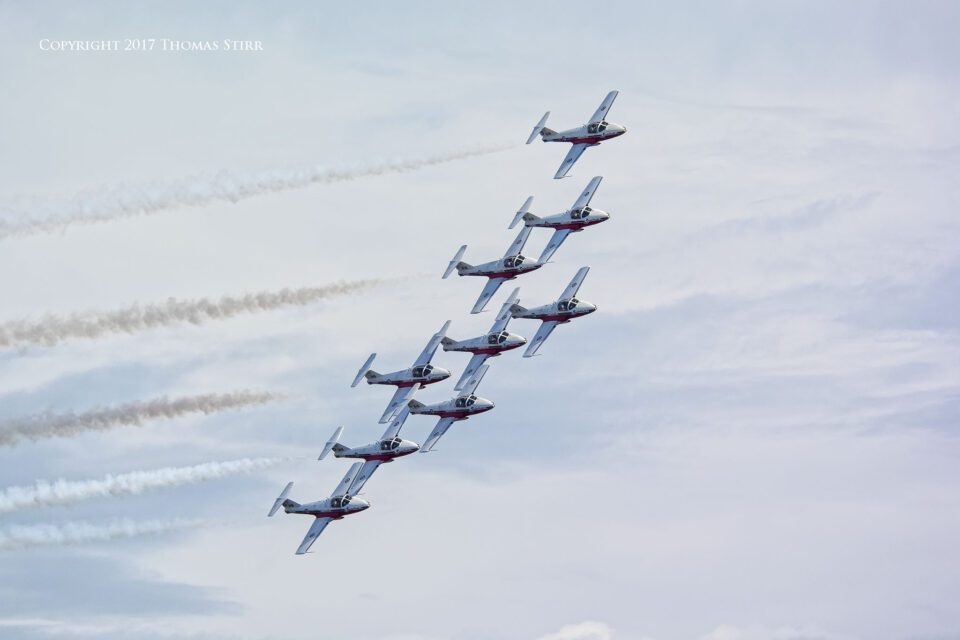 The Canadian Forces (CT) Snowbirds fly Canadair CT-114 Tutor jets. The units used by the 431 Air Demonstration Squadron have been modified for their air show duty. This includes the use of more highly-tuned engines to enhance performance during low-level aerobatic flying.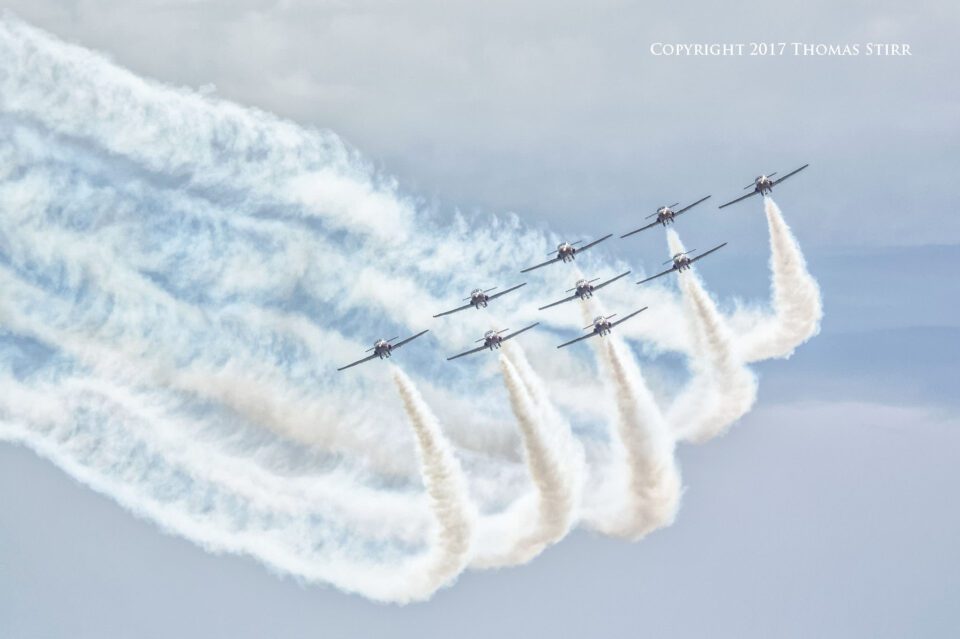 The Canadair CT-114 Tutor jets used by the Canadian Forces (CT) Snowbirds were procured in 1962. The jets have a wingspan of 11.12 metres (~36.2 feet) and are 9.75 metres in length (~31.7 feet). Their maximum speed is 741 km/h with a service ceiling of 11,850 metres (~38,513 feet).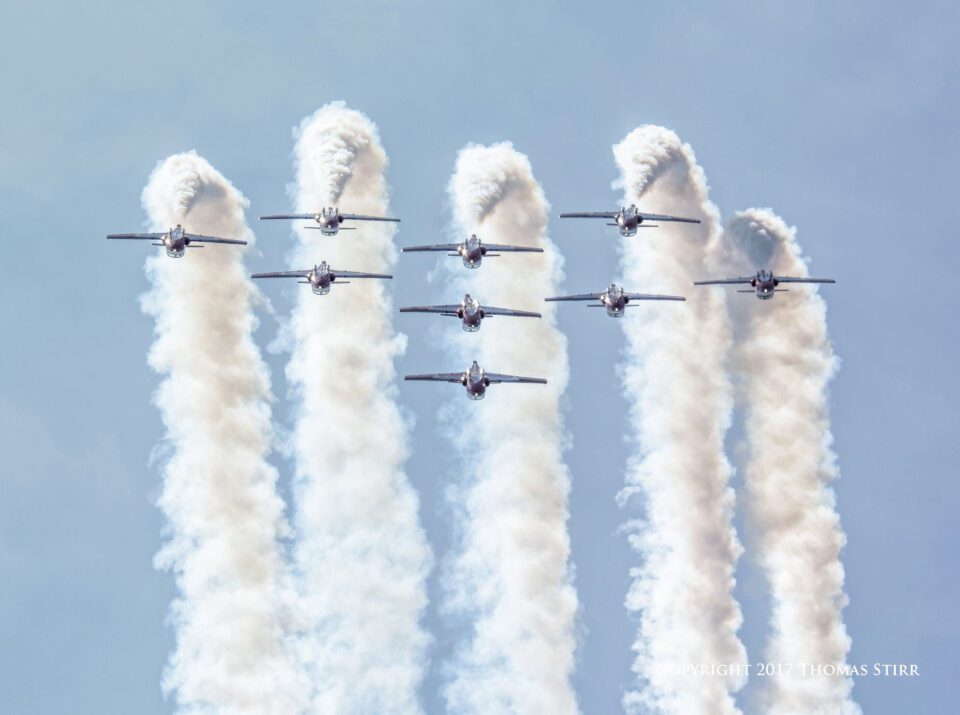 The CT-114 Tutors weigh 2,575 kg empty (~5,677 lbs.) and have a range of 648 km (~402.6 miles). Each has a crew of 2.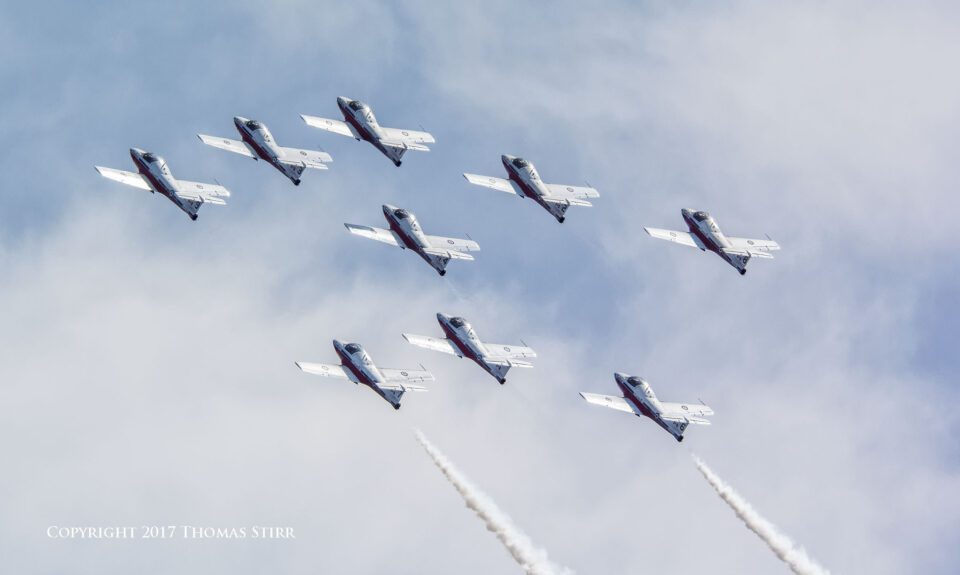 If you are in the Toronto area during a future Labour Day weekend, you may want to check out the Canadian National Exhibition Air Show. It usually runs from noon to about three o-clock on Saturday, Sunday and Monday of the holiday weekend, subject to weather conditions.
Techical Note:
All images were captured hand-held using a Nikon 1 V3 and 1 Nikon CX 70-300mm f/4.5-5.6 zoom lens. All photographs in this article were created from RAW files using my standard process of DxO OpticsPro 11, CS6, and the Nik Collection. To calculate the equivalent field-of-view for a full frame camera, multiple the focal lengths noted in the EXIF data by 2.7.
Article and all images are Copyright 2017 Thomas Stirr, all rights reserved. No use, adaptation or duplication of any kind are allowed without written consent. Photography Life is the only approved user of this article. If you see it reproduced anywhere else it is an unauthorized and illegal use. Readers who call out websites that steal intellectual property by posting comments on offending websites are always appreciated!